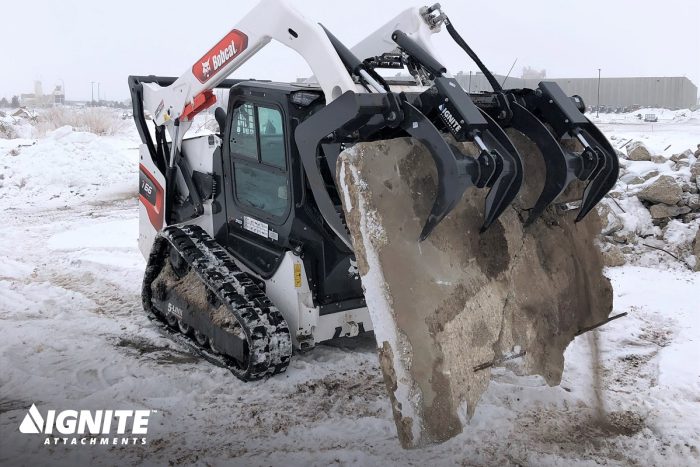 Ignite Attachments is launching its highly anticipated new line of grapple attachments. The root grapple headlined the grapple line launch on April 27, with the bucket grapple to follow the first week of May, the rock grapple the second week of May and a rake grapple to come later this year. Ignite Attachments hopes to revolutionize compact equipment operations and improve efficiency in a variety of industries that utilize mini excavators, compact wheel loaders, multi-terrain loaders, compact track loaders and skid steer loaders with their projects.
Ignite Attachment's grapple lineup offers powerful, versatile tools that allow equipment operators to easily pick up and move heavy objects, such as logs, rocks, roots and debris, with precision and ease without sacrificing heavy-duty performance capability. The Ignite grapple attachment is designed to fit the machines you already own, making it an essential tool for any construction, demolition or landscaping project. You will be able to find the root, rock and bucket grapples in 82-in., 74-in., 68-in. and 62-in. models, ensuring an option that will fit your current carrier fleet.
"We are thrilled to introduce the grapple line to our customers," said Matthew Foley, Lead Engineer, at Ignite Attachments. "We have worked tirelessly to design products that are both highly durable and highly functional that allow you to find a better way to do more, for less."
Ignite Attachment's grapple line features unique designs that allow it to pick up and move objects of various shapes and sizes. Its powerful jaws can grip objects securely, ensuring that they do not slip or fall during transport. The grapple attachments are also equipped with two independent grapples that allow operators to adjust the grip on irregular shaped objects.
"We believe that this grapple line will be a game changer for the compact equipment industry," Foley said. "Their versatility and ease of use make it a must-have tool for compact
equipment operators. We are excited to offer these quality products at an accessible price to our customers, and we look forward to seeing how it will help them accomplish their project goals."
Experience the Ignite advantage with quality-designed and -manufactured grapple attachments that are easy to attach and use, making them the ideal tool for operators of brands of compact equipment. Ignite Attachments also backs its attachments with a comprehensive warranty and excellent customer support, ensuring customers can rely on their Ignite grapple attachments for years to come.
Ignite Attachment's 84-in. and 74-in. root grapples are now available for purchase at www.igniteattachments.com and through authorized resellers with rock, bucket and rake grapples and additional sizes coming soon.
One of the best parts of small equipment is the variety of attachments. From buckets and breakers to mowers and plows, click here to see what's out there.
Tags:
Ignite Attachments