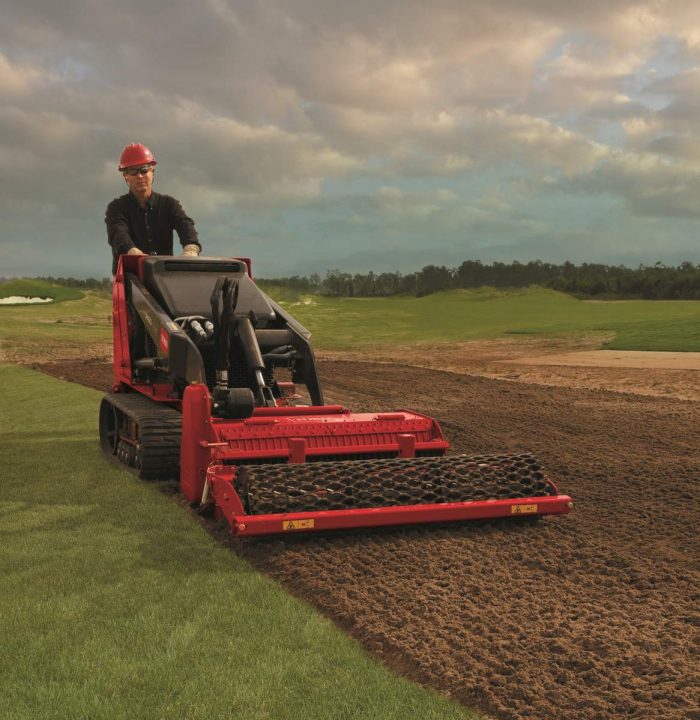 It's hard to believe there was once a time when compact tool carriers were a luxury on the jobsite. Nowadays, you can hardly get by without one. These nimble tool carriers offer unmatched power, versatility and productivity. And as their popularity has grown, so have their attachment offerings. The first attachments available for compact tool carriers are still the most common today — buckets and pallet forks. But as applications have evolved from simply moving materials to handling far more complex jobs, new tools have risen to the top. Of those, many landscape and construction contractors rank the soil cultivator attachment at the top.
Applications
Traditionally associated with landscaping, the soil cultivator attachment transforms rough terrain into an ideal planting bed in a single pass. It also prepares seed and flower beds and blends landscape materials, such as compost and fertilizer. Its uses don't stop there though — construction contractors will find that a soil cultivator can quickly become a must-have on the jobsite. Designed to cultivate and level soil, it makes site prep and leveling a breeze, easily burying stones, soil clods, debris and grass.
Operating Dos & Don'ts
When it comes to operating a soil cultivator attachment, there are a few basics that will ensure a productive experience.
First, inspect the area where you plan to use the cultivator, removing all obtrusive objects, such as large rocks, trash and branches before cultivating. This will prevent unnecessary equipment damage.
Always begin cultivating with the slowest ground speed possible, increasing your speed if conditions permit. Also be sure to operate at full throttle or maximum engine speed.
Cultivate in long, straight passes.
Stop the hydraulics and raise the tines when a pass is finished — turning with the tines lowered can cause equipment and property damage.
If a rock or other obstruction gets caught in the tines, stop the hydraulics and drive the traction unit forward until the object is dislodged.
Keeping these basics in mind when operating a compact tool carrier equipped with a soil cultivator will ensure smooth performance and help avoid unnecessary downtime due to equipment damage.
What to Look For
There are a few key features to consider when purchasing a cultivator attachment. First, check that the cultivator width is appropriate for your typical applications to ensure efficient productivity. The Toro Dingo Soil Cultivator features a 36-in. operating width, which allows it to quickly tackle larger jobs, yet it is compact enough for use in tight, confined areas. Also consider what an appropriate working depth is for your application. Most cultivators will have a 4- to 6-in. working depth range. Look for a cultivator that has the appropriate working depth for your needs. For example, the Toro cultivator can churn the soil more than 5 in. deep for optimal aerating and blending.
Finally, consider the durability and ease of use of the attachment. A professional grade soil cultivator should be constructed of tough materials that can withstand wear caused by stones and hard soil. It should also be easy to attach so you can avoid downtime associated with switching out attachments. The Toro soil cultivator uses a quick-attach system that simply requires turning two locking pins and connecting two hydraulic lines.
Maintenance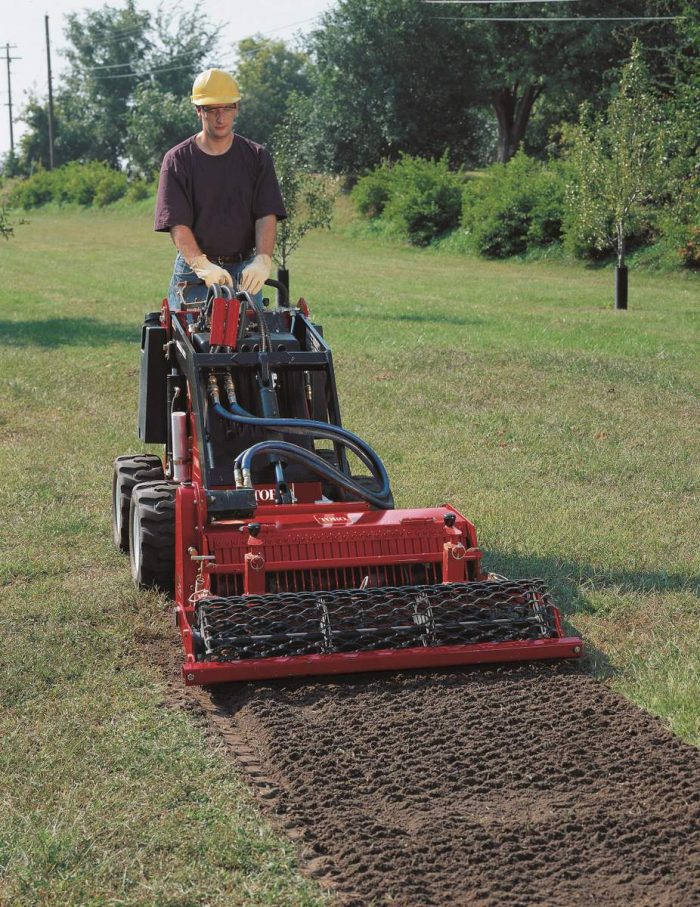 Like all tools, your soil cultivator requires regular maintenance on a daily basis, as well as at significant hour intervals. Remember, before performing any maintenance, you should always double-check that the key is removed from the ignition switch to avoid accidental starting of the engine that could lead to serious injury of you or other bystanders.
After each use, ensure any debris (tree roots, string sticks, rocks) that may get wrapped around the shaft or bearings or stuck in the tines is removed. This can cause damage to the attachment and/or loose performance, and it may hamper the quality finish on the soil bed for the top dressing of seed or sod.
Grease the cultivator after each use and after the unit has been washed. Inspect the tines after each use for damaged or dull tines and check tine mounting bolts and confirm they did not loosen or break. A soil cultivator typically requires maintenance after the first five hours and then every 25- and 200-hour interval thereafter. After the first five hours of use, adjust the drive-chain tension. Do so again at every 25-hour interval when you should also grease the cultivator. This simple process involves cleaning the grease fittings with a rag, pumping grease into each fitting until it oozes out of the bearings and then wiping off any excess. You should also perform this immediately after every washing. When you reach a 200-hour interval, take the time to change the drive chain oil.
Finally, when you're ready to store the cultivator for the season, there are a few simple steps to prep the attachment. Wash the attachment with mild detergent and water to remove dirt and grime. Grease the fittings. Check and adjust the tension of the drive chain. Tighten all bolts, nuts and screws, and repair or replace any damaged or worn parts. Ensure all hydraulic couplers are connected together to prevent contamination of the hydraulic system and paint all scratched or bare metal surfaces. As with all equipment, the attachment should be stored and covered in a clean, dry area so that it's in optimal condition to deliver maximum productivity the next time you need it.
Considerations
The proliferation of compact tool carriers on the jobsite is easy to understand — one machine, many applications. There's little need to purchase dedicated equipment designed to accomplish one task when one compact tool carrier can get them all done. A soil cultivator attachment is a prime example of a tool that increases productivity and jobsite efficiency for landscape and construction contractors, even those who may not initially think there's a place for it on their project. Fully understanding what a soil cultivator attachment can do will help contractors diversify their portfolio offerings for further project scope and growth opportunities.
Kyle Cartwright is the marketing manager with Toro.
Tags:
Attachment Central
,
June 2021 Print Issue