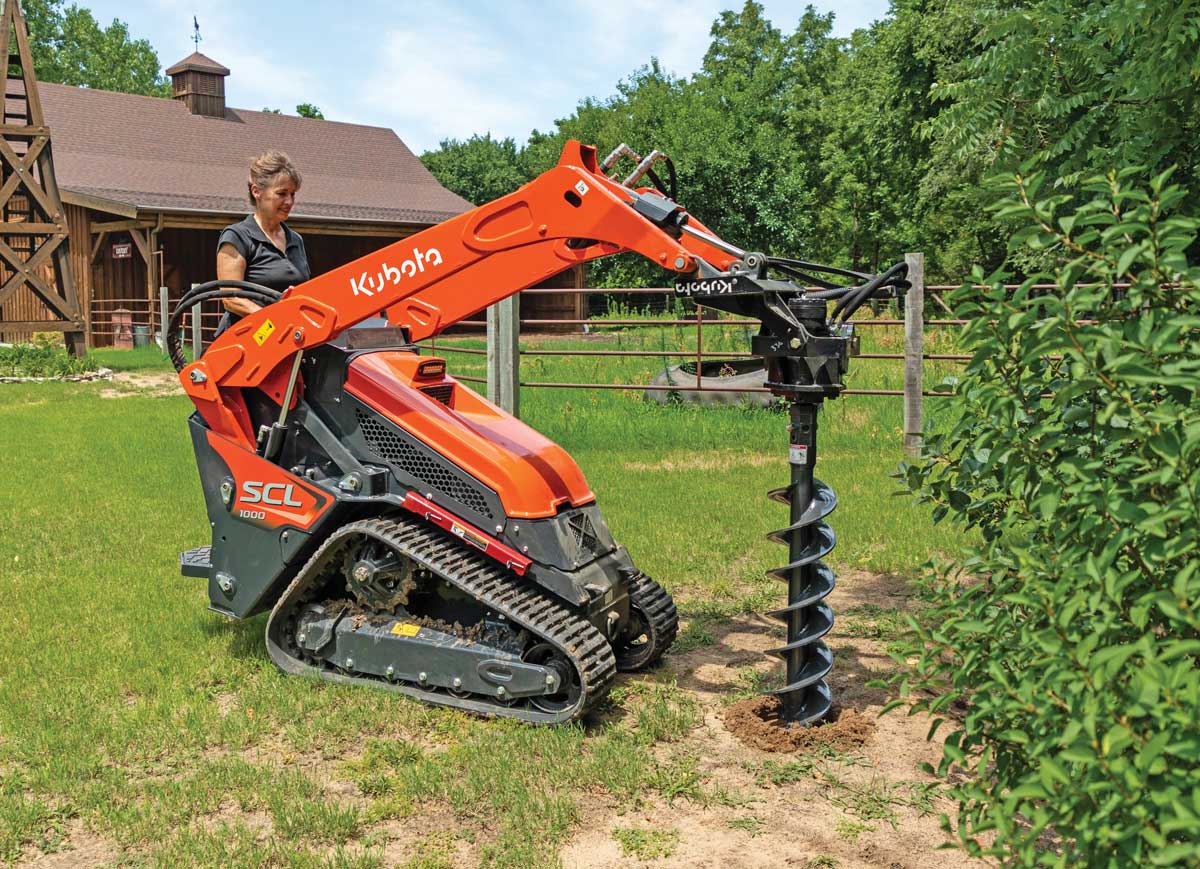 Whether you're a landscaper, contractor or homeowner, you could benefit from the extra muscle a compact tool carrier (a.k.a. mini skid steer, compact utility loader, etc.) can provide. These hardworking, small machines can fit into narrow spaces, lift heavy loads and handle big jobs in a variety of applications. Add in an auger attachment, and you're all set to dig holes for fencing, planting trees and more.
"Adding an auger is great for both contractors and weekend warriors," says Jerry Corder, Kubota product manager, construction equipment. "Contractors will quickly see a return on their investment by purchasing this tool. They are excellent for footings and fences. However, DIYers doing the same tasks often rent the entire package — CUL and auger — to complete jobs around their property."
Before you hurry to a dealership to buy or rent an auger, it's important to know your application and some features to look for in this type of attachment. The search starts with selecting the right auger drive for the work you expect to perform. This includes choosing between a direct drive or planetary unit. Direct drive augers tend to spin faster with less torque and work well in softer to moderate soil conditions (think sand and light dirt). Planetary augers generally spin slower with higher torque. This type of drive is useful when digging into heavier ground surfaces such as clay.
Auger bits are another important part of the auger selection process. You should choose bits that best fit the selected depth and diameter of the holes you'll be digging along with the ground conditions you expect to encounter. Some bit styles include dirt, rock, heavy-duty and more.
"Most auger attachments can be outfitted with augers ranging from 6 to 36 in. in diameter," says Cole Chesnut, product manager at Vermeer. "Operators will typically use a 12-in. auger to put in footings or pilings for decks, sun rooms or to drill holes for fence posts. If they are planting, a 24- to 36-in. tree auger should be used to dig the hole and break up the soil for root growth. Contractors who frequently dig footings or plant trees and/or bushes may choose to purchase an auger drive along with several auger bits for all the necessary hole diameters."
After you decide on which auger drive and bit combo best fits your project's parameters, it's important to make sure the host machine can support it. Since there are many makes and models of auger attachments on the market, operators need to find one that's compatible with the compact tool carrier's attachment plate and auxiliary hydraulics. Making sure that the auger matches a machine's hydraulic flow will help achieve optimal performance out of the attachment and CTC. As for price, an auger will usually cost from $3,000 to $4,000, plus the cost of the auger bit.
Some Options
Augers are popular attachments, and there are plenty of manufacturers who make them. Therefore, it's important for owners and operators to research different models and the brands behind those attachments. Here's a glimpse into some models in the market.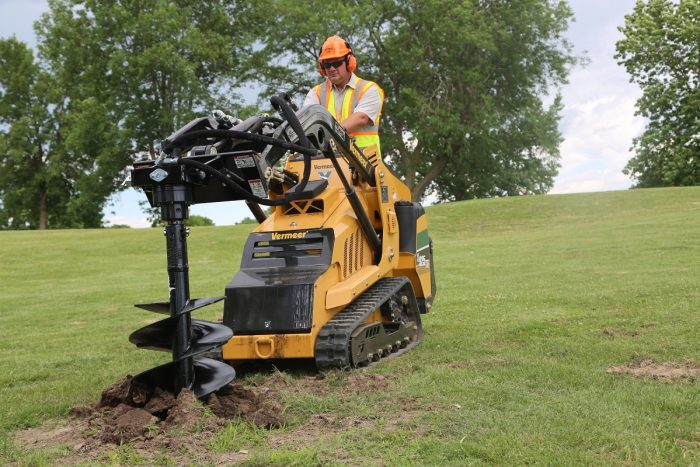 According to Chesnut, Vermeer has partnered with Stanley Decker to offer contractors two auger attachment options: a high-speed auger drive and a high-torque auger drive. The high-speed auger drive option is ideal for contractors working in softer or looser soil conditions and the high-torque auger drive will deliver better digging performance in harder grounds like clay.
"The high-speed auger drive can be fitted with auger bits up to 12 in.," says Chesnut. "The high-torque auger drive can use bits from 6 to 36 in. in diameter. Both options work with all Vermeer mini skid steer and compact articulated wheel loader models."
Corder explains that Land Pride manufactures a CSA10 Planetary Compact Auger for Kubota that is ideally suited for CTCs with flow rates of 10 to 20 gpm. He says the unit is hydraulically reversable with torque of 1,775 at 3,000 psi. Operators can choose between double flight augers that are available from 6 to 24 in. and rock-penetrating augers available in 6, 9 and 12 in.
Ditch Witch compact equipment product manager Brant Kukuk highlights the company's AD132 auger driver attachment. He says the attachment helps landscaping and tree care professionals expedite hole creation, allowing you to quickly plant trees or install fence posts.
"The attachment is available in 6- to 30-in. diameters and is compatible with the Ditch Witch SK600, SK800, SK900, SK1050 and SK1550," Kukuk adds.
Indiana-based Premier Attachments offers three auger drives and a variety of bits specifically designed for CTCs. Its latest release — the Duo Tach — has made it possible for owners of both full-size skid steers and CTCs to utilize the same mount and auger drive.
"Currently, mini skid steers do not utilize a full-size skid steer mounting bracket, so we came up with a patented product that actually allows that to happen," says Keith Wells, management consultant for Premier Attachments. "The mini skid steer mount is integrated into the full-size mount. It's going to work well for crews that have a fleet of equipment that includes both full-size skid steers and mini skid steers. It's also a great option for rental stores."
Let's Dig
Before getting to work with your new auger, it's important to identify any underground utilities on the jobsite. Crews should call 811 to mark any utilities a few days prior to starting the project. Chesnut says once this is complete, contractors should walk the jobsite to ensure that there are no utilities near where they intend to dig holes with their auger.
Ditch Witch's Kukuk emphasizes the importance of getting to know the auger before starting a job, which includes reviewing its safety instructions and learning all of the attachment's features to complete the project.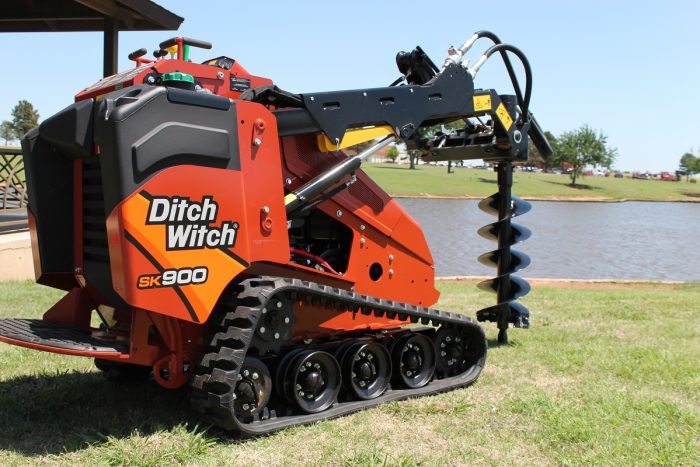 "This will help reduce the risk of injury on the job," he says. "It's also important to get familiar with how attachments connect to your stand-on skid steer, understand the jobsite ground conditions you are drilling into and wear the correct protective gear. Some manufacturers, like Ditch Witch, offer online training courses for free. By visiting ditchwitch.com and signing up for a MyDitchWitch account, anyone can access the training to get more comfortable with the equipment."
As for operating the attachment, Corder says operators should always keep the auger at 90 degrees to the ground. This helps ensure operators have optimal digging force. He adds that down pressure will assist in the process, however, too much down pressure will cause the auger to bog down.
Chesnut adds, "Operators need to make sure they let the rotation of the auger do the digging. Applying too much downforce while the augers are rotating can slow the process and may cause damage to the attachment. When the hole has reached the desired depth, the operator should continue the current rotation and lift the bit out of the hole. Also, the best practice is to run the attachment on the machine's high-flow auxiliary function."
Proper operation plus following a good maintenance regimen will help crews stay productive and extend the life of your equipment.
"One of the best ways to extend the life of an auger attachment is by reducing machine wear and tear," says Kukuk. "To do this, you should check the equipment alignment of components and visually inspect the equipment before you start a bore. Additionally, you should check teeth for wear, check the flighting for wear, inspect attachment pins and read the operator manual. Local dealers are often knowledgeable about local soil conditions and are an excellent resource to help you set up your machine for success."
Corder says other maintenance points include keeping the unit clean to avoid corrosion, as well as keeping the gearbox output shaft lubricated with a light film of multi-purpose grease. The gearbox oil should be kept at the appropriate level, and the oil should be changed every 100 hours or 12 months.