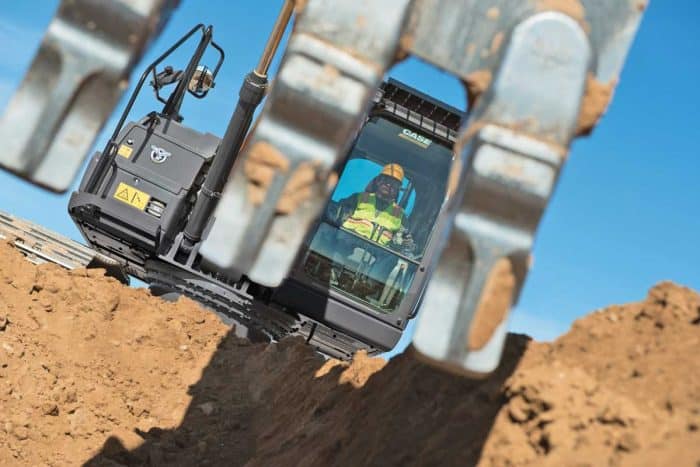 Whether you are operating a skid steer loader, compact track loader, mini excavator or any other compact equipment, buckets are among one of the most versatile and commonly used attachments for construction professionals. But what many don't consider is the performance of the bucket attachment is largely up to the quality and durability of the bucket teeth. By selecting the right bucket teeth for your compact equipment, you can ensure your machine functions optimally and lasts longer, ultimately leading to improved productivity and efficiency, reduced downtime, enhanced safety and increased profitability of your construction operation.
The Difference Quality Bucket Teeth Make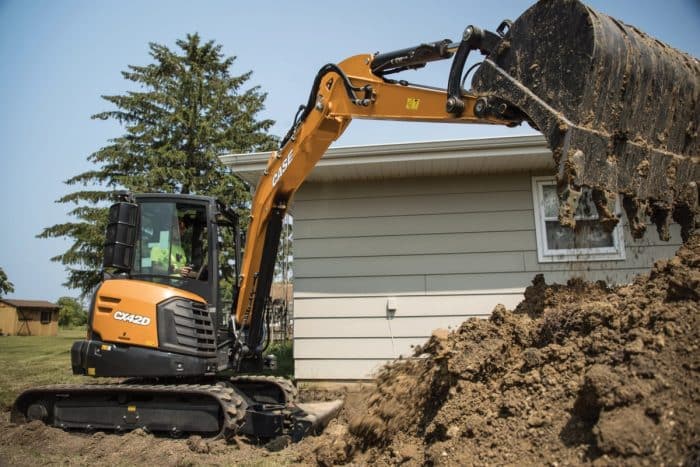 The right choice of bucket teeth can impact the overall efficiency of your construction projects. Some of the key benefits of equipping your machinery with high-quality bucket teeth tailored to suit the requirements of your compact equipment include:
Enhanced digging and grading capabilities: Selecting the right bucket teeth can have a significant impact on the digging and grading performance of compact equipment. By doing so, operators can achieve superior digging and grading results, reducing the need for rework and improving the overall quality of construction projects.
Extended durability: Under harsh conditions, the wrong type of bucket teeth could quickly wear down or break, resulting in frequent replacements and/or increased downtime. But with the proper selection of high-quality bucket teeth designed for heavy-duty applications, compact equipment can withstand the rigors of the job while minimizing maintenance costs associated with tooth replacements.
Improved efficiency and productivity: To achieve optimal results, different construction tasks require specific types of bucket teeth. Using the right bucket teeth will keep your compact machine from breaking down due to excessive stress. This increased efficiency translates into improved productivity and shorter project timelines.
Versatility and adaptability: Bucket teeth are available in a variety of configurations, each tailored to specific applications and soil conditions. This versatility allows greater operational flexibility and improved performance across multiple construction projects.
When construction professionals understand the importance of choosing the proper bucket teeth for their compact equipment, they can maximize their machinery's potential and tackle any job with ease and precision.
Time for an Upgrade?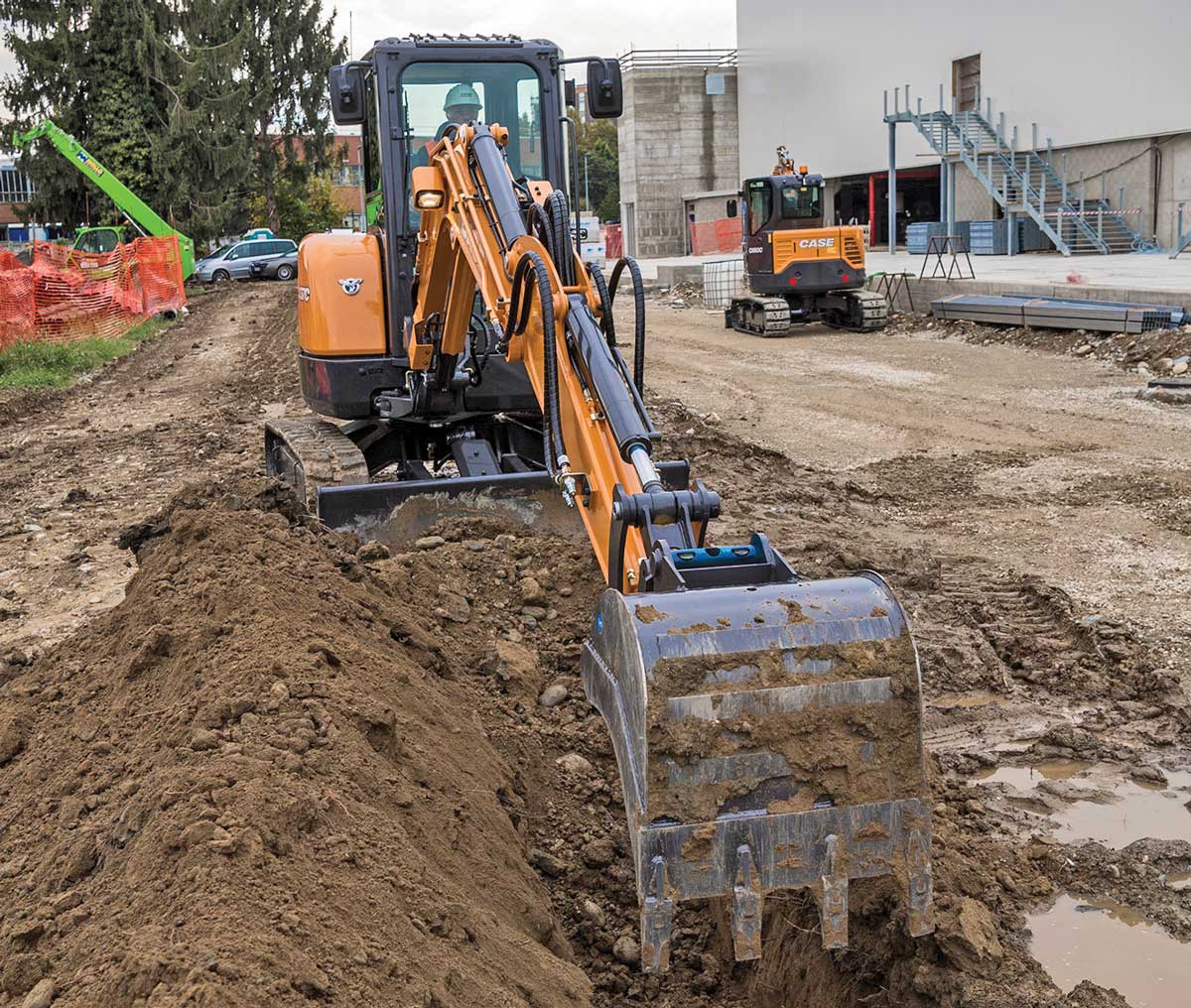 Knowing when to replace or upgrade your bucket teeth can be the key to getting better results on the job. Bucket teeth wear down over time due to constant use and exposure to harsh conditions. To ensure the smooth functioning of your compact equipment, it is essential to perform regular inspections to examine the condition of the teeth for signs of wear and tear or damage. The best practice is to replace the bucket teeth between 30 to 40 percent of the way through the adapter. You want to make sure you are not wearing down the adapter or putting too much strain on it, which could lead to an early replacement.
For instance, worn-out teeth reduce the bucket's effectiveness at digging and lifting, which can increase fuel consumption while performing the same tasks, reduce material handling efficiency and create potential safety hazards on the jobsite, negatively impacting the construction operation. That's why upgrading bucket teeth, when necessary, will enable you to successfully complete projects on time and on budget.
Best Practices for Maintaining Bucket Teeth
Perform regular inspections to identify any signs of wear, tear or damage.
Check for any loose teeth, which may indicate that it is probably time to change the pin or tooth.
Utilize the bucket teeth only for the proper applications.
Thoroughly clean after each use to remove any debris, dirt or soil that may have accumulated on the teeth.
Maintain their cutting ability by sharpening the teeth.
Ensure proper lubrication with genuine fluids.
Store properly when not in use to keep the teeth organized and protected.
Replace them when they have excess wear and have lost their original profile to prevent further damage to the machine.
Whenever bucket teeth are replaced, remember to replace their pins as well.
Schedule professional maintenance inspections at recommended intervals.
Choosing the Proper Bucket Teeth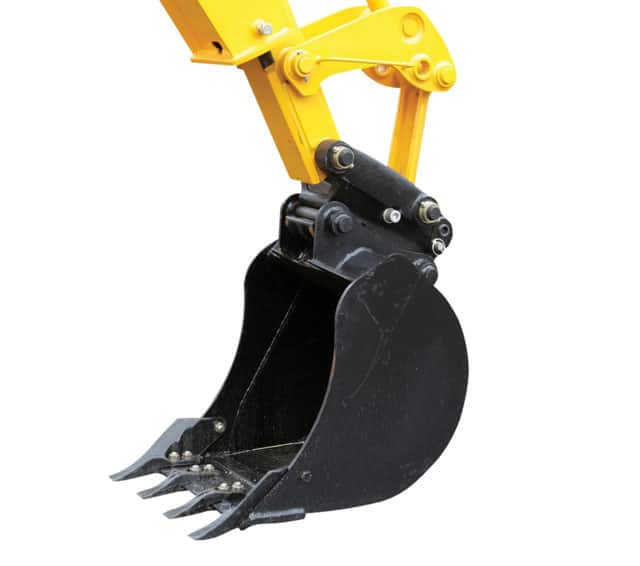 With so many options available on the market, the choice can be overwhelming. When it comes to choosing the right bucket teeth for either skid steer loaders, compact track loaders or compact excavators, several factors must be taken into consideration.
Evaluate construction application and tooth design: Before choosing your bucket teeth, consider the application for which you will be using the equipment in order to select a tooth profile that is appropriate for that application. Different tooth designs offer varying capabilities depending on the specific requirements of your project. For instance, if you need to break through hard ground, consider using a Tiger or Twin Tiger profile while a Flare profile may be best suited for moving, pushing or leveling ground. For general use, stick with a standard "dirt" profiled tooth.
Check equipment compatibility: Because they do not have the power and capacity of full-sized machines, mini excavators, skid steer loaders and track loaders tend to use a common tooth profile. 2A, 230 or 156 series in the standard profile tend to work on this smaller compact equipment, although machine limits, size specifications and equipment compatibility should always be checked.
Consider wear resistance and OEM quality: Bucket teeth are constantly subjected to wear and tear, so it is critical to select teeth with a high consumption ratio and wear resistance for long-lasting performance and overall value. Look for a tooth system that provides optimal durability and strength.
Seek expert advice: If you are unsure about the best bucket teeth options for your compact equipment, it is always ideal to seek advice from the parts and service experts at your OEM dealer. These parts experts will be able to guide you through the process of tooth selection, tooth replacement and proactive maintenance.
Case Construction Equipment dealers offer a variety of SmartFit and All Makes bucket teeth systems to help operators get the most out of their equipment and tackle everything from loose dirt to crushed concrete to abrasive materials. Through their smart design, these engineered systems improve your machine's performance under the most challenging conditions while providing safe, easy tooth installation and removal.
Tim Hansen is a product marketing manager for undercarriage and G.E.T. products for Case Construction Equipment Parts and Service in North America.
We'd love to keep in touch! Check us out on Facebook, Twitter and LinkedIn!