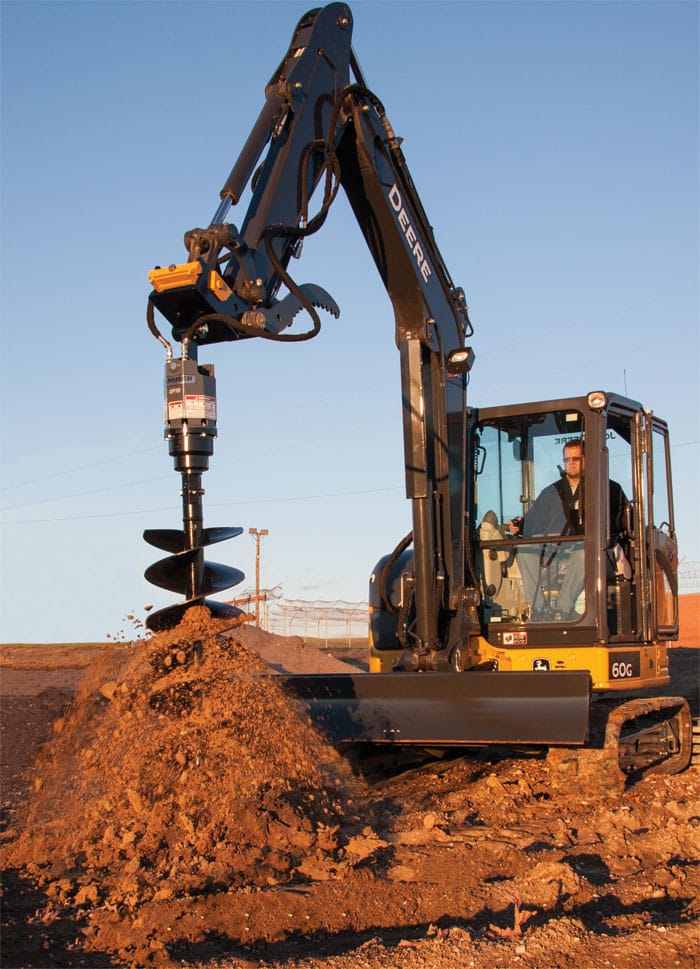 Compact excavators are growing in popularity, and with so many attachments available their versatility goes well beyond simple excavating and backfilling. One indispensable attachment is the hydraulic auger system, which allows compact excavator operators to dig holes safely and efficiently from their seats. To make digging those holes easier and more successful, start by understanding some of the benefits and attributes of the auger systems on the market.
Hydraulic auger systems have many advantages. Many auger systems have torque-maximizing planetary reduction gearboxes, allowing greater digging power even on smaller vehicles, a major benefit over direct or chain-driven models. Also, planetary auger systems typically need less maintenance than their chain-driven counterparts. Any hydraulic auger system can reverse the auger bit's direction of rotation and will stall when reaching the motor's maximum torque, preventing damage. With hydraulic auger systems, higher fluid pressure (in pounds per square inch or psi) will result in greater torque from the auger drive, allowing better digging in tougher soil conditions, while higher fluid flow rate (in gallons per minute or gpm) will make the auger spin more quickly. As you consider models, remember that hydraulic auger systems can easily switch mounts, a great advantage if you have multiple vehicles.
Hydraulic auger systems use four main components: a drive unit or "head," which converts the flow and pressure of your mini excavator's hydraulics into rotation and torque to drive the auger bit; the auger bit, which does the actual digging; hoses to supply fluid to the drive unit; and a mount to attach the system to the mini excavator. An auger system requires two-way auxiliary hydraulics, so if your compact excavator doesn't have two-way, it may need modification to successfully power an auger system. Consult with the manufacturers of your mini excavator and auger system to determine the best way to fit these components together.
So, how do you select the right hydraulic auger system? Your mini excavator hydraulic system specifications — gpm and psi — will help determine the right one. Hydraulic auger heads work within ranges of flow and pressure, so take special care to find a drive unit in your mini excavator's "sweet spot." Most auger drive units prefer gpm between 5 and 35, and psi from 1,500 to 3,500. Let's say your compact excavator has 18 gpm. If you want to maximize torque for digging in tough conditions, you should choose an auger drive that has 15 to 30 gpm. Keeping the gpm low allows for a larger unit, which equals more torque. If you choose an auger drive that has 10 to 20 gpm, keeping you on the high side, you'll have more rpm for removing loose material. If you want to utilize your auger system on multiple vehicles, try to balance it across those sweet spots. An auger system that closely matches the specs of your vehicle, or vehicles, will have a longer life and lower maintenance costs.
Auger bits should be selected for the depth and diameter of holes you'll be digging along with the ground conditions you expect to encounter. Manufacturers offer four common types of auger bits: light-duty, heavy-duty, tree and rock. Light-duty bits have fabricated digging heads with bolt-on teeth and can be used in good soils that have few obstructions. Heavy-duty bits have cast heads with drive-in teeth for harsher and more difficult ground conditions, such as clay and fracturable rock. Tree augers are like two auger bits in one, with a small diameter on the bottom mounted to a larger diameter on top, to produce holes for planting trees. Rock bits are the toughest type and are made for digging in solid rock and concrete. Manufacturers offer a wide array, so do your homework and pick the best auger bit for your needs.
Hose selection is important. Smaller diameter hoses work with lower flow, and higher flow requires larger hoses. Most manufacturers offer convenient hose kits that come complete with fittings and couplers to match the auger drive unit. If you have special requirements for your hoses such as unusual lengths or diameters, you can also have hoses made by your local dealer, hydraulics shop or auto parts store. Ask your manufacturer or dealer for their recommendation on hoses to match your system.
Most compact excavators can mount an auger head with one of two options: a quick-attach type that latches on automatically or a mount that pins on and hangs from your dipperstick. There are different quick-attach types and dipperstick pin sizes, so you'll want to consult your mini excavator operator's manual or take some measurements to be sure you pick the right match. A quick-attach is convenient, while a pin-on dipperstick option is more affordable. Either of these mount types allow the auger head to swivel in all four directions, giving you greater flexibility at the jobsite.
There are many hydraulic auger systems and manufacturers. Do your homework before you buy to pick the right auger system for your application. If you need help before making your purchase, a good place to start is a local dealer, who can provide advice from their hands-on experience in auger systems and may be able to give in-person demonstrations to help decide which will work best. You may also want to speak with manufacturers to gain insight into the customer service you can expect. If you have any questions, your manufacturer and dealer can help answer them. Your dealer can provide pricing, but many complete auger systems cost between $1,500 and $4,000, depending on specification, durability and quality. The right auger system will be much more economical, efficient, powerful and, most importantly, safe.
Once you've selected your new auger system, understand how to safely and reliably operate it. Take time to read your auger system operator's manual, which was written by the manufacturer, to have the knowledge you'll need to use and maintain the system. Hydraulic auger drives are easy to use. Most drive units use two hoses, a supply and a return. Run your mini excavator's auxiliary hydraulics in forward or reverse to make the auger bit spin forward or backward. If it stalls while digging, simply reverse, clean out the hole and try again. If the auger bit is caked with dirt, raise it from the hole, tap your auxiliary hydraulics in forward, quickly stop and repeat to shake dirt loose. Be sure to call 811 before you dig, and make sure people and animals are clear of the dig site prior to using the auger. Modern auger systems are very user-friendly and fault-tolerant pieces of equipment, but you should always perform scheduled maintenance and service. If you suspect a hydraulic leak, check with a piece of cardboard rather than your bare hands.
A good attachment can add enormous value and productivity to a mini excavator's arsenal, and for the fencing contractor, rancher, farmer or forester, it can pay for itself in saved time and labor. The difference between a trouble-free auger system and a poor performing one often comes down to making the right selection, operating it correctly and carrying out maintenance when needed. With help from manufacturers and dealers, and a little homework, it's easy to find the right auger system to make your next job easier.
Shane Kincaid is a customer service representative for Danuser.