A skid steer is the Batman of the construction force, mighty in its own right but with a special strength found in its ability to use an array of tools to tackle nearly every task. One of the best matches of machine and tool are in skid steers and auger attachments. A skid steer offers stability and reach, along with power and line-of-sight visibility, enabling the auger to do what it does best — dig holes.
Auger attachments come in an assortment of styles to handle myriad hole-digging projects. From fence posts and tree and shrub planting to poles and piers, augers pop holes in the ground neatly and precisely. With the proper understanding of auger attachment capabilities and the demands of a particular project, matching tool and task is a snap.
The most important pre-selection step is to understand what the tool will need to do and how often it will need to do it. Depending on the ground conditions and hole diameter, purpose and depth, different auger attachment types are available. As important as noting the different auger bits is understanding the different power and drive options and how these might affect the decision. The easy part of the formula is the hookup.
"Because of the universal-style plate, you can easily hook up any auger to just about any skid steer loader," explains Tom Jaster, marketing director of Lowe Mfg., who makes attachments for all types of construction equipment. "One of the benefits of the skid loader is that they bring the necessary flow and hydraulics that the auger needs to run and be an efficient tool."
Jaster continues that skid steers allow the user to get into tight spaces and provide excellent sight lines. "The operator can easily see where he's drilling because he's looking forward rather than over his shoulder."
Auger Drivers
Auger attachments connect to the skid steer via the universal quick-attach plate and are powered by the loader's hydraulic systems. From here, a few differences among drives bear mentioning.
Auger rotation is powered by a planetary, chain or direct drive. Planetary drives are the most expensive drive type, but offer the most power for tough jobs. According to Glenn Danuser of Missouri-based Danuser Industrial Group, an attachment manufacturing company in its fourth generation of family ownership, "A planetary drive will provide more muscle with longer machine life and less long-term maintenance."
Chain drives are less expensive than planetary drives and while not as powerful, do have enough oomph for most chores. "In many situations, they provide comparable power and durability to that of a planetary unit for a significantly lower price," says Jaster. "If you want a lot of holes at the lowest investment cost, a chain drive might be just the answer. We have records showing chain drive units still in service decades after they were placed in the field."
The lowest-cost option is the direct drive, though this design is typically limited to smaller machinery-types and lighter-duty applications. "Direct drives operate simply by using a hydraulic motor coupled directly to an output shaft," explains Jaster. "You will find many of these designs on mini loaders and mini excavators."
Auger drives are sized according to hydraulic flow rate, which dictates the power supply to the attachment. On the low end of the scale, drives with best operating flow rates between 10 and 14 gpm accommodate smaller bits. Models at the upper end might provide flow in the 30- to 45-gpm range and are needed to operate auger bits between 36- and 48-in. diameter.
Chomping at the Bits
Auger bits come in a variety of styles with varying capabilities. Lighter-duty bits will work well in non-compacted, loose soil. Heavier-duty bits might be used for compacted or frozen ground and clays.
Specialized bits include the rock auger bit, which uses bullet teeth to break fracturable rock, asphalt and tough frozen ground, and the tree bit, which is designed specifically for tree planting holes, with a steeped design that allows a narrower hole at the bottom for a tap root.
Replaceable auger points can be fitted to the end of the bit and are typically available in increasingly heavy-duty gauges. Companies like Danuser and Lowe offer several types of auger points and teeth, ranging from standard points to large-thread diameter models designed to push material away from the cutting surface.
Auger bits range in diameter between 4 and 48 in. Larger diameter bits require more power from the machine, but most skid steers are well-enough equipped to handle any size auger attachment.
More at issue is the drive type. As bit diameter increases, more force is needed to dig. Bit diameter and soil type will help clarify the type of drive needed.
Dig depth is dependent partially on the host machine, but typically auger attachments can be expected to reach a dig depth of 72 in. Another option is to attach the auger to the machine with an extension, which can increase the dig depth a further 72 in. Adjustable extensions are also available, with length increases in 6- or 12-in. increments.
A New Auger Attachment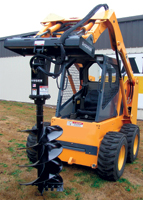 The first-time buyer needs to understand what he or she needs the auger to do. With a thorough understanding of the task at hand, the buyer will be ready to answer the appropriate questions from the salesperson.
"Once the buyer has a realistic idea how many hours the auger will be used, as well as the diameter and depth of the holes needed, it's easy to set them up with the right auger," says Danuser.
Ballpark figures for a new auger setup, including the drive, hoses and bit, range between $1,800 and $2,600.
"It's important to go slow," says Danuser, offering advice to the first-time user. "The biggest problem we see with new users is that they move the skid steer with the bit in the ground." New users may try to nudge up to the hole to get leverage if they run into an obstruction, which can bend the bit or snap the collar.
That said, certain machine designs may require adjustments while augering. Jaster mentions that in the case of radial lift skid steers, remaining stationary may result in an angled hole, due to the design of the machine. "With arc boom machines, you need to make slight adjustments to the machine's position as the hole is drilled in order to accomplish a straight dig."
Nevertheless, if any repositioning is needed, it's best to proceed with caution and care.
"You've got to listen to the machine; listen to what it sounds like when it's digging and listen to what it sounds like if it hits an obstruction. Let the machine do the digging and don't force it too much," explains Danuser.
Skid steers are an excellent host machine for an auger attachment. With the ability to power the attachment and the stability and compactness to maneuver into tight working spaces, the auger attachment and skid steer complement each other nicely. Once a first-time buyer becomes a first-time user, he or she will be pleased with how well the two team up to tackle hole-digging jobs.
"Just about any person can drill a hole," adds Jaster. "Once you drill a few, it's a cinch."
Greg Thompson is a contributing editor to Compact Equipment, based in Peninsula, Ohio.