Topcon's MC-Mobile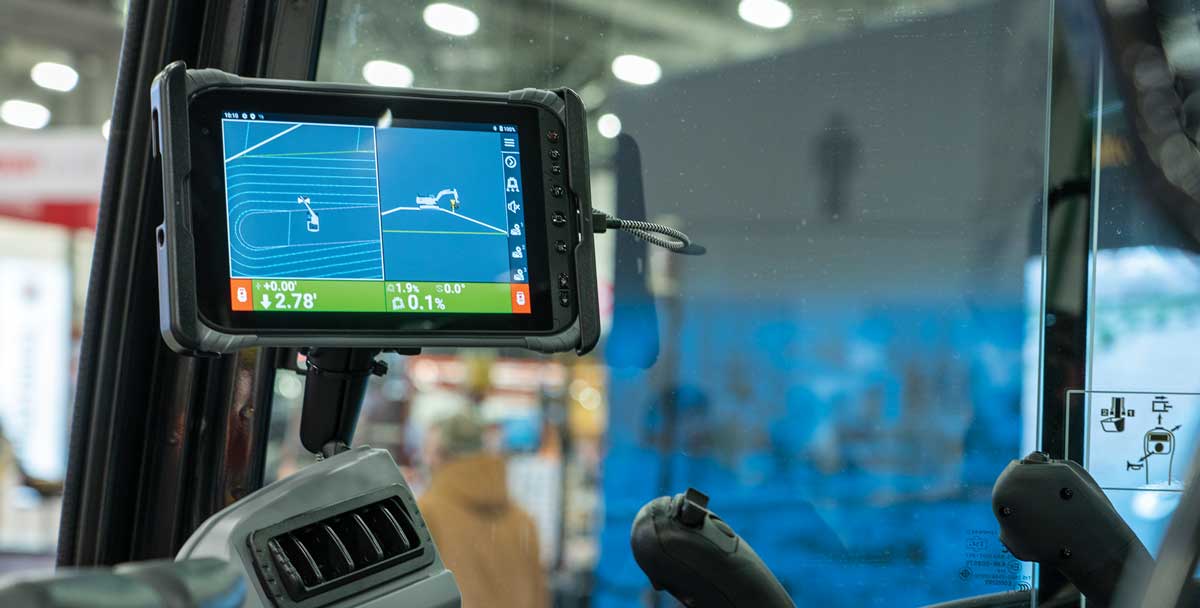 Topcon Positioning Group just launched its all-new MC-Mobile portable machine control solution for compact equipment. Based on the Topcon MC-X machine control platform, MC-Mobile offers the user experience and competitive performance benefits of full-size machine control guidance solutions for compact excavators, skid steers and compact track loaders. The product includes a removable Android tablet that is used both inside the machine to control the unit in grading operation and outside the machine to collect survey data and to build your project design. The setup comes with a robotic total station that works in concert with the tablet to collect data. On a compact track loader or skid steer (the former is preferred), the MC-Mobile will work with a grader blade or box blade attachment, automating the movements of the implement to ensure the perfect grade for small projects. On a mini excavator, the system would help automate the boom and bucket, keeping it within certain parameters set up in the project design. The displays and other components can easily be shared across numerous machines in owned or rental fleet environments. The setup is currently utilizing 2D designs, but the system is 3D ready. For more info, visit topconpositioning.com/mc-mobile.
John Deere 333G SmartGrade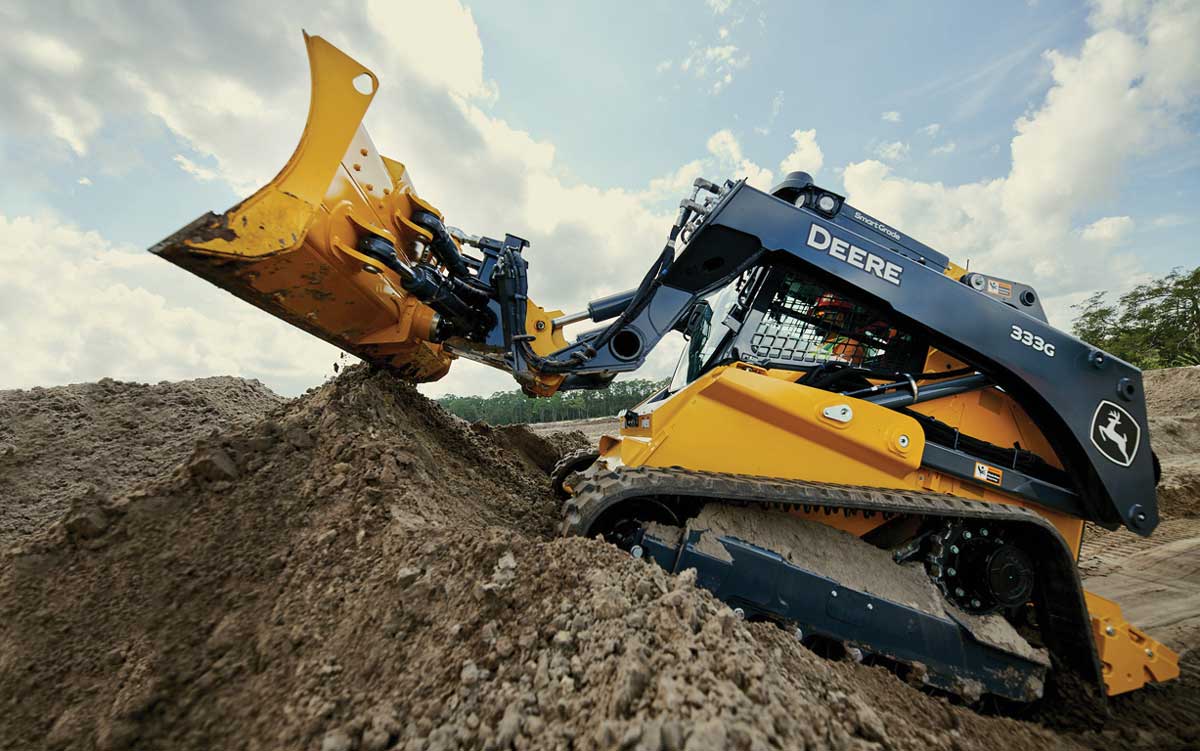 By leveraging the latest grade control technology, the 333G SmartGrade machine levels the playing field with contactors running larger fleets. This unique unit is engineered as a dirt works machine, specializing in grade and earthmoving apps. It can be optioned out with fully integrated grade control technology, anti-vibration undercarriage, sweet six-way dozer blade and the ability to spearhead precision dirt work quickly. Operators will have access to DozerMode, a breakthrough control solution that enables the EH joystick control system to function like a crawler dozer with the push of a button. DozerMode is beneficial when operating the John Deere-designed and -built six-way SG96 Dozer Blade that can both cut a grade and spread materials, streamlining attachment needs and setup time. Both 2D and 3D grade control automation will be available to help work the blade. This entry-level, mastless, grade control feature is perfect for less complex flatwork driveways, sidewalks/bike paths, parking lots and more. For more info, visit deere.com.
Trimble Earthworks Go!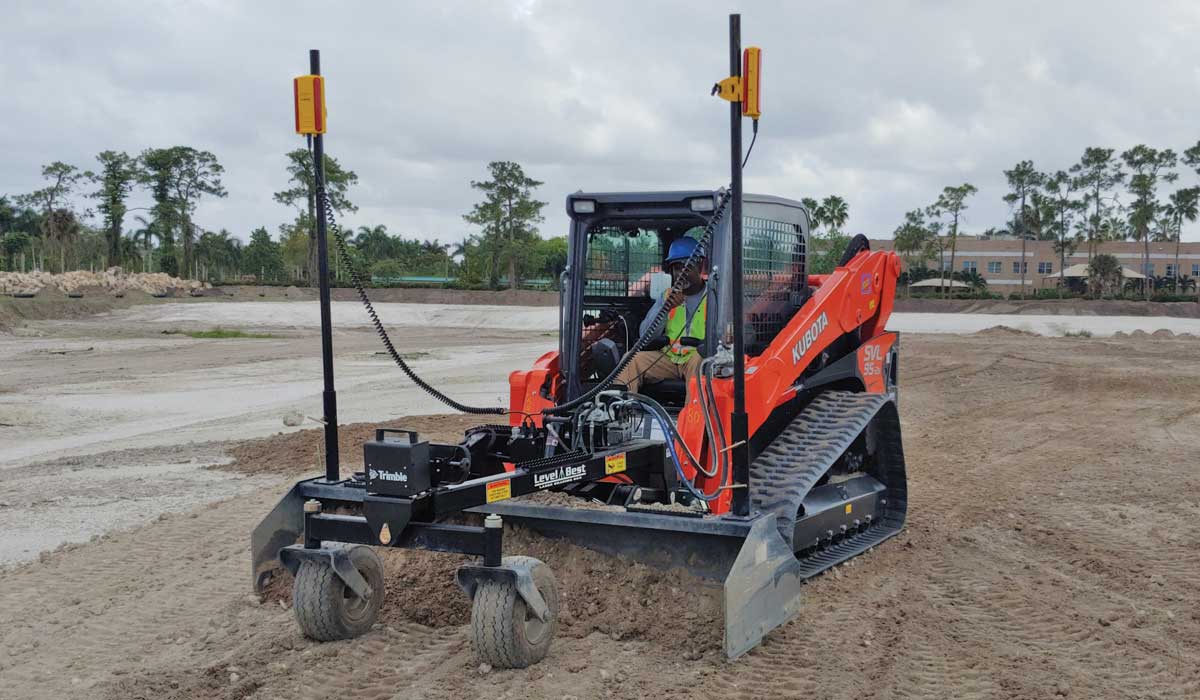 Trimble Earthworks Go! is a 2D grade control solution for compact machine grading attachments that enables high-accuracy grading in an easy-to-use portable platform. It is the only Bring Your Own Device (BYOD) compact machine control solution available today that runs on Android or iOS smartphones. Trimble Earthworks Go! can be used by contractors involved in general construction, site preparation and utility work for grading flat and simple slopes. The system leverages laser technology to provide dynamic, real-time position information that allows the operator to grade or cut profiles quickly and accurately. The platform requires little training time and can increase an operator's productivity up to 20 percent. At the core of the system is the Earthworks Go! software that guides the user through installation, setup and operating modes. iOS and Android compatibility allows operators to use their smartphone as the primary machine interface. For more info, visit civilconstruction.trimble.com.
Case Precision Grader Blade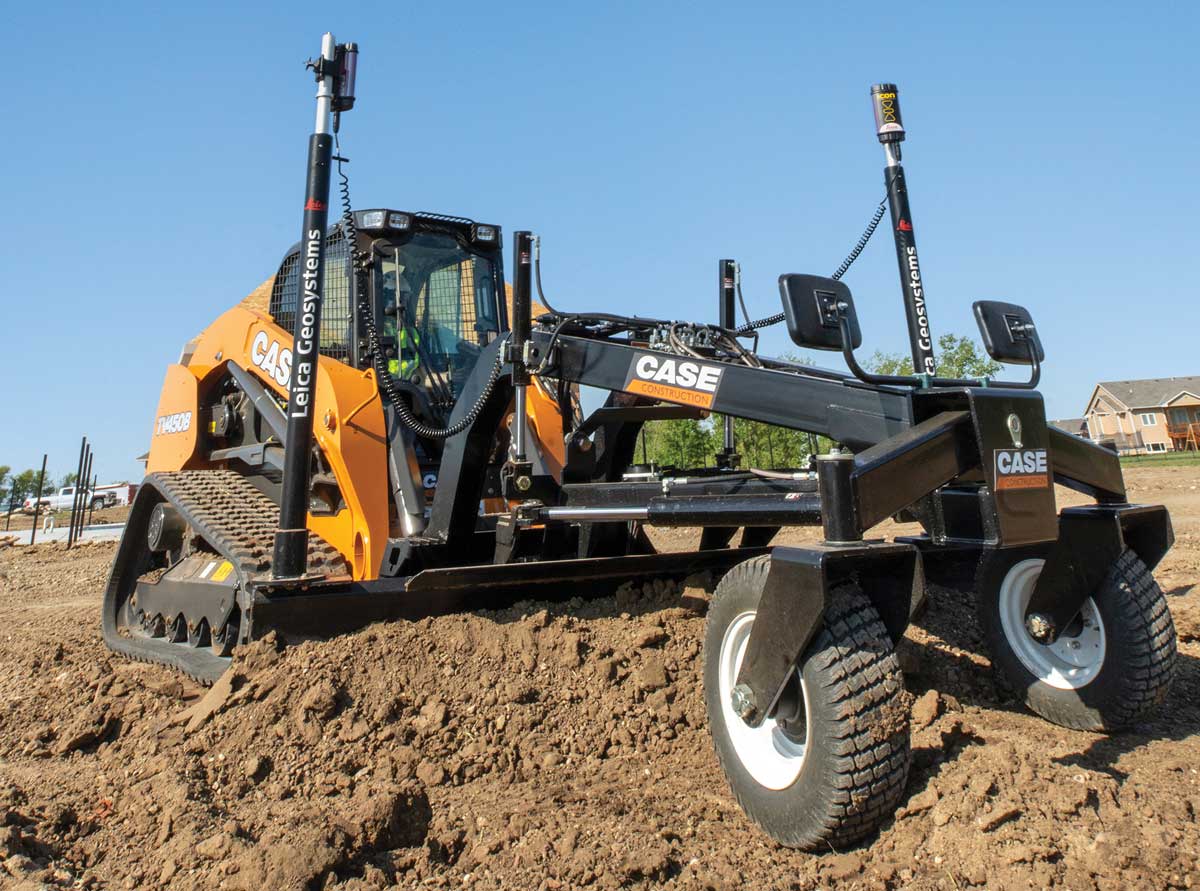 Case Construction Equipment offers a Precision Grader Blade for large-frame compact track loaders, delivering the grading performance of a motor grader in a more compact and agile footprint. The Case Precision Grader Blade is compatible with 2D and 3D machine control solutions — including Case SiteControl grader solutions powered by Leica Geosystems — to deliver improved productivity, quality and efficiency in fine grading applications. The Precision Grader Blade is compatible with the use of laser receivers (single or dual), sonic tracers (single or dual), GNSS/GPS (single or dual) and total stations — and the attachment itself is plug and play with the auxiliary hydraulics and 14-pin electrical connection of a large-frame CTL. It features a 108-in. moldboard capable of jointly changing elevation and slope through dual lift cylinders, as well as achieving 60 degrees of combined blade rotation and 26 in. of combined blade side shift. Motion and action for the grader blade are controlled through the existing joysticks of the CTL — no additional controls are required. For more info, visit casece.com.