John Boss, Product Manager for Compact Machine Solutions in Trimble's Civil Engineering and Construction Division
Purchase Pointer: It's easy for those who are just getting started with machine control to feel overwhelmed, and we find that uncertainty about how to get started is one of the biggest deterrents for those who haven't adopted machine control yet. But the truth is, these systems aren't as complicated as you may think — and almost all of them are simpler and more user-friendly than they used to be.
For those who are looking for the easiest entry point, we suggest a 2D system, which is ideal for compact equipment on projects like leveling parking lots, building pads or sports fields, where everything runs on the same slope. 2D machine control platforms are also available at a lower price-point than 3D models, which increases their appeal for those just getting started.
Although they are a step up from 2D, even beginners should not feel scared off by 3D systems. For example, there are simple, inexpensive programs on the market that make it easy for novice users to take PDF plans from builders and turn them into 3D models, and 3D systems with "automatics" functionality are particularly easy to learn and use.
Navigating the System: A common issue that keeps many contractors from adopting grade control is the initial training it takes to become comfortable with these systems. However, as technology is constantly being improved upon, platforms are easier to learn than ever before. During this process, your dealer network is crucial to ensure you get up and running as quickly as possible.
Another issue operators experience when using grade control technology for the first time is trusting that the technology will do its job. Many operators feel the urge to take control of the system when they're running their machine in automatics. Although it may feel odd to let the system work by itself at first, once operators get used to it, many say they can't live without it.
Grade control systems don't have to be an intimidating experience. Through intuitive interfaces, reliable hardware and comprehensive support from dealers, it's easier than ever to supercharge your operation through machine control.
Jack Herr, Vice President of ATI Corp., Makers of Level-Best Precision Grading Equipment
Be Prepared: For anyone considering a grade control system for the first time, the best advice is to first learn the correct terminology of grade control equipment. It's not that difficult. A few short hours of online research and watching videos of grade control equipment in operation will be well worth the investment in time. Once you're familiar with the trade jargon and technical terms, you will have a much easier time comparing different technologies and determining the right system for you and your operation.
If you're looking for a shortcut to that process, partner up with a local grade control dealer. They are the experts and will be a strong resource for you. For this kind of equipment, the salesman understands that teaching you is better than any other thing he can do to make a sale. Make sure you are comfortable with the salesman and confident that he knows what he's talking about. Ask every dumb question you can think of. Not only will this be a reasonable test of the salesman's aptitude and product knowledge, but it also helps ensure you have a solid understanding and a good basis for making a buying decision when the time comes. Getting good training and having responsive product support on grade control technology is essential to you operating it efficiently and profitably.
Tell the dealer your plans. Lay it all out for him, and be clear about the kind of grading you plan to do. Also, think about the future. Don't be afraid to tell your dealer how your business may change in the years ahead. Thinking about the future may influence the current purchase and save you money in the long run.
Taking Care: Grade control equipment is an expensive investment. Treat it accordingly. Like your cell phone or laptop, keep grade control equipment dry and clean. Keep grade control equipment in the case it was shipped in to minimize damage. Dirt and scratches affect its operation, so keep it pristinely clean, and check it carefully before every use.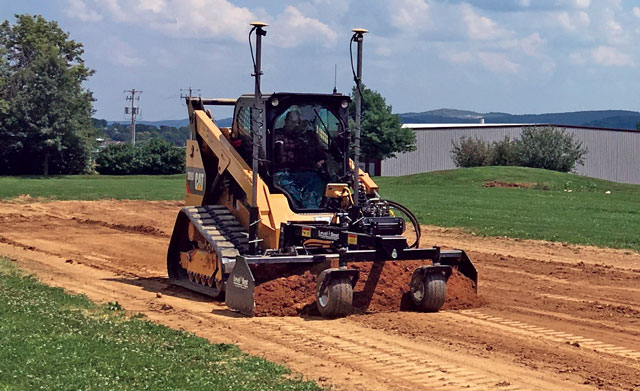 Kevin Coleman, Product Application Specialist for Caterpillar
Finding the Right Fit: Understanding your options when looking to purchase a machine and grade control system in terms of flexibility is an important consideration. Generally, the grade control system will be able to be utilized by more than one machine — even between compact machines and larger machines like dozers and motor graders. Make sure the machine has the necessary wiring and mounting provisions to allow this flexibility. Utilizing the technology expertise of your dealer, you can ensure the best setup for your machine and attachment.
It should not take long to recognize the benefits — productivity, accuracy, reduced setup time and the ability to more precisely bid and deliver jobs — once your workforce is comfortable with the system.
Get to Work: When using laser-guided technology, the operator should be aware of the need for a clear line of sight from receiver to transmitter. The masts are designed to allow receivers to reach over the machine cab, but a receiver can occasionally lose connection with the transmitter. Best practice is to place the laser transmitter in front of the area being graded to avoid receiver line of sight disruptions. For GPS system functionality, a clear line of sight to the sky is required. Once the lasers are in place or the GPS map is loaded, a simple pull of the joystick trigger enables automatic operation, where the position of the blade will be controlled per the plan of the grade technology being utilized.
When utilizing technology with your machine and attachment, there are several best practices that can be utilized by the operator. The grade control system does not know what the jobsite looks like now, only the final desired design. Therefore, you want to make sure your subgrade is generally close to your final design. Start with a relatively small area, build that to your desired grade and then work the rest of your job from that area. It is important to make sure all low spots are filled. Utilizing the joysticks in the cab, you can easily increment the blade up to perform an initial pass slightly above grade, ensuring that you have enough material on your blade to fill in the low spots. Then, you can perform the second pass on the set benchmark to level off any excess material from the desired final grade.