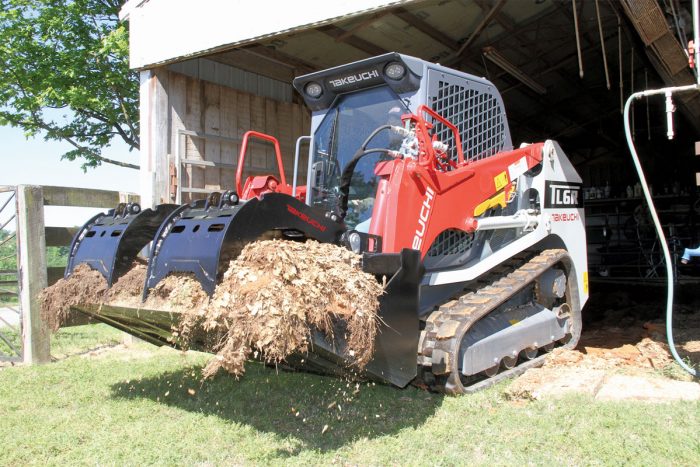 Grapples are the perfect grab-and-go attachments for clearing land, removing brush and cleaning up a jobsite. Need to pick and place logs? Grapple. Haul away concrete from a demo job? Grapple. You get the picture. However, customers don't need to settle for a one-size-fits-all-jobs grapple for their skid steer or compact track loader. Luckily, there's a variety of styles to choose from.
"There are many different grapples for different purposes," says Scott Utzman, attachment program manager, Takeuchi-U.S. "Some are designed for multi-purpose use and others are designed for specific applications. The attachment suited for your application should always be considered before purchase. For instance, people working in scrap yards will need a different grapple than people working in forests. Knowing your job requirements will help you narrow down your grapple attachment choices quickly, and talking to a distributor or manufacturer can help."
Before we discuss the different styles of grapples, let's figure out some important features when picking out this attachment. First, size matters.
"We always recommend getting a grapple that's wider than your skid steer, so 72-, 78- and 84-in. grapples are typically a good fit," says Aaron Stubbs, marketing manager at Erskine Attachments. "For example, if you have a 72-in. machine, you're going to want a 78- or an 84-in. grapple. The rule of thumb is to cover your machine so you don't wreck the tires or tracks."
Grapple size is also going to impact how quickly operators can complete jobs. Customers will want to choose a grapple that's large enough to optimize the number of trips they will need to take.
"Choosing a grapple that's too small means it'll take more trips to finish a job, which results in higher operating costs," says Utzman. "However, bigger isn't always better, either. The grapple should be big enough for what you need to do, but not too big that the machine can't effectively use the attachment."
Next, customers should consider the grapple's steel thickness, yield strength and tine spacing. Operators need a strong attachment capable of handling materials.
"A minimum steel yield strength of 50,000 psi should be considered," says Utzman. "Less tine space is better for compact debris, and more tine space works best for larger, bulky debris. Choose spacing that will allow you to sift through unwanted dirt and debris while securing the wanted items between the jaw and tines."
Utzman also points to choosing between an open bottom and solid bottom. He says an open "skeleton" bottom, like what's found on brush or rock grapples, allows smaller, unwanted material to fall between the tines. Solid bottom grapples have no space for debris to fall through, which means the debris stays in the bucket.
Aside from the bottom of the grapple, open sides vs. closed sides are also up for debate.
"Grapples with open sides allow for easy clamping of logs and piles of brush that are wider than the skid steer attachment itself," says Utzman. "Grapples with closed sides or side plates keep debris from spilling out, resulting in a cleaner work area."
Grapple Styles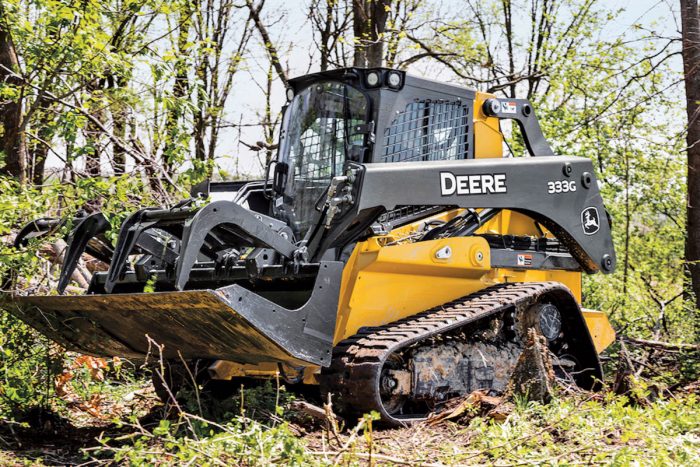 So, we know what to look for when selecting a grapple, now let's talk about the different styles available. Stubbs says customers should consider the scope of work they intend to do in the long run and not just the particular project that encouraged the attachment purchase.
"It's important to get what you need for the job at hand and also what's down the road," he says. "We'll get a customer who is focused on a brush cleanup job right now, but when you ask them what they do for a living they say, 'Well, actually I do demo work.' Maybe one out of 10 jobs are cleaning up brush, but the other nine are demolition, so we want to take that into account."
Whatever projects are on the horizon, there's a grapple for every application. General utility grapples, also known as rock grapple buckets depending on the manufacturer, are suitable for light construction work and residential projects. These grapples are popular due to their ability to handle a lot of different debris.
"The rock grapple bucket is your standard utility grapple — almost everybody has one," says Stubbs. "They have 3-in. spacing in between the tines and work well with rock. They're great at cleaning up debris and working in demolition. If somebody's going to buy a grapple, that's usually the first or second grapple they buy."
Gregg Zupancic, marketing manager for John Deere Construction and Forestry, mentions that the company's GR72B and GR84B rock grapple buckets are perfect for land clearing, jobsite cleanup and brush removal.
"Our rock grapples allow for grading the site after debris removal," he says. "The current size offerings for the John Deere rock grapples range between 72 to 84 in. in width and 1,165 to 1,255 lbs in operating weight."
Industrial grapple buckets are made to withstand the toughest, most demanding commercial jobs. Utzman says industrial grapple buckets are built with thicker, high-yield-strength steel, and often have a much taller jaw opening to haul more material per load. Operators can choose between 60-, 66-, 72-, 78-, 84- and 90-in. widths.
Working in forestry or land management applications? A root grapple may be for you. This attachment is a single-jaw grapple used for digging, raking, piling and loading debris.
"The teeth on root grapples can dig below grade to clear tree roots and limbs or remove stumps," says Utzman. "The jaw allows operators to drag loose material into piles, and a tall jaw opening moves large amounts of debris."
Stubbs adds that root grapples are one of the most popular options, ranging in price from $1,000 to $8,000.
Safely transport logs and pipes with log or pipe grapples. These grapples apply even pressure to the load they're carrying and are available in 48- and 60-in. widths. The oil and utility industries are using these durable grapples to haul mats.
Need to securely capture and haul debris away? Scrap or solid bottom grapples are a great choice. These grapples excel in yard waste removal, demolition, recycling and scrap applications.
"John Deere's GS66B, GS72B, GS78B and GS84B scrap grapples feature open sides with bolt-on side plates that allow for the easy grappling of material that is wider than the bucket," says Zupancic.
Pam Kleineke is managing editor of Compact Equipment.
Tags:
Erskine Attachments
,
John Deere
,
March 2021 Print Issue
,
Takeuchi
,
Takeuchi-US