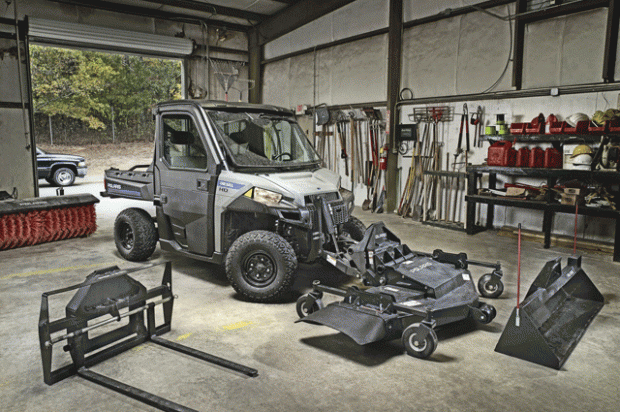 Utility vehicles (UTVs) are gaining popularity on the jobsite both for their agility and ruggedness, as well as for their adaptability to do nearly any small task needed — assuming you have the right attachments ready to go. For starters, there are the traditional extras for comfort or protection, like brush and fender guards or a windshield and/or roof, which add to the number of jobsites that make a UTV safe and useful. But many UTVs today can be outfitted with attachments and implements that turn the vehicle into an entirely new piece of equipment. Site cleanup is needed? Attach a straight blade or an angle broom with stiff bristles that can clean down to the pavement, removing sand, gravel and snow quickly. Smaller items or debris need to be moved quickly? Add pallet forks or a bucket.
Today's top UTV brands are loaded with a library of options. Polaris lists 10 different attachment functions that keep its Brutus UTVs relevant in all seasons, such as grabbing, scooping, leveling, plowing, lifting, blowing, mowing, sweeping, spreading or spraying.
Kubota has many performance-matched attachments for its RTV-X Series vehicles, such as the commercial HD 60-in. rotary broom, great for the tasks mentioned earlier, as well as snow blades and blowers and a variety of spreader attachments for salt, sand or seed. Kioti features a five-bushel, pull-behind spreader with a distribution of up to 20 ft wide, a wire unroller for tough fencing jobs, a disc culti-packer combo, an eight-blade disc harrow, flip disc, chain harrow and more. John Deere also offers interesting options.
"We strive to offer as many attachments that enhance product performance as possible from the factory," says Mark Davey, tactical marketing manager, Gator utility vehicles, for John Deere. "It makes it easy for our dealer channel and more affordable and ready to go for the customer." John Deere's lineup ranges from convenient extras (cabs, lights, signals, cargo storage) to handy worksite tools (winches, drawbar accessories, blades, sprayers and more) and has a large offering of dealer installed options for complete Gator customization.
Attachment Options
When specing that next UTV, consider the quality of those attachment parts, the method of attachment and the functionality of the tools. Starting with the lineup of accessories from the OEM is always a solid idea as they undergo stringent testing for fit, quality and performance and are specifically engineered for the vehicle. For Polaris, all attachments use heavier gauge steel with bigger pins and are attached via an exclusive mounting system that allows you to change attachments in minutes without tools. The Brutus Pro-Tach system is driven primarily by a power take off (PTO) shaft driven off the vehicle's diesel engine. Attachments are fairly easy to turn on and off via the hand-operated PTO control. Polaris also has hydraulic couplers for connecting hydraulic cylinders or motors in order to position attachments exactly how a job may require.
"It's that direct PTO connection that transfers more power to the attachment that keeps attachments working in the tough applications that our customers work in every day," says Tricia Hamak-Sundeen, marketing manager, Polaris Work and Transportation. "Our main system goal is to make the vehicle easy to configure to the exact job you need to do. Our Pro-Tach attachment system makes it easy to change attachments and our Lock and Ride accessories offer more combinations of work options than anyone in the industry."
The attachments for the Polaris Brutus range from $599 for the materials bucket to $4,799 for the new updated snow blower.
Kubota's 72-in. general duty front straight blade offers an optional hydraulic angle kit and is ideal for cleaning driveways and parking lots. And, if operators ever need to pull a co-worker out of the snow or mud, the winch kit can save the day with 4,000 lbs of capacity.
"One particular accessory that is unique to Kubota and really adds to the overall workability of Kubota RTVs is the Rapid Access Cargo [RAC] System," says Eric Goins, RTV product manager for Kubota. "The RAC System allows users to configure the cargo bed of their RTV in many different ways to best fit their needs or job."
Complementing these tools is Kubota's Deluxe Hydraulic Controls and Valve Kits, providing optimum control no matter the task at hand, and with the Front Hydraulic Quick Hitch, attaching and detaching is simple. Kubota attachments are competitively priced, ranging from $599 for the winch kit to $4,510 for the 10-cu ft cargo box salt/sand spreader.
Many of the John Deere attachments don't require any power, and the items that do, like winches and lights, are driven by the alternator capacity and battery. So, when using any of those attachments, you'll want to be careful with the UTV's battery life. John Deere has a vast range of list prices, from a yellow seat cover for $26.99, to items like cabs and heating systems that are well over $1,000. "The payback for these accessories comes from the machine utilization," Davey says. "Having one vehicle that can work year round on a variety of tasks improves overall uptime and use of capital."
Chris Crowell is a contributing editor to Compact Equipment.