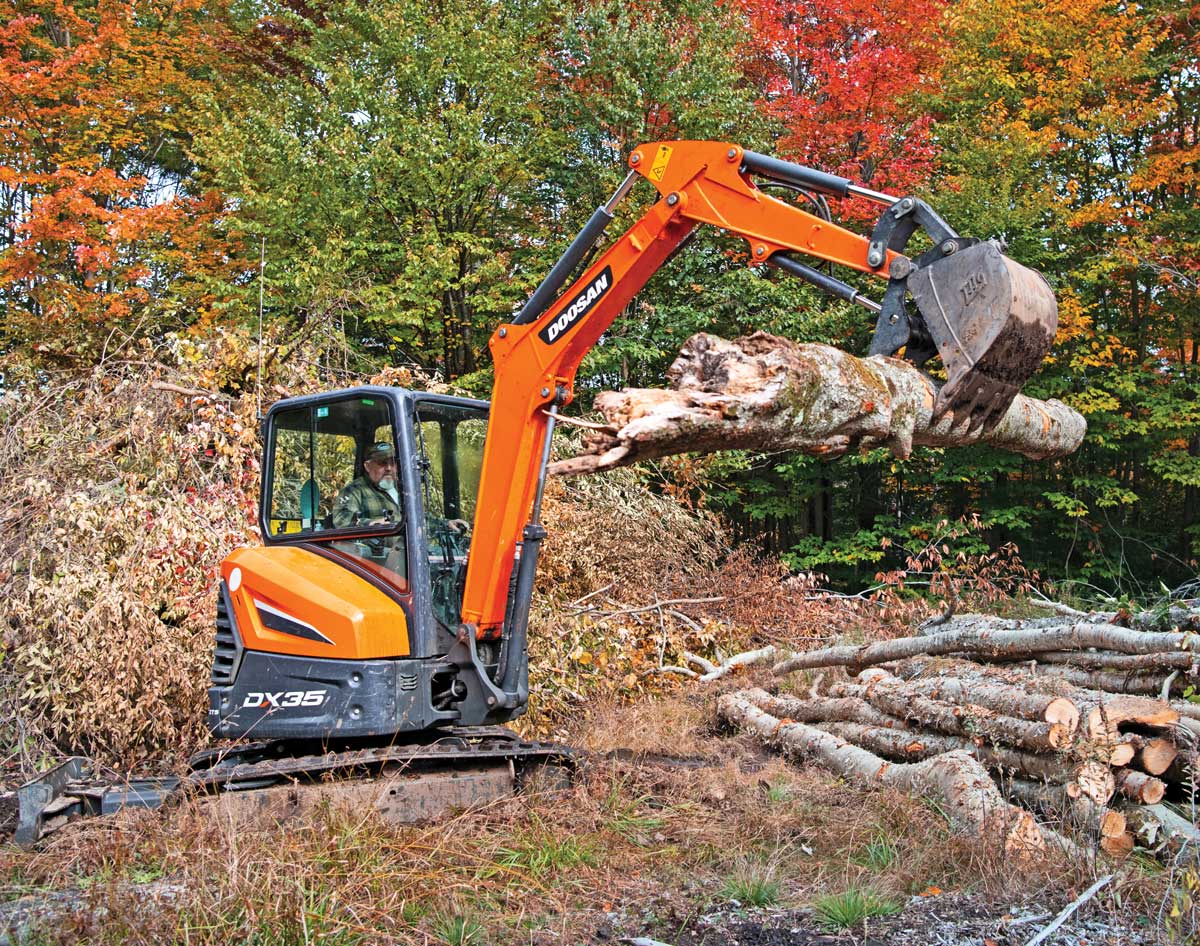 No doubt about it, buckets are the most popular attachment for mini excavators. While they're great for digging, trenching, loading and removing dirt, sometimes operators need a hand moving other materials around the jobsite. When it's time for a bucket to take a break from excavating, thumbs and grapple attachments can be brought on board for pick-and-place duties. These tools turn a mini excavator from a dig-only machine into one that's capable of lifting and shifting materials around the work area. Here's a look at these two attachment options.
Thumbs
Operators can use thumb and bucket combos to handle a variety of applications, including lifting and placing timbers, rocks or other landscaping materials. By adding a thumb to a bucket, the combination can act as a grapple attachment, performing similar tasks without removing and attaching other equipment — saving time and hassle on the jobsite.
"The mini excavator operator can easily grab, lift and place objects with the bucket and thumb combination," says Jay Patel, product specialist at Develon. "This combination can be useful in a variety of situations on construction jobsites, including land-clearing applications and demolition tasks."
There are two different types of thumbs — rigid and hydraulic. A rigid thumb attachment stays in a fixed position that's set manually and does not require auxiliary hydraulic flow to operate it. Jobs that require lifting and moving items that are the same size and shape often work best for a rigid thumb, given its fixed position. Longer jobs are desirable for rigid thumbs since they allow the operator to stay in the machine and work, rather than readjust the thumb's position.
When the project requires lifting and moving items of various sizes, hydraulic thumbs provide the most relief. Hydraulic thumbs are moved hydraulically using a cylinder mounted to the arm and thumb. They give the operator a wider range of motion from the attachment and the ability to change the position of the thumb from inside the cab. Hydraulic thumbs are also able to easily retract when they're not needed, which is great for operators who use their excavators primarily for digging. Patel explains that an equipment dealer can help customers select a thumb that is properly sized for the mini excavator, as well as ensure the machine has the required auxiliary hydraulic flow to operate the attachment.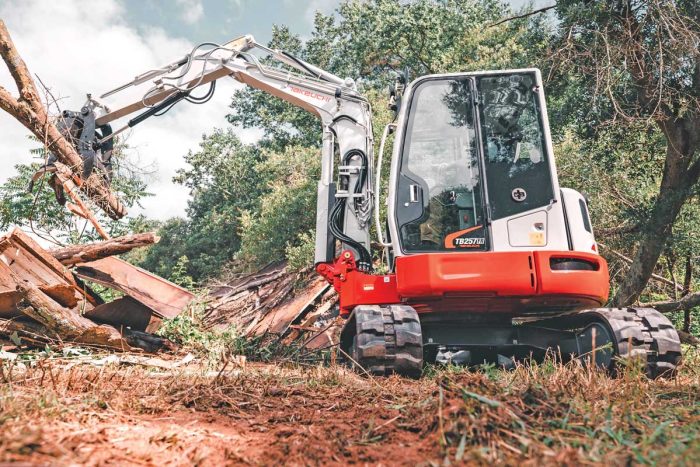 "Mini excavator owners may need to install additional hydraulic tubing along the excavator's boom and arm to supply the hydraulic flow to the thumb, depending on the manufacturer," he says. "Also keep in mind the type of tines available on the thumb attachment and what the mini excavator owner may need for a particular application or jobsite. If there is a preference for the bucket teeth and thumb tines to mesh, the correct thumb and bucket size combination must be selected."
Lee Padgett, product manager at Takeuchi-US, adds that most of the company's excavators have the necessary hydraulic circuit to operate a hydraulic thumb, as well as an integrated thumb mount which makes installation easier. He says customers should make sure the thumb mates properly with the bucket and has enough rotation to retain material in the bucket as you move the material from Point A to Point B.
Once you select a thumb attachment, you'll want to keep it working correctly. This includes following proper operating and maintenance practices. Patel recommends that operators inspect the attachment before using it each day.
"Owners should inspect the hydraulic lines running along the boom and arm to the attachment. If there is any damage to the hydraulic lines or the attachment, it's best to get it fixed," he says. "From a safety standpoint, mini excavator operators should follow the recommended lifting guidelines provided by the manufacturer. It can be unsafe to try lifting objects that are too heavy for the machine's capabilities. Some manufacturers provide lift chart decals inside the machine for quick reference."
Werk-Brau product manager Alex Andrews says regular maintenance is key in keeping the thumb in tip-top shape. This includes ensuring all grease points are greased, verifying hydraulic pressures are set within the required range and avoiding any prying with the thumb itself. "By keeping up with regular maintenance, you can expect the thumb to last several years down the road," he says.
Mini excavators are making big waves on jobsites all over North America. Click here for the latest news on these machines and the companies that make them.
Grapples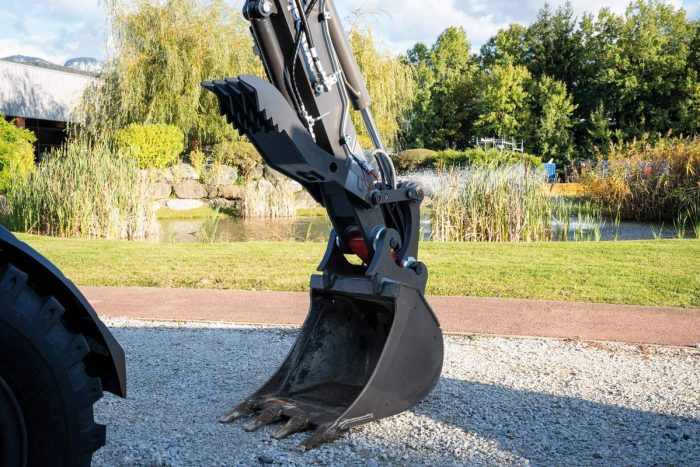 Need a little more control during pick-and-place operations? Do you plan on performing continuous lifting and placing tasks? Consider a grapple. These attachments offer a bigger and tighter grasp on materials, and some even offer the ability to rotate. The most popular style of grapple for mini excavators is a fixed grapple and boasts two jaws — one with three tines and one with two tines. They typically range in size from 24 to 36 in.
"Rotating attachments like grapples have become more popular for use with mini excavators," says Patel. "Accessories such as tiltrotators further expand a grapple attachment's versatility and can improve the mini excavator operator's productivity. It is important to understand each mini excavator's capabilities and follow the grapple manufacturer's recommended guidelines."
Takeuchi's Padgett notes that when purchasing a grapple attachment, the considerations are very similar to those when purchasing a thumb. He says to make sure you have a hydraulic circuit capable of operating the grapple and to check that the grapple's weight fits within the machine's capacity. You should also consider the application and material type that you need to pick up and place.
Patel adds, "Operators need to check whether the grapple can safely lift heavy objects. This may depend on the mini excavator size and what it's rated to lift. Operators can find the lift charts in the operation and maintenance manual or by visiting with a local dealer."
Similar to a thumb, Patel says operators should inspect the attachment daily to ensure it's free of any damage.
Pam Kleineke is managing editor of Compact Equipment.
The Perfect Pair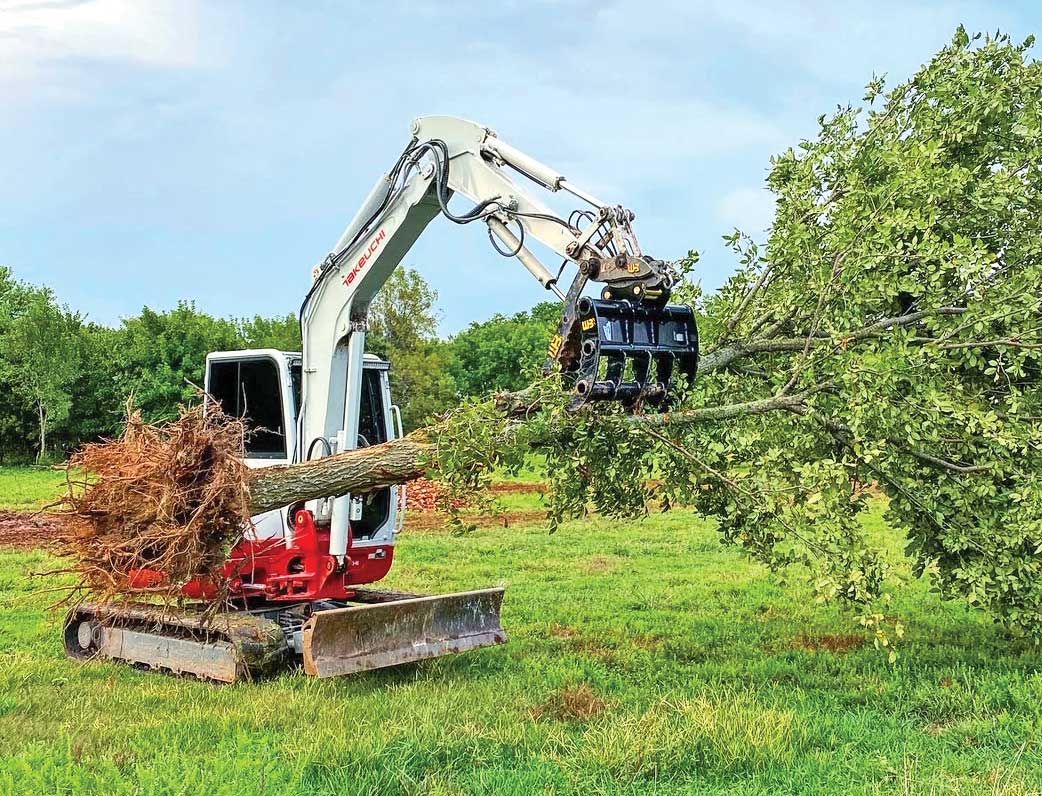 Need a better grasp on the job? Consider pairing Werk-Brau's Grading Rake with a Main Pin Hydraulic Thumb. According to Werk-Brau product manager Alex Andrews, it's a great combination of two attachments that allows the operator to have a grapple function. He says this pair is perfect for land clearing, gathering debris and sorting materials.
"Our Grading Rakes come in various sizes to meet application needs," says Andrews. "Once determining the size of Grading Rake that's needed, you then will need to determine the style of Hydraulic Thumb you will need."
Andrews adds that Werk-Brau can manufacture custom designed thumbs so customers can get the perfect thumb for their needs. He also reminds buyers to remember four important factors when deciding on a thumb:
Does the machine come pre-equipped with a factory cylinder mount
installed on the stick?
Is the machine equipped with a coupler system?
What is going to be your primary bucket/rake that you would
like the thumb to mesh with?
How many tines would you like your thumb to be equipped with?