For many categories of equipment — skid steers, track loaders, compact tool carriers, tractors and beyond — attachments make the machine. Brooms, buckets, breakers, backhoes, bale spears, brush cutters, box blades and that's just some of the Bs. Because it's a random Thursday, we pulled together this cool collection of new attachments for machines as diverse as track loaders to trucks. Enjoy!
Bobcat Bob-Dock System (Above)
The Bob-Dock attachment mounting system, a loader option available for select Bobcat M2-Series loaders, enables operators to change most hydraulic attachments without stepping outside the cab to remove or connect hoses. To connect an attachment, an operator lines up the loader with the attachment's Bob-Dock adapter plate. The operator then presses the Power Bob-Tach switch inside the cab. The Bob-Tach system secures the attachment, while the Bob-Dock system automatically connects the hydraulics. The attachment is then ready to use. The Bob-Dock system will be available for: M2-Series T630, T650, T740 and T770 track loaders; S630, S650, S740 and S770 skid steers; and the A770 all-wheel steer loader. For more info, visit bobcat.com.
Case Laser Grading Box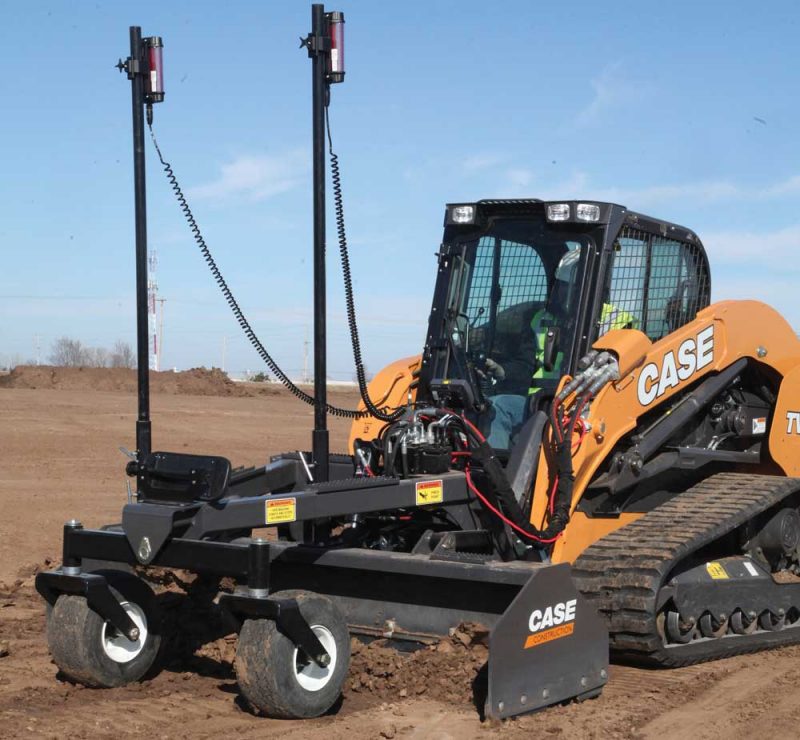 Ideal for a variety of fine-grading applications, the Case Laser Grading Box creates highly precise finish grades to within 1/10th of an inch. With a reversible cutting edge on all sides, the grading box's unique push-pull design grades moving forward or in reverse to utilize the maneuverability of a skid steer or track loader and increase productivity. A rotating laser is set for the desired grade. The rotating beam of laser light is read by the laser receivers, mounted to mast poles. The beam's location is then sent to the control panel, which interprets it in relation to grade. The control panel then tells the hydraulic valve to adjust the grading box up or down to keep the receivers on grade. For more info, visit casece.com.
Ditch Witch SK5TR Trencher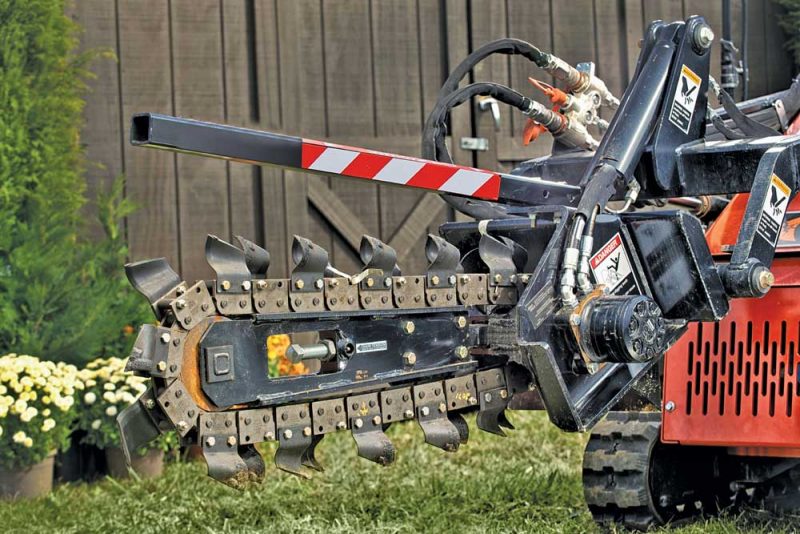 Rental companies and landscapers can extend the value and versatility of their Ditch Witch stand-on skid steers with the SK5TR trencher attachment. Upgraded from the previous 10-tooth forged sprocket, the SK5TR features an 11-tooth forged sprocket for faster chain speeds and increased chain life. The compact attachment offers greater operator visibility and increases productivity. And, the updated design includes a replaceable boom stub, reducing downtime and repair cost. The maximum digging depth of 38 in. provides operators the ability to trench at a deeper depth. Along with the other attachments for the Ditch Witch stand-on skid steers, the SK5TR is compact and easy to transport. For more info, visit ditchwitch.com.
Kioti Backhoes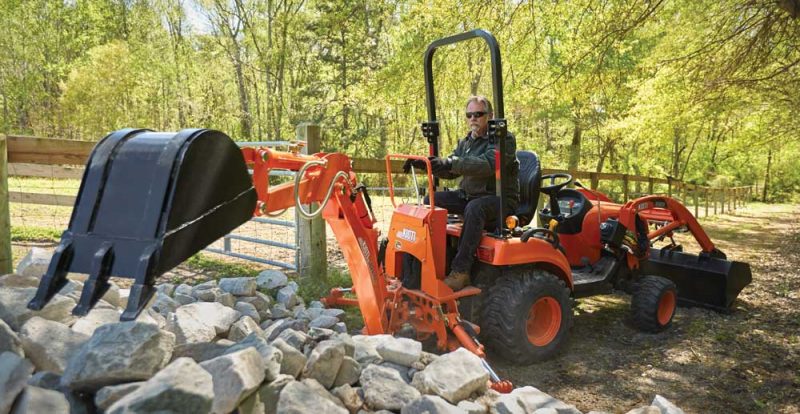 Dominate the dirt with a Kioti backhoe — an essential attachment for users who demand reliability and precision from their equipment. Four models — the SB2410L, KB2465, KB2475L and KB2485 — offer a variety of standard features, including sub-frame mounting, self-contained hydraulics and hydraulic stabilizers that help operators tackle the toughest excavation jobs with ease. Responsive two-lever hydraulic controls allow for a user-friendly experience and good control. The entire backhoe (besides the mounting frame) can be quickly detached, providing the versatility to move swiftly from job to job. For more info, visit kioti.com.
Digga Mini Soil Conditioner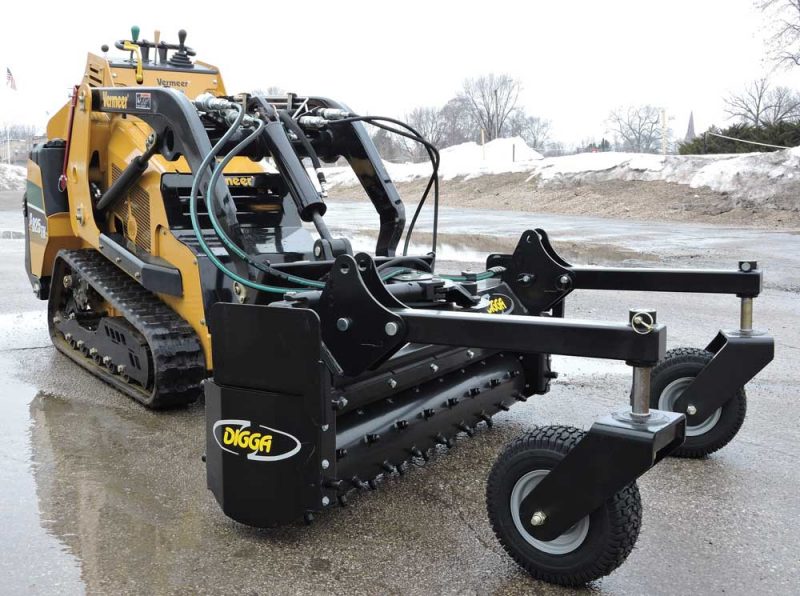 Do you need a powerful and reliable landscaping tool for your compact utility loader? The Digga Mini Soil Conditioner is a fully hydraulic attachment, which is used for grading, leveling, raking and removing debris, pulverizing and preparing the ground for new seedbed or turf. It is also used for de-thatching or removing old lawns and weeds — all in one tool. Suited for compact utility loaders and small skid steer loaders, it is ideal for golf courses, wineries, paving and is a great tool for contractors. It features a hydraulic 48-in.-wide, bi-directional drum to work soil in both directions. For ease of use on different surfaces, the angle of the Mini Soil Conditioner can be changed to 25 degrees in either direction and spoil plates can be removed for windrowing. For more info, visit diggausa.com/soil-conditioner-mini.
Toro Dingo Hydraulic Breaker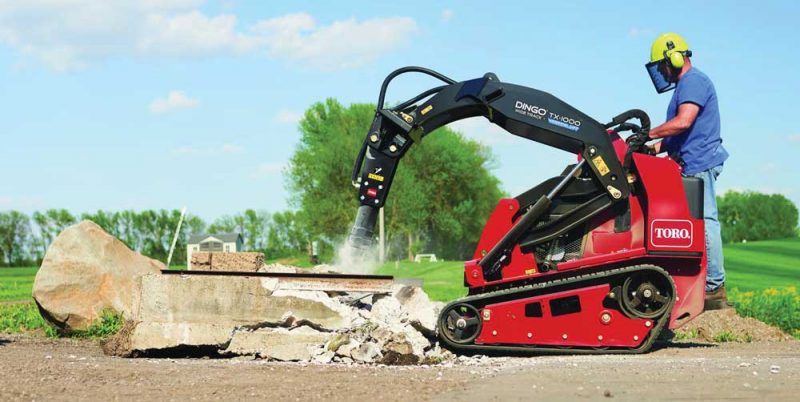 The Toro Dingo hydraulic breaker simplifies the tough job of breaking concrete, asphalt, rock or brick during demolition. It's also great for replacement or renovation jobs. This rugged unit helps break up footings, sidewalks, foundations and a host of other solid structures. The hydraulic breaker attachment's unique mounting configuration allows for horizontal alignment, which is particularly useful in breaking apart walls, and the standard conical tool bit breaks down to a 10-in. depth. Other bits are available such as line, moil point, chisel and an 8-in. tamper. The breaker attachment delivers a powerful 180 ft-lbs of force and delivers up to 1,250 blows per minute (bpm) to handle a variety of applications. For more info, visit toro.com.
Vermeer SVP18 Vibratory Plow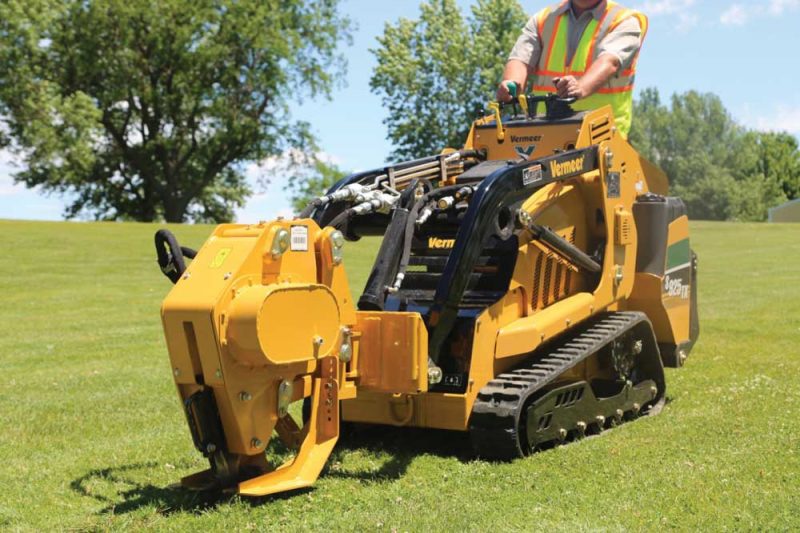 The Vermeer SVP18 vibratory plow attachment for mini skid steers is designed for landscaping and utility installation applications on compact jobsites. With the ability to install product up to 12-in. deep utilizing either a chute-style or pull-style blade, the SVP18 vibratory plow delivers better productivity than digging irrigation lines or fiber-optic cable by hand in residential areas. A 50-degree swing angle allows the attachment and mini skid steer to make tight turns around obstacles, and the 6-in. height of the plow's tamping feet provides improved tractive efforts than previous models. The SVP18 attachment can be utilized for multiple applications on one jobsite. For more info, visit vermeer.com.
Gyru-Star Compact Screening Bucket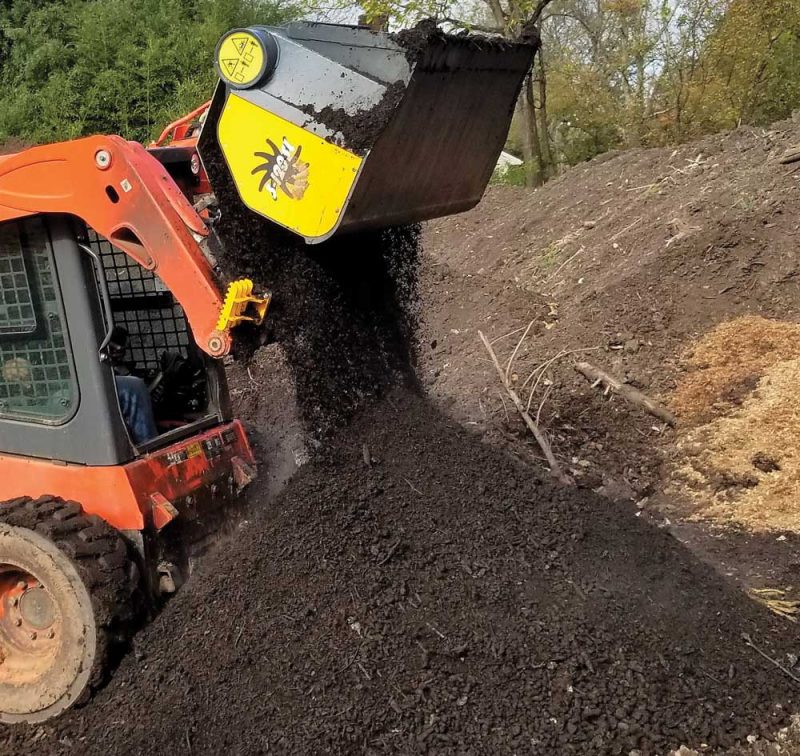 The U.K.-manufactured Gyru-Star Compact Screening Bucket is designed specifically for use with 2,000- to 50,000-lb excavators, in addition to compact wheel loaders, skid steers and agricultural tractors. Its patented flexible polyurethane stars allow for jam-free screening of dry or wet soil, sand, compost and aggregate without the need for shredding or crushing. The screenings can be used for backfilling, stockpiling or pipe bedding, while retaining oversized materials that can be dumped elsewhere. The Gyru-Star's large screening area maximizes output, yet it is compact and lightweight enough to be transported via pickup. The Gyru-Star is great for landscaping and small-scale contracting applications. For more info, visit ransomeattach.com.
JLG Sheet Material Handler for Telehandlers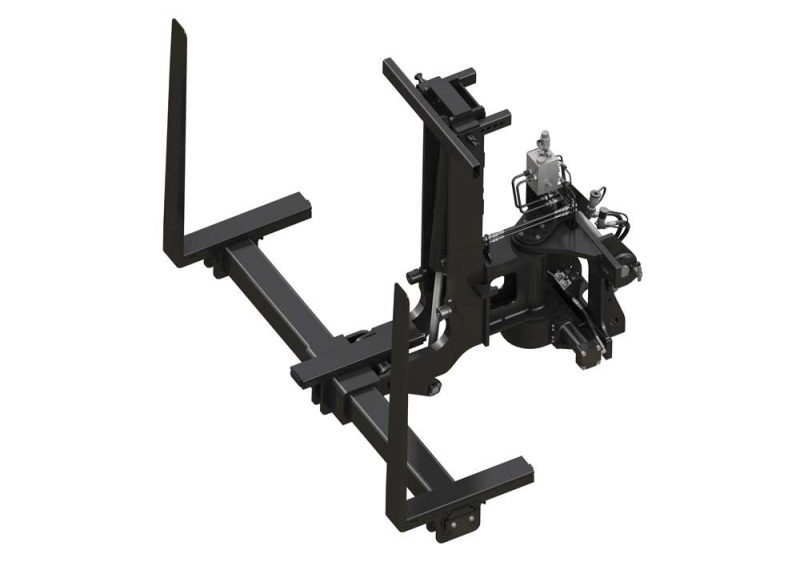 JLG Industries Inc. has added a new sheet material handler to its line of telehandler attachments. The coupler-mounted attachment can lift up to 3,000 lbs with a 72-in. maximum fork spread, allowing for heavy and wide materials to be delivered at height. The attachment can be used for picking and placing sheetrock, drywall, plywood, green board and other sheet materials. The 100-degree horizontal tilt ensures accurate placement at the desired location. The attachment can handle a max. width load of 22 in. and provides a 180-degree swing capability. The JLG sheet material handler attachment is compatible with JLG telehandler models 742, 943, 1043, 1055 and 1255. For more info, visit jlg.com.
SnowEx Tailgate Pro Spreaders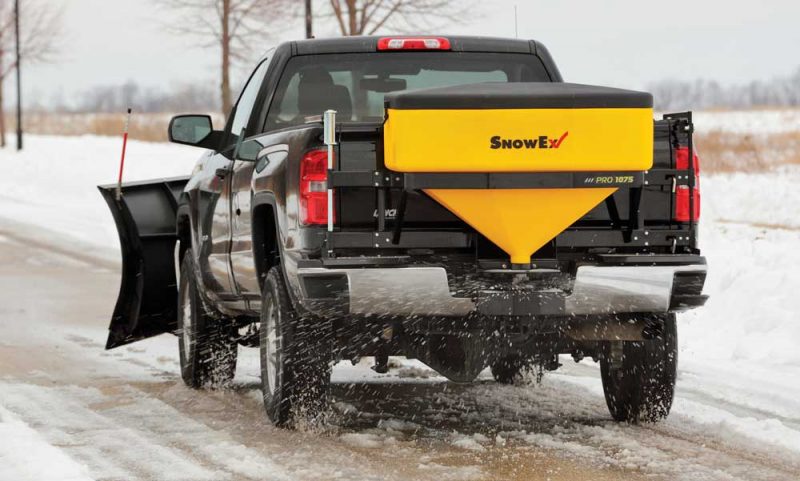 Offering hopper capacities of 5.75 and 10.75 cu ft, respectively, the SnowEx Tailgate Pro SP-575X and SP-1075X single-stage spreaders can apply salt and de-icing materials to roads, driveways, parking lots and recreational paths. The SP-575X comes with a standard 2-in. receiver hitch. An enhanced universal pivot mount — optional for the SP-1075X — allows the spreader to swing away from the tailgate for convenient truck bed access. The pivot mount's ability to adjust for varying heights, widths and styles allows it to fit a wide range of pickups, SUVs, UTVs and tractors. With material spread width adjustment up to 40 ft, the enhanced spreader control is more compact than previous models. For more info, visit snowexproducts.com.
Brush Masters
John Deere Rotary Cutters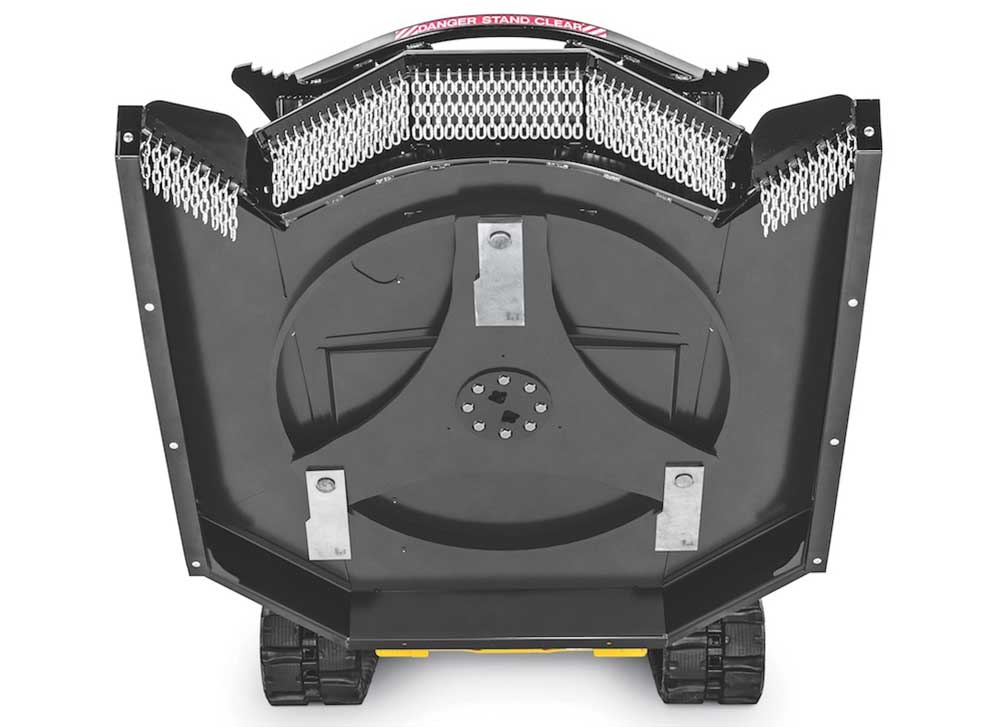 The newly released RX72 and RX84 John Deere rotary cutter attachments are designed for heavy-duty vegetation management applications, including property maintenance and right-of-way clearing. The rotary cutter attachments are compatible on large-frame skid steer and compact track loaders and are equipped with high-flow hydraulics and a severe-duty door. The new rotary cutters offer a robust solution for clearing medium-to-heavy brush and hardwoods up to 10 in. in diameter. Both the RX72 and RX84 include motors with a direct drive bearing for higher efficiency and extended durability, while an optimized blade carrier design allows for a fast startup and recovery time. For more info, visit johndeere.com.
Loftness Bad Ax Disc Mulcher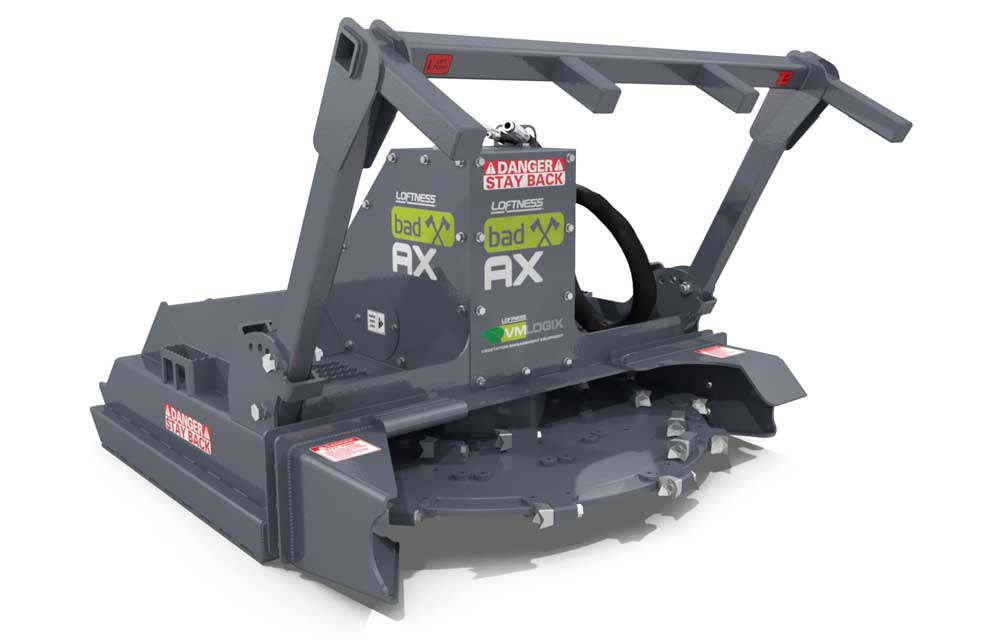 Loftness recently introduced its Bad Ax disc mulcher for skid steers. This high-powered forestry head is ideal for a wide range of applications, including land clearing, vegetation control, fire prevention and more. The Bad Ax includes a fully machined, 60-in.-diameter disc designed to cut trees up to 14 in. in diameter. Because the disc contains no welds, there are no areas subject to stress cracking. The disc is driven directly by the machine's hydraulic motor to apply 100 percent of the power to the job at hand. A polyurethane coupler offers vibration dampening, and the direct drive eliminates the need to maintain belts. The Bad Ax features recutter bars along with counter teeth to hold material in place. For more info, visit loftness.com.
Get Hammered
Okada TOP Model 60B Breaker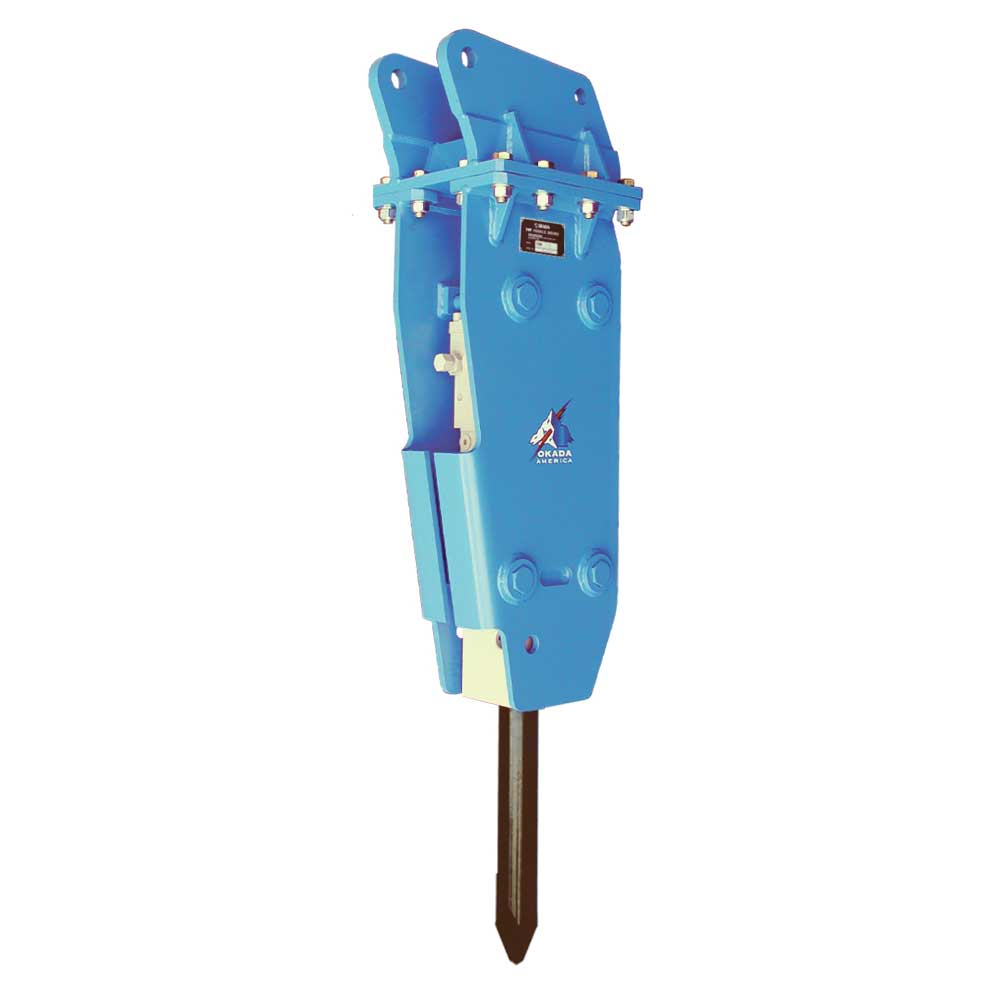 The Okada America Inc.'s TOP Series hydraulic breakers are the result of decades of field experience and a long-standing record of leadership in the industry. Fifteen TOP Series hydraulic breakers ranging in energy classes from 150 to 15,000 ft-lbs provide a broad range of solutions for your skid steers, compact excavators, track loaders, loader backhoes and excavators. The small range TOP Series hammers are available in models TOP 21LT, TOP 31, TOP 35B, TOP 45B, TOP 55B and TOP 60B. Key features of the small range TOP Series from 150- to 1,250-ft-lb energy class include nitrogen gas, a piston travel/long stroke design, cup seals and customized mounting brackets. For more info, visit okadaamerica.com.
Epiroc ES Hydraulic Breakers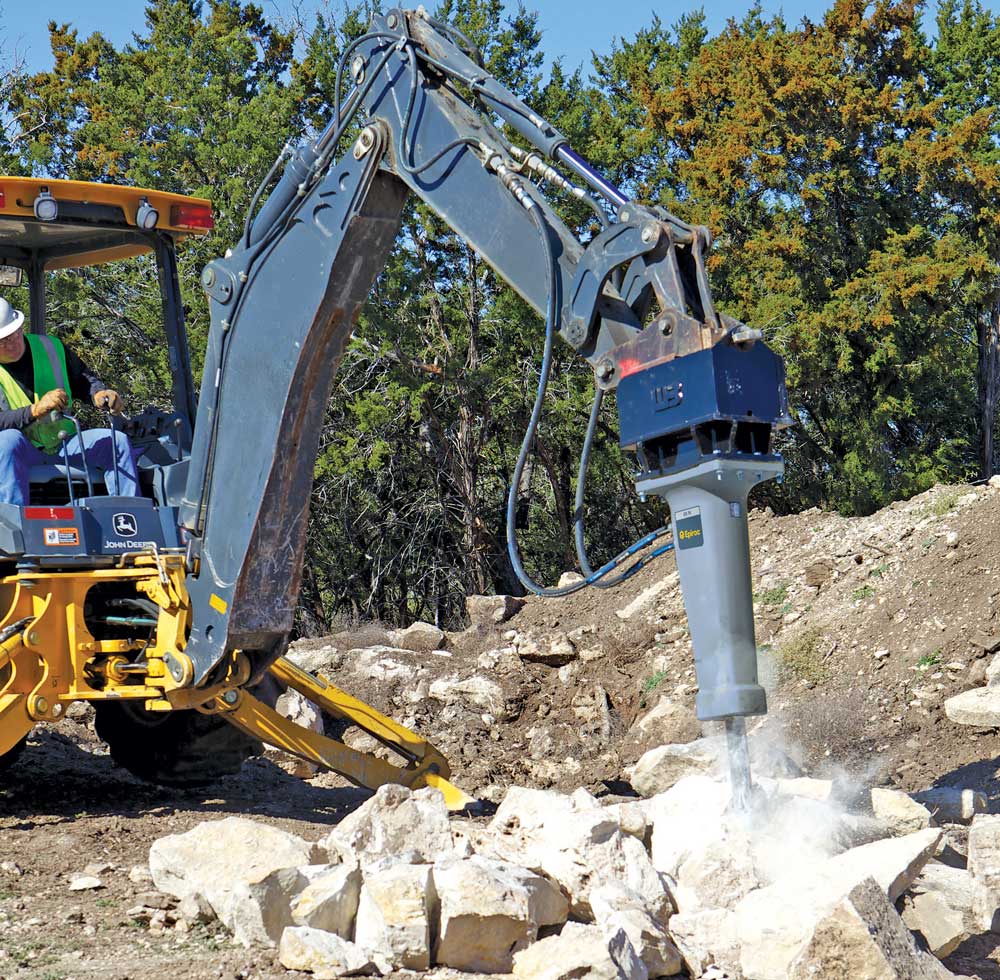 Epiroc ES hydraulic breaker attachments are designed for reliable performance for day-to-day construction, gardening, landscaping and lots of renovation jobs. Epiroc offers three models of ES hydraulic breakers for carriers from 2,800 to 26,500 lbs. The slim, compact design of Epiroc ES hydraulic breakers provides easy handling, good visibility and high maneuverability. A solid block of special casted material eliminates the need for a separate guiding system, as well as tie rods or stud bolts, and reduces the total number of parts compared to conventional hydraulic breakers. The removable piston liner also increases serviceability. For more info, visit epiroc.us.
Kinshofer KSB-Series Hydraulic Breaker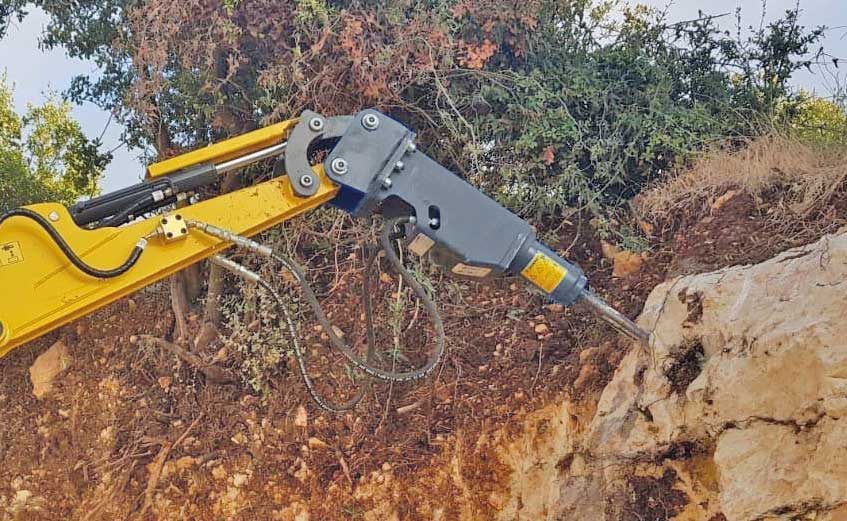 Kinshofer's KSB-Series hydraulic breaker features a monobloc design and other standard elements to increase durability and comfort for operators in construction, demolition and recycling. The KSB-Series encompasses eight models for .5- to 12-ton excavators. All models in the KSB-Series are manufactured as a single piece without tie rods — a distinctive monobloc design — that makes them extremely resistant to linkage strain during operation. All KSB-Series models are equipped with operator comfort-enhancing features. All Kinshofer breakers are designed to limit vibration from transmitting to the frame. This design feature also reduces wear on bushings and other excavator components. For more info, visit kinshofer.com.
Tags:
Bobcat
,
Bobcat Company
,
Case
,
Case Construction Equipment
,
Digga
,
Ditch Witch
,
Epiroc
,
Gyru-Star
,
home
,
JLG
,
JLG Industries Inc.
,
John Deere
,
Kinshofer
,
Kioti
,
Loftness
,
March 2020 Print Issue
,
Okada America
,
Snowex Products
,
Toro
,
Toro Co
,
Vermeer