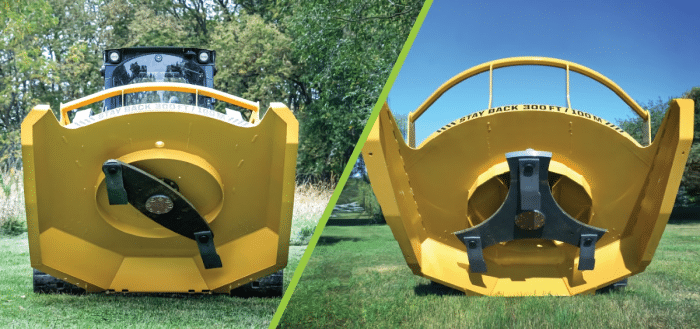 Keeping your property well maintained is crucial for preserving its health, appearance, and long-term value. Whether you want to enhance your land or stay ahead of seasonal growth, these essential attachments can help you tackle your work.
1. Brush Cutter
This versatile utility attachment (see above) is designed to handle the core vegetation management challenges a landowner might encounter, from cutting tall or thick grass, plowing through dense brush, and removing perennial under/overgrowth to clearing sightlines, shooting lanes, and trails.
"Engineered for quick and effective cutting and clearing, a brush cutter is ideal for individuals looking to maintain farmland, ranches, equestrian or hunting properties, and more," said Matt Nelson, director of development at Diamond Mowers, the leading manufacturer of industrial mowing, mulching, and brush cutting equipment for the municipal, skid-steer, and excavator markets.
Diamond Mowers offers two options — the Brush Cutter Pro and the Brush Cutter Pro X. Both attachments are compatible with skid-steer carriers or compact track loaders and feature properly sized hydraulic motors for optimal blade performance and safe handling at all flow levels. Offering impressive power and versatility, and available in 60-, 72- and 84-in. cutting widths, the Pro X is equipped with three steel blades and a Tri-Hex cutting disc that can slice through material up to 10 in. in diameter. The Brush Cutter Pro delivers the same premium durability and multi-faceted cutting performance but with specific tailoring for a broader range of applications and carriers. The exclusive oval blade carrier boasts two hardened steel blades that maintain a 72-in. cutting width and effectively slice through grass, brush, branches, and small trees up to 5 in. wide. This easy-to-maneuver attachment also features a lower push bar that can reach under fences.
2. Disc Mulcher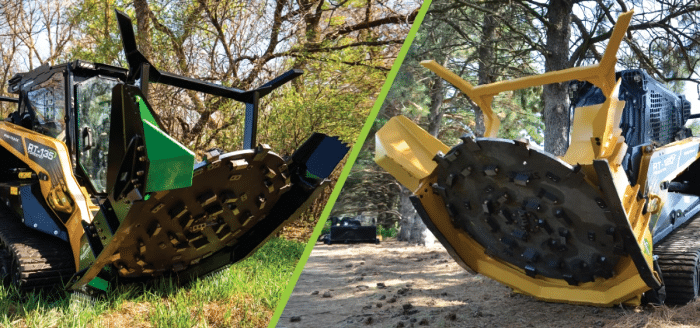 When clearing and processing unwanted trees and brush in a rural setting, a disc mulcher is a top choice. An essential tool for cutting, shredding, and mulching, this powerful and versatile attachment can be a key ally in maintaining and elevating property health.
Designed for clearing large expanses of land, a disc mulcher's speed and productivity make it particularly well-suited for meadow and pasture reclamation. It allows the operator control to avoid mulching grass and natural vegetation around the trees being cleared. And, unlike traditional land-clearing techniques, mulching doesn't cause disturbance to the soil.
"Mulching is vital for reducing erosion and aids in water conservation by preventing moisture loss," explained Nelson. "Employing a disc mulcher can improve soil fertility and deliver essential nutrients that will serve future vegetation."
Diamond Mowers offers its Disc Mulcher Pro X in two sizes — a 48-in. unit optimal for smaller skid-steers operating in compact spaces, and a 60-in. unit ideal for tackling projects in open, rural areas with a need to clear large areas quickly. No matter the cutting width, both attachments can slice through trees and brush up to 14 in. in diameter and shred material up to 6 in. in diameter into a fine mulch.
Introduced at CONEXPO 2023 in March, Diamond's new, patent-pending Disc Mulcher Belt Drive Pro X is engineered for world-class productivity and ideally suited for contractors and mulching professionals who specialize in land clearing, vegetation and forestry management, and pasture reclamation. It features increased torque to quickly and efficiently reprocess anything in its path without slowing down, recovers twice as fast as other mulchers, and boasts an efficient design that promotes lower hydraulic temperatures for maximum uptime and carrier life.
3. Drum Mulcher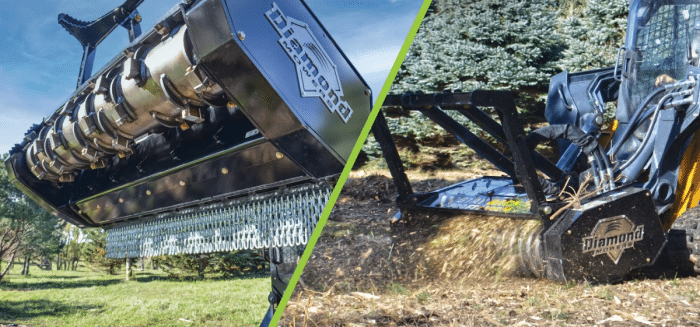 A drum mulcher serves various needs from meadow and pasture reclamation to mitigating the spread of invasive species. These heavy-duty mulchers get their name from their cylindrical, drum-like shape. They are engineered to shred small trees and brush with a forward spinning motion. This quality makes them great options for quick brush and undergrowth removal.
"There are two common types of drum mulcher attachments — depth control and open drum," noted Nelson. "Primarily used for large-scale brush clearing, undergrowth removal, and vegetation management where there is limited ground contact, depth control mulchers excel at taking down trees and large vegetation. Alternately, an open drum mulcher is designed for greater ground interaction. This attachment engages the entire surface of the tool at ground level for larger bites and maximum productivity. Its carbide teeth also make it ideal for tackling rough, rocky terrain."
Historically, open drum models have been known to create a less refined mulch. However, Diamond's newest model, the Drum Mulcher OD Pro X, offers a hybrid design that fuses the best performance features of depth control and open drum mulchers into one versatile attachment. Strategically engineered to allow for heavy ground engagement, this innovative model features an optimized infeed system that produces a smaller, more uniform, and aesthetically pleasing fine mulch after the first pass.
4. Stump Grinder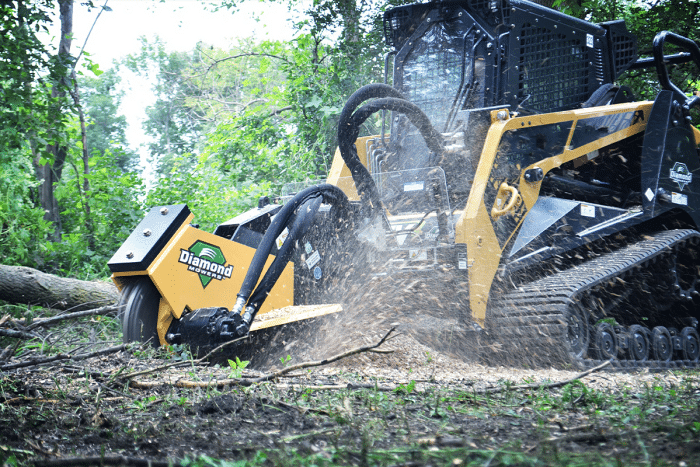 A stump grinder is another essential tool for any landowner faced with cleaning up tree stumps left behind after cutting, storms, or fires. This handy attachment uses a rotating cutting disc to mulch tree stumps into small pieces — an important process for maintaining safety and aesthetics and preventing invasive species from re-sprouting.
Diamond's Reflex Stump Grinder is an excellent choice for land clearing and rural grinding applications. It uses the skid-steer's lift arm to position its heavy-duty wheel in the stump before driving it through the wood with the machine's wheels or tracks. This easy-to-operate grinder is equipped with a patented cushioning device that protects the wheel from too much pressure, alleviating overload by flexing and keeping the wheel out of harm's way. Grinding wheels are available in 24- or 26-in. cutting widths and are paired with an appropriately sized motor to match the machine's hydraulic flow.
Diamond also offers its Miller Stump Grinder, which can cut stumps up to 36" in diameter without having to move the carrier. The 26-in., 6-way grinding wheel features swing, lift, and telescoping functions that allow operators to process a stump while the loader is parked in one position, reducing the risk of soil or turf damage, and making it an ideal solution for settings where aesthetics are important.
Matt Nelson is the director of development for Diamond Mowers.