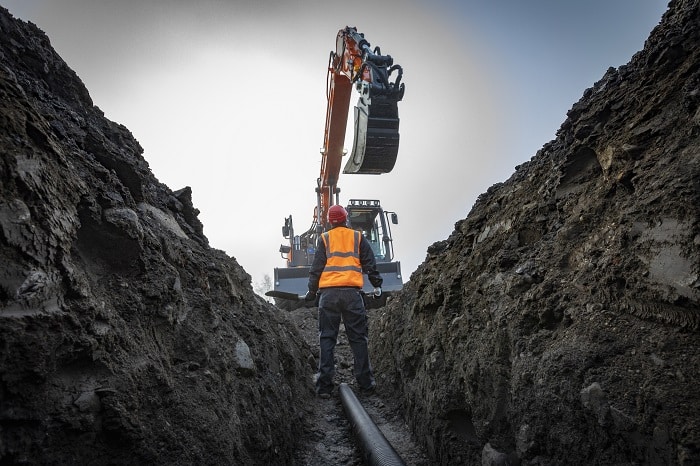 Last year, Engcon launched a global safety initiative, "Dig Smart. Dig Safe," to highlight the use of smart technology in accident prevention. The aim of the initiative was to create discussion around safety issues, and to establish an industry-recognized vision of zero accidents due to buckets coming loose because of incorrect handling.
"Last year's safety initiative, 'Dig Smart. Dig Safe,' had a positive impact, to the extent that as many as 38 in-depth articles were reproduced in media all over the world. From the Nordics to media in Europe, North America and Asia," says Ulrica Hellström, marketing director at Engcon. "But the road to changing behavior is long, so we will continue the initiative, until the issue of safety is raised higher on agendas around the world."
In Norway, for example, the issue has been in the spotlight. The Norwegian Machinery Wholesalers' Association has taken an important step in the right direction. They are issuing recommendations to apply safety requirements higher than international standards. The Norwegian construction consortium Veidekke demanded effective January 2020 that all excavators over 5 tonnes must have safety quick hitches. In connection with the Swedish trade union SEKO, Engcon will present its safety system at a digital safety conference. Along with the machine dealer Maskinia who will explain why they choose to equip their excavators with safety products.
One of the best parts of small equipment is the variety of attachments. From buckets and breakers to mowers and plows, click here to see what's out there.
"A vision of zero accidents due to dropped buckets is a challenge, one that can't be solved with the attention of just a few players," says Hellström. "All the industry actors need to be involved. So, we will continue to repeat the campaign 'Dig Smart. Dig Safe' for many years to come.
"In parallel with the work to provoke a discussion, we will develop and launch smart solutions that eliminate handling errors and prevent accidents," Hellström continues. "We'll try as much as possible to make safety systems a part of our standard range. We don't want the excavator operator to consider cost as an obstacle to investing in a safe workplace. In the autumn, we started delivering our smart locking panel and safe locking function under the tiltrotator as a standard and this can easily be compared to an automatic braking system on a car. We help the driver to do the right thing. Hopefully we can offer further developments in the spring."
Tags:
Engcon