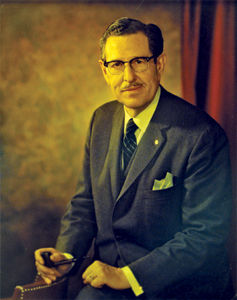 Fourth-generation family-owned and operated, Danuser marks its 100th year in 2010 with a big range of products — attachments for skid steers, backhoes, excavators and tractors, manufacturing abilities for OEM customers and even recoil reduction devices for hunting and shooting enthusiasts. The company's been busy growing for a century.  
"Today our commitment to our customers remains to design and build products that are the benchmark of quality, reliability and longevity," said vice president Glenn Danuser. "In the words of our founder K.B. Danuser: 'Good enough won't do — it must be right.'"
The history of Danuser Machine Co. starts with Kasper Berry Danuser, a Swiss emigrant. One of 10 children, he came to the United States in 1880. He produced the first piece of farm equipment that carried the name "Danuser" — a farm wagon built in the town of Readsville, Mo., around 1905. In 1906, he moved his family to Auxvasse, Mo., where Henry Danuser was born in 1908. The Danuser family moved to Fulton, Mo., in 1910, and the original shop was located on the company's present plant site. In addition to the general repair work so common to shops of that time, the family thrashed grain with steam power in the summertime and saw-milled in the off-season.
With his father, Henry Danuser eventually acquired a unique automotive piston ring for distribution over the State of Missouri. This cord piston ring would stop the excessive use of oil, and nearly every piston ring company uses such a design today. He married Lillian Hill Hamilton on Dec. 4, 1932, after installing a set of piston rings until 2:00 a.m., so he could afford to pay for the wedding ceremony. Henry purchased the company after his father's death in 1937. At that time, the company was still a carryover of the blacksmith shop doing maintenance and repair work.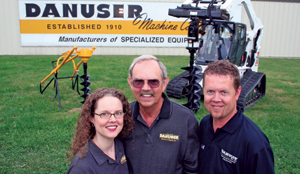 Henry's first product was a portable air compressor — then a tree-moving machine. In 1941, Danuser Machine Co. built the first rear-mounted blade in the United States for a tractor. The company followed these early products with a number of introductions over the last six decades — post hole diggers, post drivers, boring heads, log splitters, scrapers and diggers, recoil reduction devices, auger buckets, pallet forks and so much more. Danuser just introduced the EP Heavy Duty Auger Series in 2010, with a lifetime warranty on the output pullout, innovative planetary design, compact housing and hoses and a 2-in. hex output shaft.
Visit www.danuser.com for more information on the company's 100-year history, the products it produces and the company's special anniversary drawings.
Tags:
backhoes