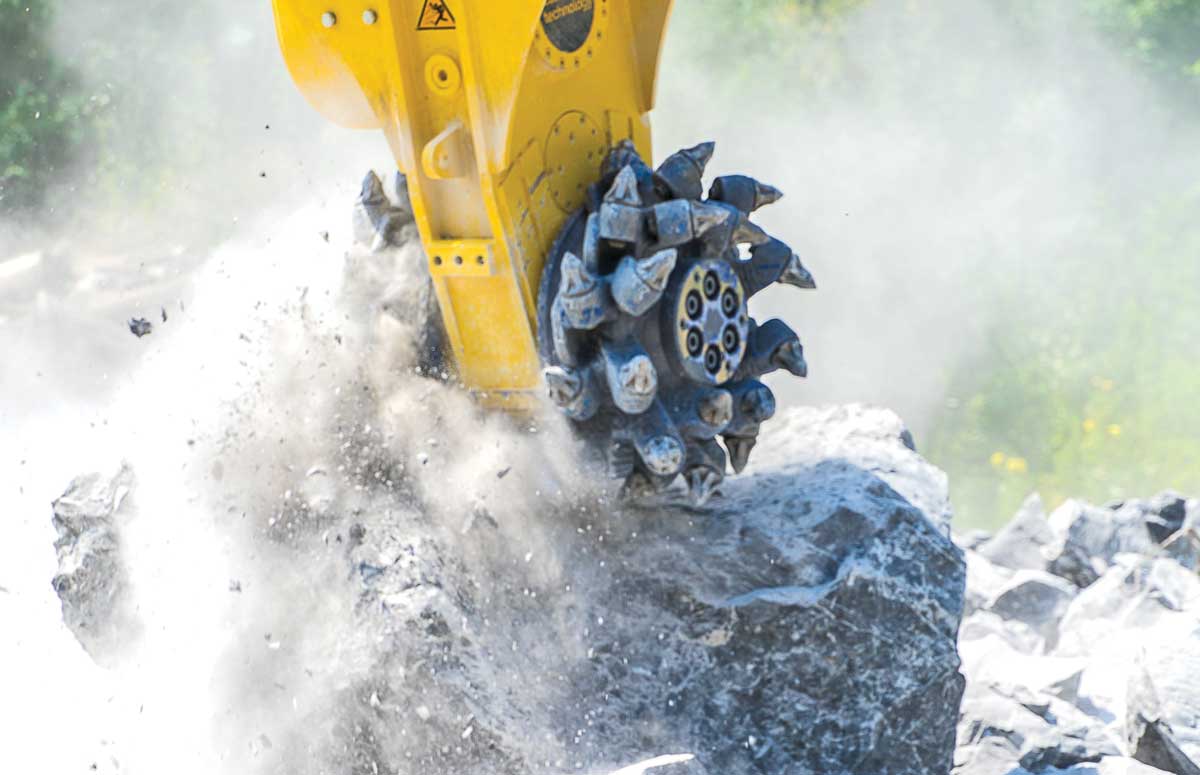 I've said it once, and I'll say it again — the best part of compact equipment is a machine's versatility via attachments. The variety of attachments that are available help operators transform their machines to perform any type of task. Take drum cutters for example. As manufacturer Epiroc describes them: These up-and-coming attachments for skid steers and mini excavators are designed where rotating drums equipped with picks, strategically positioned around the outer diameter, are rotated by a hydraulic motor. They're ideal for trenching, demolition, mining, tunnelling, underground scaling, frozen soil excavation, quarrying applications and underwater dredging. That's a lot of versatility, but wait, there's more.
"The low vibration and low noise levels from drum cutters make it possible for these attachments to operate in sound-sensitive areas near hospitals, schools and residential areas and protect operators from jobsite noise hazards," says Tim Schutte, product and application specialist, Epiroc USA. "Drum cutter attachments can often eliminate the need to haul material offsite or perform secondary crushing or breaking. Cut material can be used as backfill or spread on a jobsite. This provides the benefits of increased productivity and lower overall job cost."
Like any attachment, operators should consider both the host machine — whether it's a skid steer or mini excavator — and intended applications when selecting a drum cutter. The attachment should be matched to the tool carrier's weight, horsepower and hydraulic flow (gpm) and pressure (psi). Schutte emphasizes that if a skid steer or mini excavator cannot supply the required hydraulic power, the drum cutter won't perform efficiently.
"Drum cutters for skid steers and mini excavators require a hydraulic flow range of 5.8 gpm to 22 gpm," he says. "Epiroc drum cutters are capable of using different cam rings in the motor to work with flow variations from the carrier that it will be attached to. For example, the ER 250-4 requires 22 gpm, but the customer may have a mini excavator with only 17 gpm available. We can change the cam on the motor to allow the drum cutter to operate properly with lower oil flow to match the carrier's auxiliary output."
Speaking of Epiroc's drum cutters, the company offers a line of more than 30 models, including auger drive units, axial drum cutters and transverse drum cutters that are designed for carriers from 1,300 to 275,000 lbs. Epiroc also offers many drum head options, including wire brushes for cleaning surfaces such as steel plates, a profiling head for better surface finishes, a wood cutting head for tree stump grinding and cutting wheels for precision, narrow trenches or rock slits. Schutte also says Epirocs can be used underwater without modifications at depths up to 30 meters.
"Epiroc ER 40 to ER 3000 models are designed with a central fixing system that allows the drum cutter to rotate 360 degrees without having to be disconnected from the excavator," he says. "Epiroc ER L models are a longitudinal cutter with a single cutting drum. Epiroc ADU models are equipped with very robust auger drives. Epiroc's ER 250-4 is a very popular drum cutter due to its compatibility with a range of carriers from 17,000 to 33,000 lbs. The contractors using the ER 250-4 like it for working in tight areas and for the high torque and cutting force."
Some accessories for drum cutters include an optional dust suppression system to help maximize safety and to help meet silica dust regulations. Schutte says there are high temperature and underwater kits also available.
As for upkeep, drum cutters are generally low maintenance attachments that don't require daily greasing. Schutte says the versatility of the drum cutter attachment makes it a great investment, and its very minimal maintenance contributes to a low cost of ownership.
"The picks need to be inspected periodically and replaced immediately when worn out," he says. "The gear oil should be replaced every 1,000 hours or yearly. Following the required maintenance intervals helps to ensure the life cycle of the drum cutter and wear items."
Pam Kleineke is managing editor of Compact Equipment.