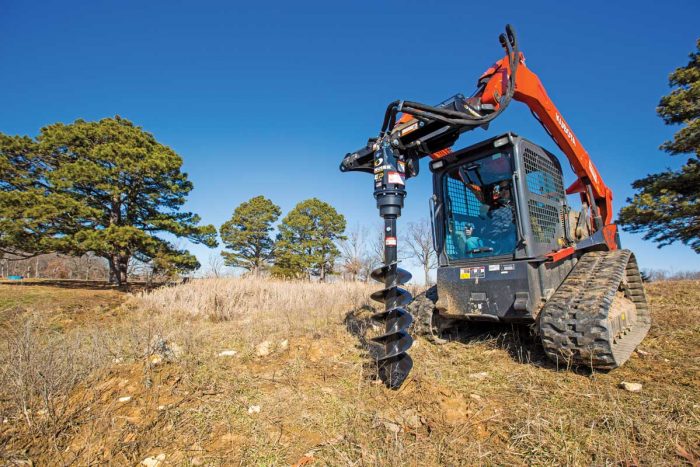 Augers are among the most common and productive attachments used in the construction industry. As with most types of construction equipment, proper auger maintenance is essential to ensure peak performance and safety. Various auger styles are available for drilling in light to harder ground conditions, such as rock, frozen ground and more. The following are important maintenance recommendations for Danuser's EP Auger System, many of which are applicable for other industry auger models as well. When making repairs or servicing the auger, remember to use only parts that meet original equipment manufacturer's standards and requirements.
Daily or Before Each Use:
Inspect the auger for any damage, worn parts or cracked welds.
Check all fasteners to ensure they are tight and secure.
Check all hydraulic components for leaks or wear. For this and the preceding items, repair or replace as necessary.
Inspect planetary gear oil level to ensure proper lubrication is maintained. Check by removing the front fill plug, with the drive unit angled approximately 30 degrees from vertical.
Check for clean hydraulic oil. The life of the hydraulic motor is almost entirely dependent upon the cleanliness of the oil. Instructions in your operator's manual regarding filter and oil changes should be carefully followed. Keep dirt and other contaminants from entering the hydraulic system when connecting and disconnecting the hydraulic system. Even small amounts of dirt in the hydraulic oil can cause premature motor failure that is not covered by warranty.
Always use dust caps and plugs on all quick disconnects when not in use.
Other Lubrication Requirements
Change planetary gear reduction oil after the first 500 hours of operation or six months, then every 2,000 hours or 12 months, whichever comes first.
Use heavy-duty extreme pressure lubricant API-GL-5 85W-140 for filling the planetary gear reduction. Approximate oil capacity is .90 quarts (.85 liters).
Each time an auger or extension is added, coat the inside diameter of the auger or extension collar with grease.
Additional Checks
Care should be taken to see that no thread sealer or metal chips are forced to the inside of the joints when connections are being tightened.
Worn teeth or a slightly rounded point can seriously affect auger penetration. Check for wear before each use and replace as necessary.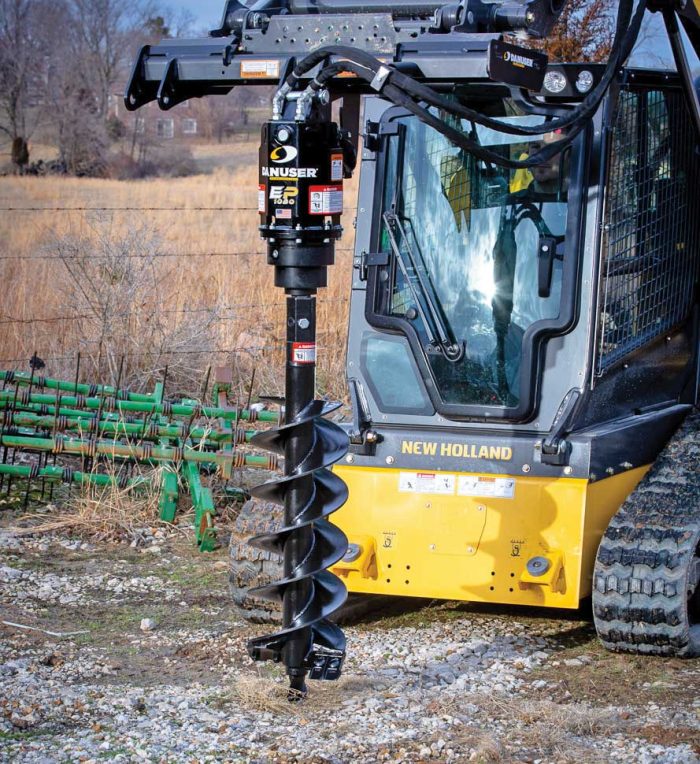 Safety Guidelines
It's equally important to always follow these safety guidelines when performing repairs or maintenance to the auger system.
Before each auger use, clean or replace any safety signs that are missing or cannot be clearly read and understood. They are there for your safety as well as the safety of others.
Personal protection equipment, including hard hats, safety glasses, safety shoes and gloves, are recommended during assembly, installation, operation, maintenance, service, removal or movement of the attachment. Do not allow long hair, loose fitting clothing or jewelry to be around moving and/or rotating parts.
When the use of hand tools is required to perform any part of assembly, installation, maintenance, service, removal or movement of the earth auger, be sure the tools used are designed and recommended by the tool manufacturer for that specific task.
Never check a pressurized system for leaks with your bare hands. Wear proper hand and eye protection and use wood or cardboard when searching for suspected leaks. Oil escaping from pinhole leaks under pressure can penetrate skin and create a serious medical emergency. If any fluid is injected into the skin, gangrene, blood poisoning or even death may result. Seek medical attention immediately.
Always use two people to handle heavy, unwieldy components during assembly, installation, maintenance, service, removal or movement of the attachment. Never place any part of your body where it would be in danger if movement should occur.
Never work under equipment supported by hydraulics. Even with the vehicle shut off, equipment can suddenly drop if controls are actuated or if hydraulic lines burst.
Before connecting or disconnecting hydraulic lines or fittings, be sure to relieve all pressure by cycling all hydraulic controls after shutdown. Remember, hydraulic systems are under pressure whenever the engine is running and may hold pressure after shutdown.
Finally, never replace the auger retaining bolt with anything other than the manufacturer's specified bolt length. A longer, or protruding, fastener is more likely to grab clothing or gloves, which can result in serious injury or death.
Regular maintenance and safety can go a long way in extending the life of your auger and ensuring reliable as well as safe performance. Always read and follow the recommendations in your manufacturer's operator's manual.
This article was provided by Danuser, a family-owned business, based in Fulton, Mo., with over 100 years in operation. It ranks as a leading manufacturer of tractor and skid steer attachments used in construction and other industries.
Tags:
Attachment Central
,
Danuser
,
May 2021 Print Issue