Chicago Pneumatic Light Hydraulic Breakers
The Chicago Pneumatic lineup of light hydraulic RX breakers are utilized in light demolition, landscaping, building renovation and road construction. The smart design of the RX hydraulic breakers features few components and only two moving parts that offer a high grade of availability and reliability. RX breakers are amongst the most silent breakers on the market due to the RX recoil absorbing concept and the polyurethane insulated breaker box system, says the company. Chicago Pneumatic features a light, medium and heavy hydraulic class. The light hydraulic offers the RX2, RX3, RX4, RX6, RX8 and RX11, which range from 1- up 15-tons in carrier class. For more info, visit cp.com.
Case Construction Hydraulic Hammers
With just two moving parts and low recoil, the new hydraulic hammers from Case Construction Equipment combine innovation, efficiency and "accumulator-free" technology for consistent and reliable performance on the jobsite, at less cost to the customer. In the cushion chamber, every blow is isolated from the carrier and operator, while energy is recycled and used for the next blow. The long-stroke piston is the most efficient design for energy transfer and recoil reduction, and Case hydraulic hammers come with a gas recharge kit and a three-year warranty that's the best in the industry, says Case. For more info, visit casece.com.
Danuser T3 Driver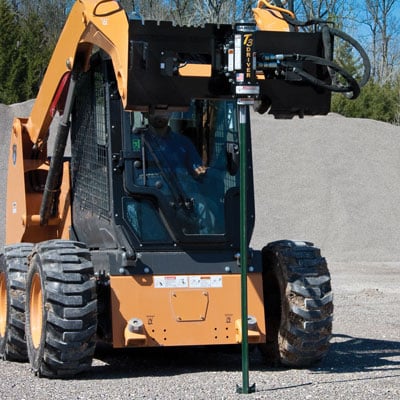 Established and family-owned since 1910, Danuser has manufactured drilling machines since 1943. They are also experts at making attachments and drivers for T-posts. The Danuser T3 Driver is designed for T-posts and is capable of driving up to a 3-in. O.D. pipe. The T3 also includes features including: versatile mounting options available for quick-attach systems as well as a bolt-on/weld-on bracket that will mount to a flat surface; production that is up to six hits per second at 15 gpm; a unique design allowing for down force from the loader arms to assist in driving posts; and the elimination of the fatigue often associated with hand-held drivers. For more info, visit danuser.com.
Loftness Carbide Cutter G3 Mulching Head
As part of its VMLogix line of products, Loftness introduces the Carbide Cutter G3 high-performance mulching head attachment for skid steers. This new generation product incorporates the latest cutting-tooth technologies and power drive systems. The Carbide Cutter G3 is available with 51-, 61- and 71-in. cutting widths. All models are offered with a variety of carbide-tipped and heat-treated steel teeth to match any job application. The precisely engineered spiral tooth pattern on the rotor ensures continuous tooth contact with the material being cut. The mulching heads operate at 1,700 to 2,150 rpm and feature a four-groove banded belt drive with spring-loaded tensioner. For more info, visit vm-logix.com.
Kubota's 6-in-1 Hydraulic Dozer Blade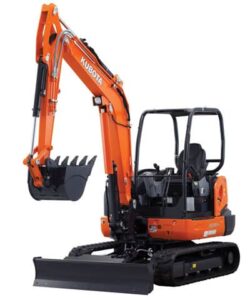 Kubota's hydraulic 6-in-1 blade is a Kubota-exclusive option, available on the Kubota KX040-4 compact excavator. Performance-enhancing features include a load sensing hydraulic system, perfectly matched speed and power balance and outstanding digging force. With a simple movement of the dozer lever, Kubota's 6-in-1 blade can be angled to the right or left to push soil to the side as the machine moves forward, eliminating the need for repetitive repositioning at right angles when backfilling trenches. The blade angles a wide 25 degrees, improving backfilling time by as much as 35 percent. This 5-ft, 10.9-in.-wide blade stretches across the entire machine width, even when tilted. For more info, visit kubota.com.
JCB Forestry Cutting Head
JCB's unique forestry cutting head attachment shreds and mulches hardwood trees up to 8 in. in diameter. It's ideal for clearing trees and brush for pre- or post-disaster mitigation, utility line and right-of-way maintenance, and site preparation, including cutting firebreaks and maintaining properties. A hydraulically adjustable deflector door controls materials as they're discharged as well as their processing size. A heavy-duty push bar aids in toppling trees and offers the carrier additional protection. The forestry cutting head is designed to operate at 2,000 rpm with a balanced 3/4-in. drum wall and 2.4-in. alloy steel shaft. For more info, visit jcbvision.com.
 Worksaver Sweep Action Rock Grapple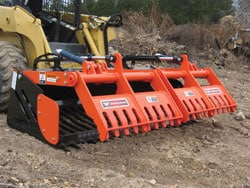 Worksaver Inc. recently introduced the new Sweep Action Rock Grapple (SARG) for skid steer loaders designed for handling rocks, brush, logs, stumps, debris, scraps and more. The patent pending design allows operators to sort large or small rocks and debris with just one tool. Two models are available — the SARG-72 features an overall width of 72 in. while the SARG-84 offers 84 in. of overall width. The front grapples operate in a sweeping action to pull rocks or debris into the bucket for easy site cleanup. Grapple design then retains the rocks or debris while the operator rocks the attachment to sift out the dirt. For more info, visit worksaver.com.
Land Pride Post Hole Diggers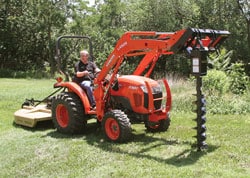 Land Pride's SA20 Skid Auger fills a need for users that require a quality post hole attachment but don't require heavy-duty, commercial-grade SA35 auger. This lighter planetary drive Skid Auger is ideal for land owners, landscapers, hobby farmers or contractors. The Land Pride SA20 Skid Auger digs holes from 9 to 36 in. in diameter and up to 48 in. deep or deeper with available auger extensions. With 10 different augers available — seven double flight augers from 9 to 36 in. and three tree augers in 24, 30 and 36 in. — the SA20 is a versatile tool. Everyone from tree farms to construction companies will also find the SA20 a good fit for their heavy-duty applications. For more info, visit landpride.com.
Ditch Witch SK850 Footings Trencher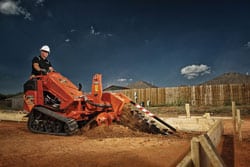 Designed specifically for slab construction on residential and commercial jobsites, the new Ditch Witch SK850 footings machine creates trenches up to 16 in. wide or up to 36 in. deep. With its specialized, heavy-duty chain and Tier 4, 37-hp engine, the machine creates cleaner, more consistent trenches than an excavator and in less time. The footings trencher attachment mounts directly to the frame of the Ditch Witch organization's most powerful mini skid steer, the compact SK850, which proves more productive in tight jobsites than an excavator.
For more info, visit ditchwitch.com.
Utilicor MC-450 Minicor Coring Attachment
The new MC-450 Minicor Coring Attachment fits skid steers as well as Ditch Witch SK 850 and Vermeer S800XT compact tool carriers. This powerful keyhole coring attachment is the perfect addition for any utility contractor looking to perform quick and efficient pavement core cuts which are commonly used for daylighting or potholing purposes. The MC-450 cuts pavement cores up to 18 in. in diameter for keyhole repair applications. Due to the MC-450's narrow width coring in tight spaces or up close to buildings or other structures is also possible. Simple intuitive controls ensure ease of operation, and quick connect to the auxiliary hydraulic system makes for simple installation. For more info, visit utilicor.ca.
Loegering Eliminator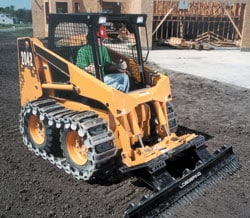 The Loegering Eliminator is a non-hydraulic attachment that has no moving parts and is the most cost-effective landscaping rake in its class, says Loegering. It was called the Eliminator because it "eliminates" the manual labor of edge work as it is low profile and operators can push material right to an edge. Its teeth are designed to loosen tough soil. With the Eliminator, operators can go from an uncleared lot to a finished seedbed with one attachment. It is ideal for use along driveways, walks and curbs. Multiple sizes of the Eliminator attachment are available to fit an operator's needs: 42, 72 and 84 in. For more info, visit loegering.com.
 Kage Snow Removal System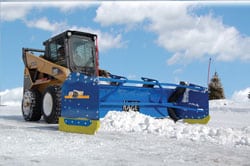 Make snow removal the most profitable service you do. The Kage for skid steer snow removal triples the productivity of a snow bucket or pickup truck, according to the makers of Kage. It is two tools in one — a plow blade plus a containment box/pusher. While pushing, the Kage box can angle, oscillate and has down pressure to its cutting edge. The pusher box detaches from the blade in five seconds without leaving the cab. Start by backdragging or windrowing with only the Kage blade, then grab the Kage box and push the snow on out of there. It comes in lengths from 6 to 10 ft. For more info, visit kageinnovation.com.
 FAE Skid Steer Mulchers
FAE is a leading provider of land clearing equipment for R.O.W., forestry, agriculture, vegetation management and construction. The UML/SSL VT skid steer mulcher is one of the industry's top-of-the-line skid steer mulchers. It is available in 63- and 72-in. cutting widths, and it's capable of cutting brush and trees up to 8 in. in diameter. Features include: a 110-cc VT (variable torque motor) for maximum production; FAE smooth rotor system (allows better mulching, less fuel consumption and is easy on any hydraulic system); and a hydraulic mulching door is standard (operating cylinder located in cylinder housing and completely protected). For more info, visit faeusa.com.
Steiner Rough Cut Mower
For overgrown brush and tough-to-mow wooded areas, Steiner, manufacturer of compact, highly maneuverable grounds care tractors and heavy-duty attachments, released a new and improved Rough Cut Mower attachment for the Steiner 440 articulating tractor. The Steiner Rough Cut Mower is built to evenly cut dense and overgrown grass, weeds, brush and brambles up to 1.5 in. in diameter. With a height of cut ranging from 3.75 to 6 in., a 71.5-in. cut width and three double-sided 24-in. long, 5/16-in. thick blades designed to rotate in the same direction, the Steiner Rough Cut Mower provides powerful cutting and debris clearing performance in heavily overgrown woody areas. For more info, visit steinerturf.com.
General Equipment Dig-R-Tach Series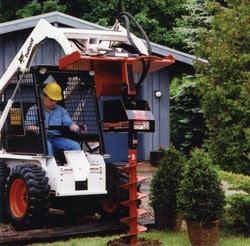 For greater jobsite versatility, General Equipment Co.'s Dig-R-Tach line allows for use with both small and large hydraulic systems. Ideal for skid steer loaders, small excavators, knuckleboom cranes and small backhoes, the 671 Dig-R-Tach Series 16 earth drilling attachment is intended for smaller hydraulic systems, whereas the Series 24 is designed for larger hydraulic systems found with backhoes and excavators. Featuring a two-speed chain/sprocket drive and a 5 to 20 gpm hydraulic flow range, the Series 16 balances smaller flow volumes in proportion to auger diameters. The result is a cleaner hole with less loose soil and debris. For higher capacity drilling, the Series 24 operates in a 15 to 25 gpm. For more info, visit generalequip.com.
 SnowEx Tractor-Mounted Drop Spreaders
SnowEx introduces two new tractor-mounted Drop Pro spreaders for controlled application of bagged ice melters and bulk rock salt. Featuring precise, gate-free operation, the units are ideal for use on sidewalks, campus parking lots, parking structures and other off-road applications. Model SD-600 has a 6-cu ft capacity with a 36-in. spread width, and model SD-1400 has a 14-cu ft capacity with a 48-in. spread width. Both units include a polyethylene hopper and variable-speed auger feed system, which is run by a self-diagnosing digital controller. They offer a wide range of material application rates to help operators minimize material waste. For more info, visit snowexproducts.com.
 Seago Midi-Postmaster
Seago International recently introduced the Midi-Postmaster from Autoguide Ltd. The Midi-Postmaster is designed for small excavators and offers a faster more accurate solution to driving posts. This professional grade machine offers speed and power for tough jobs in many markets from fencing to solar field installation to orchard, vineyard and farming. The Midi-Post Master works best with 2.5- to 5-ton mini excavators with flow rates of 9 to 12 gpm. It will drive posts up to 8 in. in diameter. This model weighs in at 430 lbs and delivers 13,500 ft-lbs of downforce at 50 Hertz. For more info, visit seagointernational.com.
 Blastcrete's Hot Epoxy Pump
The D3522 Attachment from Blastcrete Equipment Co. is the only hot epoxy pump on the market that can be powered by an existing hydraulic power source like a skid steer. The D3522 attachment features a hydraulic squeeze (peristaltic) pump that is built for long life and low total cost of ownership. The pump has two rollers that rotate clockwise and squeeze a 2-in. rubber pumping tube. The rotation generates suction from the receiving hopper and pushes the material through the pump and out the discharge into the delivery hose. The D3522 Attachment can pump hot epoxy or cementitious grouts at variable speeds from 0 to 6 cubic yards per hour and deliver up to 400 psi of pumping pressure. For more info, visit blastcrete.com.
 E-Z Drill Concrete Drill Attachments
Model 210 equipment-mounted concrete drill attachments from E-Z Drill offer specially designed features for maximum productivity and low maintenance. The pneumatic attachments are ideal for full-depth road repair and patching projects. The series consists of three models: the three-gang 210-3 EQ MT, four-gang 210-4 EQ MT and five-gang 210-5 EQ MT. All three are compatible with most models of backhoes and excavators and are ideal for full-depth road repair and patching projects. A user-friendly, easily accessible control panel is mounted on the drill to provide convenient operation. The units are capable of drilling 5/8- to 2-1/2-in. diameter holes at a depth of 18 in. For more info, visit ezdrill.com.
Tags:
Blastcrete's Hot Epoxy Pump
,
Case Construction Hydraulic Hammers
,
Chicago Pneumatic Light Hydraulic Breakers
,
Danuser T3 Driver
,
Ditch Witch SK850 Footings Trencher
,
E-Z Drill Concrete Drill Attachments
,
FAE Skid Steer Mulchers
,
General Equipment Dig-R-Tach Series
,
JCB Forestry Cutting Head
,
Kage Snow Removal System
,
Kubota's 6-in-1 Hydraulic Dozer Blade
,
Land Pride Post Hole Diggers
,
Loegering Eliminator
,
Loftness Carbide Cutter G3 Mulching Head
,
March 2015 Issue
,
Seago Midi-Postmaster
,
SnowEx Tractor-Mounted Drop Spreaders
,
Steiner Rough Cut Mower
,
Utilicor MC-450 Minicor Coring Attachment
,
Worksaver Sweep Action Rock Grapple