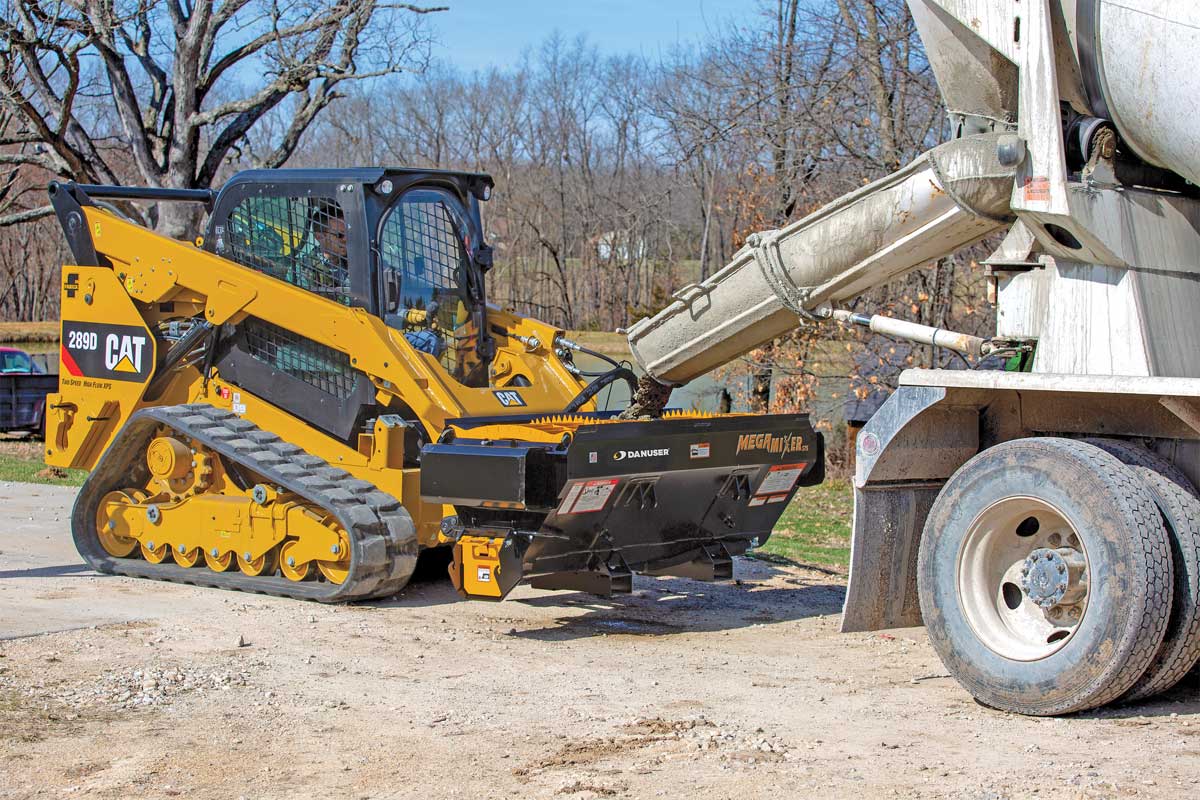 Buckets, forks and grapples are just a few examples of the basic attachments crews must have for everyday work. These tried-and-true tools serve many purposes for a large variety of operators and applications. But what about when a job calls for something a little more unique or specialized? When a tool is needed to complete a task that goes beyond basic digging or pick-and-place operations? Luckily, manufacturers are always thinking ahead (or listening to customer requests) and designing attachments just for those times. Here, we've collected five unique attachments made to fulfill specific operator needs.
Vacuworx SL2 Vacuum Attachment
Need to handle concrete slabs, sidewalks, flat steel plates or composite construction mats? Consider the SL2 vacuum attachment from Vacuworx. This lightweight attachment may only weigh 125 lbs, but it can handle up to 4,400 lbs with ease. The SL2 is operated by a wireless remote from the safety of the cab of the host machine and can be used on skid steers, excavators and backhoes.
"Featuring all-aluminum construction, the patent-pending design runs off the host machine's hydraulic system and can be easily attached in minutes to lift steel plate, saw-cut concrete, granite, marble slabs, landscape pavers and more," says Randy Hayes, vice president of business development and strategic accounts for Vacuworx. "In addition, quick-connect hydraulic hoses make switching between attachments fast and easy so you can maximize productivity on the job. This product can safely be utilized for indoor or outdoor applications and is perfect for floor, sidewalk, driveway, road and landscaping projects."
Hayes points out that the SL2 allows crews to operate with less people and equipment thanks to the ability to remove slabs of concrete versus breaking the material down further. It also reduces debris cleanup and silica dust — a huge benefit in worksite safety.
Werk-Brau Frost and Rock Ripper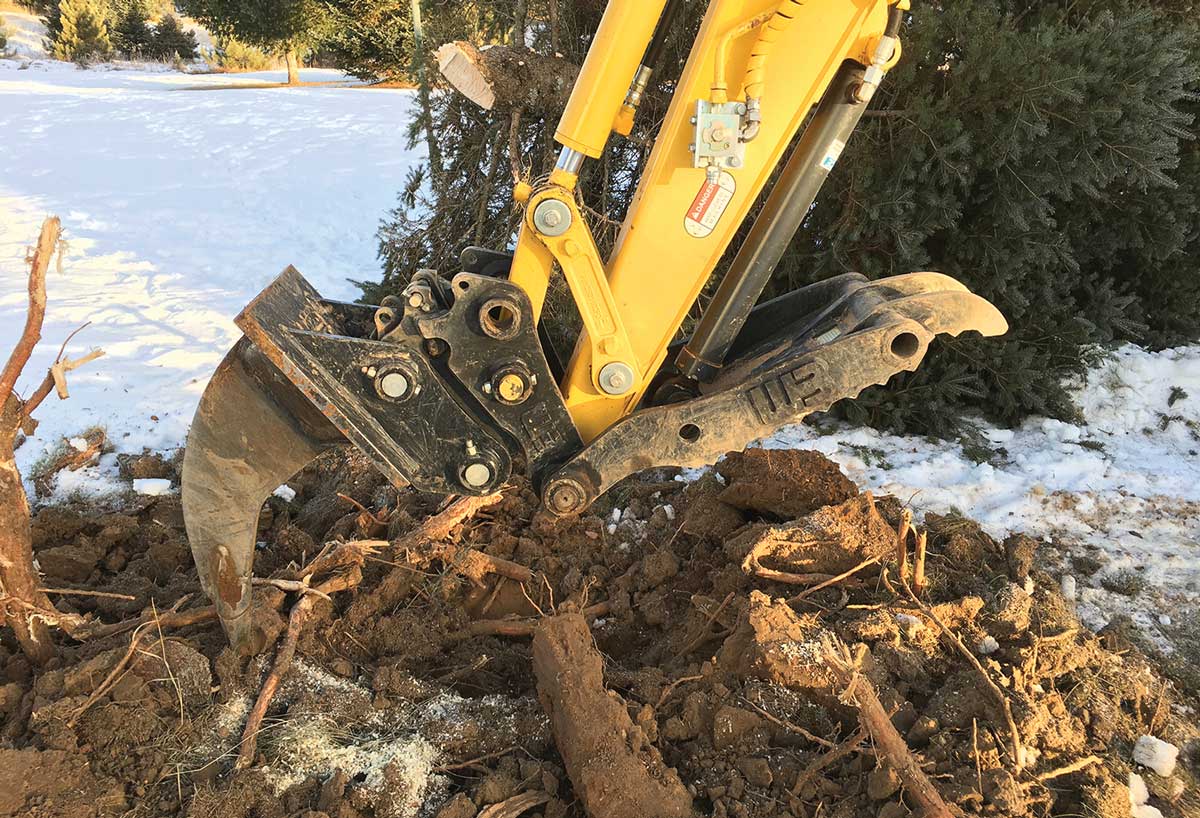 Frozen ground, pavement and tough soils don't stand a chance against the new Werk-Brau Frost and Rock Ripper. The attachment features a single point tooth that is engineered specifically for penetration, to pre-rip terrain that exceeds a bucket's recommended duty. It can even remove stumps, roots, rebar and more. Werk-Brau says the new ripper is constructed of T-1 steel in all critical or high wear areas to ensure a long service life. Rigid gussets support the ripper for extra-rugged applications, with upper gussets and shank engineered to perform in harsh conditions. Customers can choose between single or dual tooth designs and various tooth options to suit the project at hand. Werk-Brau offers models to fit a variety of excavators from compact to 70 metric tons.
Fecon FMX36 Bull Hog Mulcher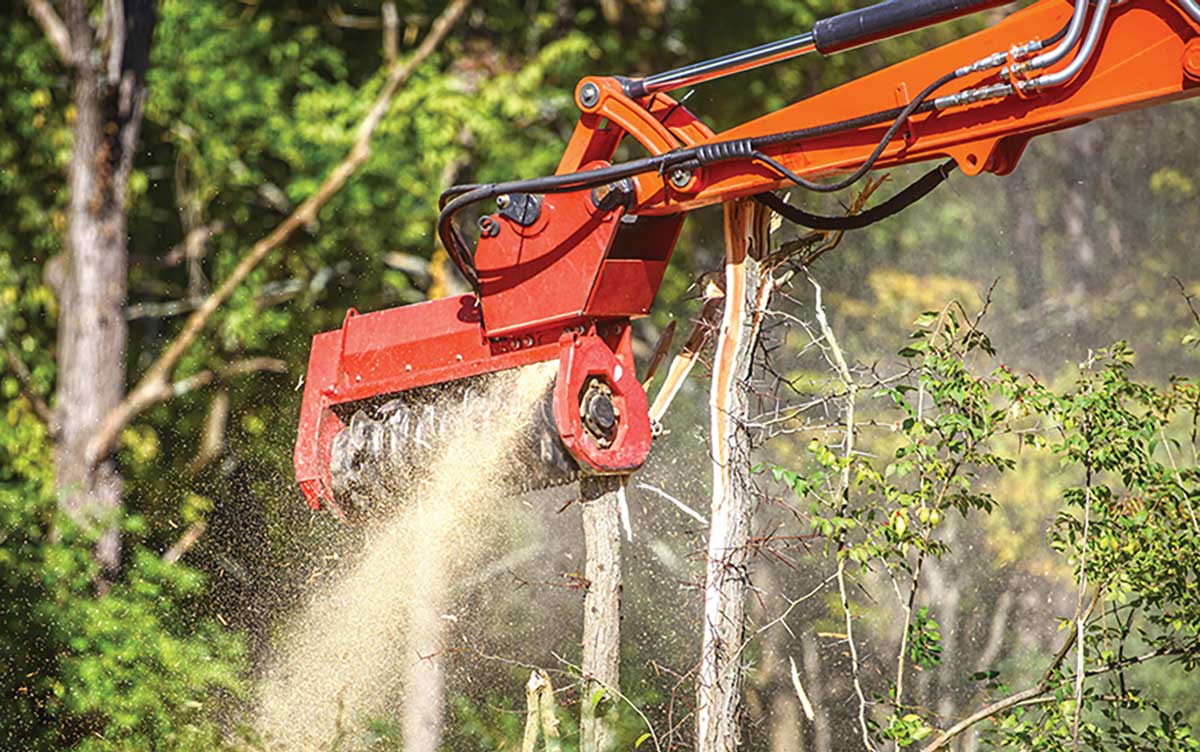 Clear trees and brush in hard-to-reach places with the FMX36 Bull Hog Mulcher from Fecon. Equipped with a 36-in. cutting width, fully adjustable hydraulics and 18 carbide tools, the attachment is ideal for shredding standing or felled materials up to 5 in. in diameter and is a serious productivity boost for excavators in the 5- to 10-metric-ton class. Fecon says the FMX36's bite-limiting depth control rotor creates consistent chip sizing with less horsepower draw from the carrier. Have a backhoe or sidearm boom? No problem. Fecon says the versatile FMX36 also mounts to those if they can lift the 850-lb operating weight.
Danuser Mega Mixer
Danuser's Mega Mixer material handling bucket can mix, scoop and dispense a wide variety of construction material, including sand, gravel, dry topsoil, asphalt, mortar and bag-mix concrete. Built-in cutting edges and a robust design make the attachment well-suited for scooping from piles. Danuser says the Mega Mixer features a robust 8-in. diameter auger coupled directly to a heavy-duty, low-speed, high-torque motor — allowing operators to dispense 3/4 yds of material in 26 seconds (up to 1-in. diameter rock). Other features include adjustable mounting brackets and pallet fork tine slots on both sides for conveniently dispensing left or right, as well as two 2-ft multi-link chutes that store conveniently on the bucket.
Road Widener's FH-R Shouldering and Side Paver
Keeping with the theme of material dispensing, let's take a look at Road Widener LLC's patented FH-R shouldering and side paver attachment. Contractors can precisely dispense topsoil, gravel, asphalt, limestone and more on roadways and shoulders — all with machines they may already own. The FH-R is a remote-controlled attachment that operates off the host machine's engine and hydraulics. It easily connects to most skid steers, compact track loaders, road graders and wheel loaders. The company says that since the FH-R doesn't have an engine or transmission, maintenance is reduced by 90 percent over self-propelled machines. The attachment is available in left, right or dual dispensing configurations and streamlines tasks like backfilling, road widening and road shoulder repairs. The FH-R can dispense up to 20 tons of material in under 10 minutes without the need for any additional scraping or sweeping.
Pam Kleineke is managing editor of Compact Equipment.