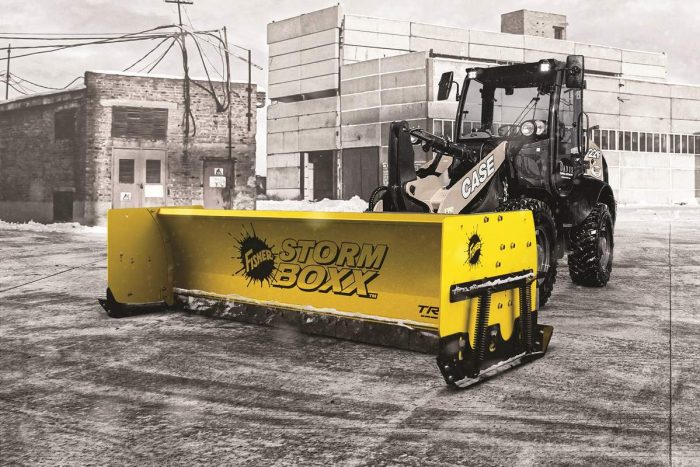 Bold claim: The most efficient and productive commercial snowplow around is the box plow (also known as a pusher plow or containment plow). If you're trying to move a large amount of snow in record time, this equipment is made for the job. Ideal for airports, manufacturing facilities, large warehouses, big retail centers, and distribution facilities with large open lots and minimal obstacles. When deciding if a pusher plow is the best candidate for your snow and ice control fleet, here's a few things to consider:
1) It's a Seasonal Attachment, so Maybe Lease It
Box plows are designed for use on skid steers, wheel loaders, and tractors. Keep in mind that in most cases, the machine is left onsite because of inefficiencies with loading equipment and taking it from one site to the next.
Owning: If you already have one of these heavy-duty machines due to landscaping or construction, adding a pusher plow attachment to increase winter business is a no brainer. Owning this equipment can be a smart business purchase if you can put it to use all year long and profit from it.
Leasing/Renting: It's no secret that loaders and tractors are expensive. Leasing and renting allow you to increase your equipment fleet without the long-term commitment of purchasing. This model also allows businesses to better manage cash flow and monthly payments.
Consider how many properties can utilize the machine to determine if leasing or owning is the smarter business decision. At some point, you may realize that having a mix is best — own enough machines to keep up with your loyal customer base and then lease equipment as you grow. The flexibility to add and remove capacity as needed throughout the seasons can be extremely helpful to your bottom line.
2) Choose the Right Box Plow for the Job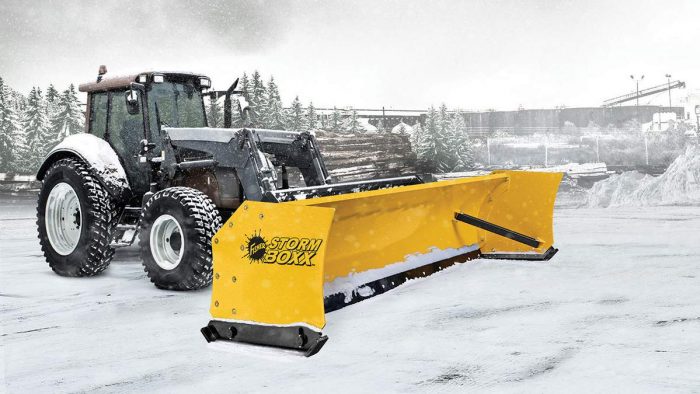 If you're looking to purchase a containment plow, not only do you have to consider the property type you're plowing but also the vehicle being used. Not all box plows are created equal. You'll want to choose one that's designed for durability and overall scraping performance. They are made in a variety of sizes with interchangeable attachment plates to fit various machines and applications including skid steers, wheel loaders and tractors.
When finding the correct size box plow for your skid steer, wheel loader, backhoe or tractor, it's a little different from finding the right fit for a truck. Instead of focusing on the weight compatibility between the truck and plow, it's more about brute force and making sure the machine has enough horsepower to move the weight of the snow.
TIP: The weight of thick, wet snow is heavier than the light, fluffy kind. If you find yourself unable to move, back up and take a pass with less snow.
| | 8' | 10' | 8′ (36″H) | 10′ (36″H) | 12' |
| --- | --- | --- | --- | --- | --- |
| Skid Steer | 45+ hp | 60+ hp | — | — | — |
| Wheel Loader / Backhoe | — | — | 60+ hp | 60+ hp | 100+ hp |
| Tractor | — | — | 40+ hp | 50+ hp | — |
Chain Kits for Loader Buckets
For safety and stability, a chain kit (or sometimes known as a binder kit) is highly recommended when plowing with the bucket still attached to the loader. The chain kit secures each side of the plow to the bucket, so it moves in sync. This can keep the plow from torqueing off when encountering an obstacle or pushing snow into a pile and backing up.
3) Get Help for Entryways and Tight Spaces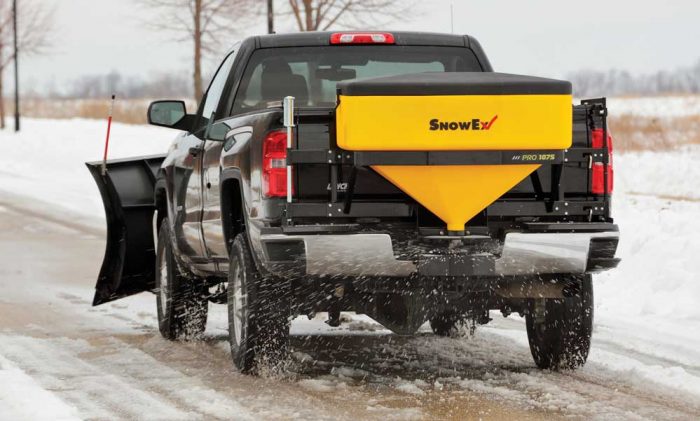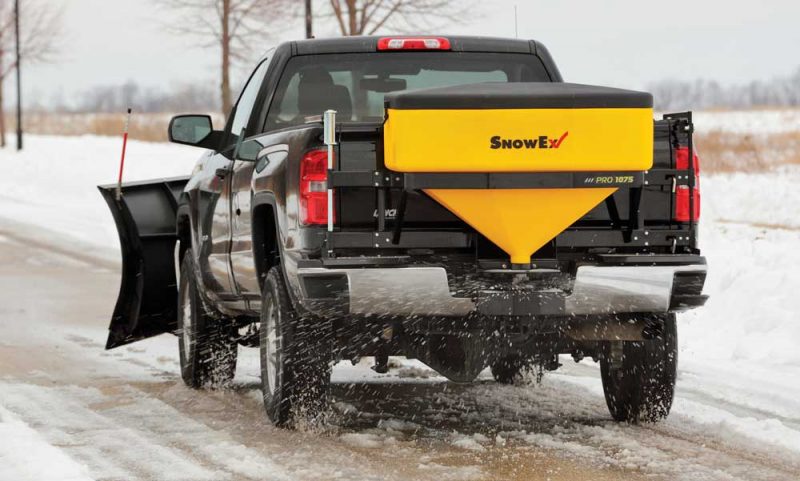 Pusher plows are massive and can be hard to maneuver in tight spaces. The best approach to remove snow from entryways or tight areas when using a containment plow is to also have an onsite assist with a truck plow and spreader. The truck comes through and back drags the snow away from doorways and hard to reach spots, taking care of the "cleanup" needed that a box plow can have difficulty performing. V-plows are commonly used for this because they are more diverse than a straight blade. Having a utility infielder is also great for de-icing services when you need to spread sand or salt.
4) Containment Plows Are Built to Last
A pusher plow doesn't typically die of old age—but can be greatly worn down by misuse. When considering the cost of ownership, you may pay more up front than other plow types but it's built to withstand harsh winters. They are designed to carry a large amount of snow and robust enough to hit ice piles when stacking.
5) Learning the Technique
The learning curve is usually about getting used to the machine itself, not necessarily plowing. There are no stringent licensing requirement that drivers need to qualify for since these machines aren't driven on roads. If you're new to driving a skid-steer, wheel loader, or tractor, take the time to test drive the machine before you start plowing commercial properties with it—being comfortable takes practice.
Move more snow, more quickly with a box plow. Contact your local FISHER dealer for more information on STORM BOXX pricing and availability.
Erin Hunt is a product manager for Douglas Dynamics, and Mikayla Bump is a digital marketing analyst for Douglas Dynamics, which owns FISHER and other snow brands like SnowEx and Western.