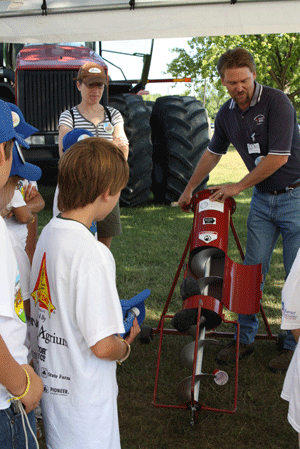 The Progressive Agriculture Safety Day program is gearing up to teach kids how to stay safe while surfing the Web. Thanks to a $30,000 sponsorship from WildBlue Communications, the Progressive Agriculture Safety Day program will be able to develop an educational series that teaches children about safe use of the Internet and how to avoid online dangers. WildBlue Communications, a rural high-speed Internet service provider based in Greenwood Village, Colo., is a new Bronze sponsor of the Safety Day program.
According to a 2008 study conducted by the Rochester Institute of Technology, nearly 50 percent of kindergartners or first graders interact with people on websites without supervision from a parent or guardian. Without adult supervision, these youngsters are more apt to be exposed to threats and dangers posed by the information highway. With this new funding, the Safety Day program will be able to develop a comprehensive lesson plan with hand-on activities that will teach children about safe Internet usage and how to protect themselves from harmful situations.
"Whether it be at home, school or a friend's house, children today have unparalleled access to the Internet and its capabilities. These educational lessons will help keep youth safe as they navigate the Web," explains Matt Farr, senior manager of marketing communications and webmaster for WildBlue Communications. "We couldn't think of a more appropriate avenue than Safety Days to reach rural children. This is a great opportunity to give back to the communities we serve."
Through donations from companies such as WildBlue Communications, the Progressive Agriculture Foundation is able to continue its commitment to keep rural children safe and healthy. The Foundation provides training and resources to help local community members conduct one-day safety and health programs that are age-appropriate, hands-on and fun for rural children and families. The program has been in existence for 16 years and has grown to become the largest rural safety and health educational program in North America.
WildBlue Communications, a division of ViaSat Inc., was established to provide broadband access to consumers and small offices in areas with few or no terrestrial broadband Internet services. WildBlue high-speed satellite broadband service is easy to use, reliable, always on and significantly faster than standard dial-up service. It opens up a window to a world of rich content that is largely unavailable through dial-up service and is accessible in areas traditionally underserved by cable modem or DSL service. Service is available in the contiguous United States.
The Progressive Agriculture Safety Day program is the largest rural safety and health education program for children in North America and a program of the Progressive Agriculture Foundation, a 501(c)(3) charitable foundation. The Foundation's mission is to make farm and ranch life safer and healthier for all children through education and training. In 2008, PAF was awarded the Better Business Bureau Wise Giving Alliance National Charity Seal, demonstrating its commitment to accountability and ethical practices. Safety Day applications are due each July 15 for Safety Days that will be conducted the following calendar year.