In a world with limited natural resources, volatile energy prices and increasingly strained ecosystems and manufacturers' long-term commitment to make use of technological innovations to advance energy efficiency, low emissions and overall eco-friendliness are indispensable. With the ultimate engineering target of developing the green machine in mind, evolutionary concepts of wheel loader technology have and will continue to shape each new product generation.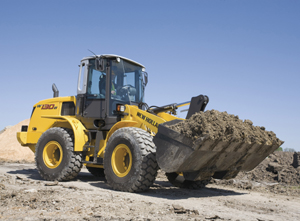 The ultimate goal remains a machine with minimal environmental impact and maximum operator comfort.
Green machine concepts therefore focus on features such as fuel efficiency, reduction of the overall carbon footprint, biodegradable fluids, reusable or biodegradable components, recyclable electronics, heat and energy recovery and noise reduction.
Engine and Fuel Technology
Research and development are following many different roads and have already made huge strides in terms of fuel efficiency and reduced emissions over the past few years. With Tier 4 technology in sight for January 2011, manufacturers continue to aggressively pursue concepts such as diesel-electric hybrid engines, hybrid transmission systems, brake energy recovery, more sophisticated and energy-efficient hydraulic systems, and electronic control of transmission, engine and diagnostics.
Many manufacturers are working towards the long-term goal of significantly reducing fuel consumption. New Holland Construction, for example, aims to reduce fuel consumption by at least one-third and biodiesel-operated machines are already a reality for smaller size models.
Maintainability
Aside from engine and fuel technology, maintainability is another priority when it comes to technological advances.
The industry is moving to increasingly longer service cycles that reduce both time and expense needed over a machine's life cycle.
Engine oil changes that were in the past required every 100 hours are now only necessary every 500 hours, and similar maintenance schedules apply to transmission fluids and coolants.
As engine oil and filter changes can also have a potentially negative environmental impact through accidental spills if not properly executed, environmental drain is another key area for improvements. New Holland Construction has implemented advanced maintenance solutions on all wheel loaders. Quick coupling for draining hoses enables easy and clean drainage of engine oil and hydraulic oil, as well as coolant. Thus it allows for more controlled disposal, minimizing the chance of environmental pollution.
Operator Comfort
While the concept of the green wheel loader focuses primarily on the machine's environmental impact, operator comfort and overall controllability are also considered, especially as the growing challenge to recruit qualified operators comes to the fore. Manufacturers are put to the test to make the operator's "mobile office" as comfortable and efficient as possible.
In this context, noise reduction, both inside the cab and as it relates to the environment — already a differentiating factor in densely populated areas such as Europe or other urban centers worldwide — has a significant impact on overall workplace quality.
In wheel loaders, wide doors allow convenient cab egress/ingress while tightly sealed, heavily insulated and isolation-mounted cabs use maintenance-free oil-filled dampeners to keep out dust, dirt, noise and vibrations. Adjustable seat and tilting steering column add additional operator comfort, and an expansive flat area of nearly 50 sq ft of seamless glass provides optimum visibility. Without any front corner posts to obstruct the view to the front bucket and a low rear hood and frame design that offers outstanding rear visibility, the operator can focus on the task at hand, even during a long work day.
The Machine of the Future
Last but not least, while working towards minimal environmental impact and maximum operator comfort, engineering and design advances always need to maintain and enhance the machine's optimum productivity. Each new product generation faces the challenge of creating a product capable of using more tools to handle more applications and to increase the machine's overall efficiency on the jobsite.
On-board load weighing devices, rear camera systems that improve safety, increasingly sophisticated monitoring systems with satellite transmission to one single location monitoring a complete fleet of machines and ultimately, the autonomously operating machine of the future without operator on board are just some of the features we can envision and in some cases already encounter in experimental stages.
Mike Murphy is the New Holland Global Product Marketing Manager.