Compact wheel loaders have just begun their career in North America. In 2013, many contractors will for the first time take advantage of these multi-purpose machines. It takes decades for certain machine markets to develop in the United States from Europe and Japan, but the compact wheel loader is starting to grow in popularity, boasting versatile machines with increased fuel efficiency, less tire wear, better visibility and a lighter footprint than a skid steer. How popular will they be? We ask the experts.
---
Jim Joy
Technical Marketing Engineer with Cat Compact Loader Marketing
Market Insights: The compact wheel loader market in North America is running at about 3,000 units per year. The industry has picked up since the valley of the recession and has virtually recovered to the peak we observed in 2005 to 2006. It appears the industry has potential to grow in 2013, perhaps up to 10 percent. Markets that are seeing growth are agriculture, waste handling, scrap handling and recycling. In this skid steer dominated market, sometimes having an experienced machine consultant like a dealer salesman or a technical marketing engineer come to meet with a contractor may reap significant financial benefits to a business. A dealer can help find the applications where a small wheel loader can excel over a traditional skid steer or track loader.
Favorite Units: The Cat 906H2, 907H2 and 908H2 compact wheel loaders deliver performance with versatility. The spacious, comfortable cabs with joystick controls allow you to get more done. These loader designs deliver strength and durability with parallel lifting. The work tool quick-couplers allow the use of Cat skid steer, multi terrain and compact track loader hydro-mechanical work tools on Cat compact wheel loaders. Increase each machine's versatility with the wide range of Cat buckets, forks and hydraulically-powered work tools. Work tools can be changed quickly and easily with each machine's quick-coupler system. www.cat.com
---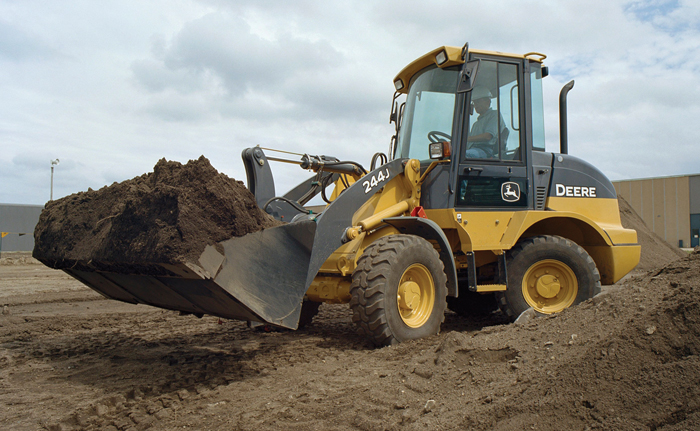 Doug Laufenberg
Product Marketing Manager with John Deere Construction & Forestry
Buying Advice: When buying a compact wheel loader you need to pick the right machine for the application. Visit and speak with your local dealer and demo the model you are interested in on your jobsite. Itís also important to understand what the limitations are of the piece of equipment you are researching or looking to buy. Are you operating in a tight area? Is turning radius and stability an issue? Is travel speed a concern? How about operator comfort and visibility? A customer should ask themselves these questions and discuss them with their dealer.
Favorite Unit: The John Deere 244J compact wheel loader is a tight-turning, heavy lifting, versatile machine that combines best-in-class maneuverability, travel speed, breakout force, reach and stability. Oscillating stereo steering delivers a smooth-turning radius thatís 20 percent tighter than comparable loaders for faster cycle times and less material spillage. Equipped with a 59-hp IT4 engine, the 244J travels at speeds up to 19 mph. Low- and high-speed ranges provide infinitely variable travel speeds to match the work at hand. In addition, the 244J is equipped with a standard pin-type hydraulic quick-coupler for easy exchange of attachments, including buckets, forks and augers. www.deere.com
---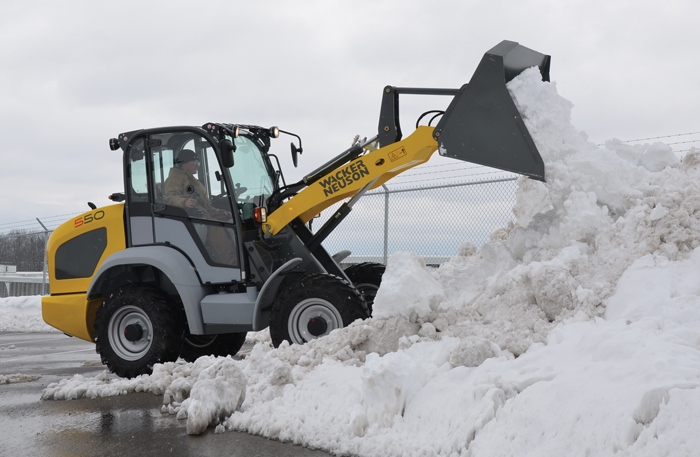 Will Wright
Wheel Loader Product Manager with Wacker Neuson
Market Insights: We believe the compact wheel loader market has a very bright future. It took about 10 years for mini excavators to catch on in North America because everyone thought of them as a toy, and today they are on every job. Compact wheel loaders have certain operating cost advantages over skid steer loaders, specifically in applications on hard surfaces because of the tire wear and in any case because of the better fuel efficiency. Competitive pressure forces contractors to constantly reevaluate their approach, and many will find out that a wheel loader can get more done for less money in certain applications and thus provide a competitive advantage to the contractor.
Favorite Unit: The 550 compact wheel loader features a four-wheel steer system that delivers excellent maneuverability and a rigid frame design that produces outstanding stability. Additionally, the long wheelbase on the new 550 offers smooth driving and easy handling even across the roughest terrain. The 550 delivers an exceptional power-to-weight ratio making this unit very fuel efficient and economical to run. Its versatility and ability to load and carry over rough terrain is where this machine really shines. www.wackerneuson.com
---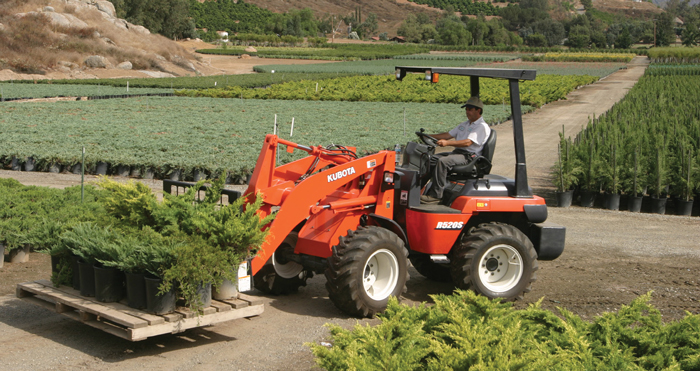 Keith Rohrbacker
Kubota Product Manager for Wheel Loaders
Market Insights: Kubota participates in the less-than-80-hp segment. The most recent peak sales season in that class was just under 2,000 units sold retail. Last year the under 80-hp segment market recovered to approximately 1,600 units. I think that the wheel loader market growth for 2013 will be a modest 5 percent or so in this horsepower segment. Itís important to take into consideration that the price may be higher than the typical skid steer loader, but the versatility of auxiliary hydraulics to operate multiple attachments, lower fuel consumption, lower operating costs and improve visibility and ease of operation will provide benefits and productivity over a longer period of time.
Favorite Units: Kubota Tractor Corp.ís R20 Super Series wheel loaders, the R420S and R520S, offer strength, comfort and superior operator benefits. Both models are powered by E-TVCS three- and four-cylinder Kubota diesel engines rated for 43 and 49 hp, respectively. The wheel loaders are highly maneuverable in tight spaces, with 40 degrees of articulation and eight degrees of frame oscillation. Four-wheel drive and limited-slip differential power the machines through rough terrain. The R420S produces a maximum bucket breakout force of 6,550 lbs, while the R520S breakout force is rated at 7,425 lbs. www.kubota.com
---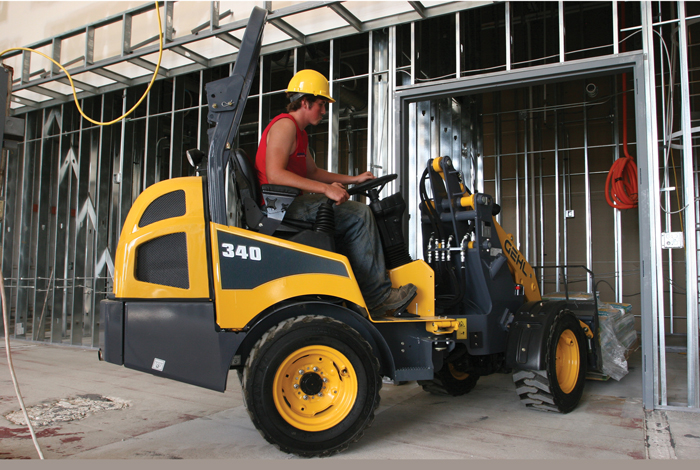 Nathan Ryan
Product Manager for Gehl Articulated Loaders
Buying Advice: Loads, travel speed and terrain affect the size and model that will meet an operatorís performance expectations. Lifting height and operating load should ideally carry the most weight when making a purchasing decision, with a focus on the articulated load capacities since lift capacity is diminished when articulated. Buyers shouldnít put too much emphasis on power. Since compact wheel loaders operate more efficiently than other compact loaders, like skid loaders and track loaders, they donít require as much power to do the same work. After youíve narrowed down your selection the bottom line is try to get some seat-time through a demo, at a dealership or at a show.
Favorite Units:  Gehl is really turning peopleís heads with compact articulated loader models 140, 340 and 540. These exciting machines have caught the eye of landscapers, farmers, ranchers, stable operators, fertilizer and feed plants, municipalities and grounds maintenance crews worldwide. Three uniquely different sized loaders are designed to fit both the budget and the application at hand. Gehl articulated loaders feature tipping loads ranging from 1,900 to more than 5,100 lbs when not articulated and rated operating capacities from 950 to more than 2,550 lbs. www.gehl.com
---
Jamie Wright
Terex Product Manager for Wheel Loaders
Market Insights: The demand for compact products, including wheel loaders, has been strong going into 2013 in the Americas overall. Building permits in the United States may be driving an increase in the need for compact equipment. The U.S. Department of Housing and Urban Development indicated that they saw an increase of 28.8 percent in December 2012 from December 2011. The first thing contractors need to assess, whether renting or buying, is what tasks are they going to be performing with this unit. Once those factors have been determined, consider how easy is the unit to maintain, hydraulic flow for attachment needs and will over-the-tire tracks be needed on any projects?
Favorite Unit: The Terex TL80 compact wheel loader offers economical, quiet and low-maintenance operation without sacrificing cutting-edge technology. Ideal for digging, loading and hauling jobsite materials, the progressive Terex range addresses the needs for a variety of construction site work, nursery and landscape applications. Each model incorporates transverse-mounted engines for optimal stability, so Terex wheel loaders can lift and transport high payloads and in turn lower fuel consumption. The Terex TL80 compact wheel loader is 59 hp with bucket capacities between 1.0 yd3 to 1.6 yd3 and achieves a breakout force of 10,128 lbs. www.terex.com Tags: Case, Cat, Gehl, John Deere, Mustang, Volvo, Wheel Loaders