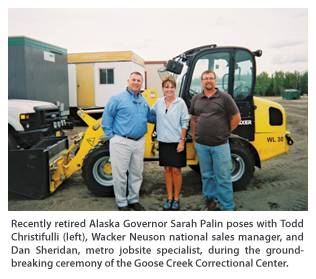 It's a little frightening to consider, but the $240 million prison project, located near Point MacKenzie, Alaska, is the largest building construction project for the state in recent history. The 435,000-sq ft medium security facility will house more than 1,500 inmates and is scheduled to be completed in late 2011.
Providing the iron to construct this new Big House, Wacker Neuson is working with the general contractor, Anchorage-based Neeser Construction Inc., to see this slammer to completion. Wacker Neuson even had representatives on hand at the June 17 ground-breaking ceremony of Alaska's Goose Creek Corrections Center. The project is expected to create about 700 construction jobs and approximately 400 full-time jobs once construction is complete. Todd Christifulli, national sales manager, and Dan Sheridan, metro jobsite specialists for Wacker Neuson, attended the ground breaking ceremony.
"Wacker Neuson is excited to be part of this project," said Christifulli. "Neeser Construction expects to use a large variety of Wacker Neuson construction equipment on the job. A mobile generator will be powering the jobsite trailer and a wide range of Wacker Neuson products will be used throughout the entire construction process."
Wacker Neuson manufactures a complete line of light, compact and climate control equipment for all phases of the construction process. Many products including mobile generators and heaters are designed to withstand the harsh winters of Alaska and will be perfect fit for this project.