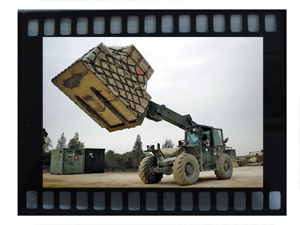 Sometimes our armed forces need long arms to finish big missions. When it comes to construction in elevated environments, moving shipping containers or lifting heavy loads to new heights, the JLG All Terrain Lifter Army System (ATLAS) II telehandlers have a long arm that can handle lofty applications.
JLG Industries Inc. recently received an order from the United States Army for 214 ATLAS II telehandlers — a contract valued at $33.7 million, with the first units scheduled for delivery in September.
"This contract demonstrates JLG's ability to design and manufacture the next generation of military telehandlers capable of meeting the stringent durability, reliability and productivity requirements of the U.S. Army," said Denny Buterbaugh, JLG vice president of government products and programs. "We are excited about the ATLAS II and its ability to build on the stellar reputation for material handling versatility, superior reach and the rough terrain performance of the original ATLAS machines."
The ATLAS II is designed to reach into trucks or shipping containers, lift loads over obstacles and pick up loads from both above and below grade. It has a maximum reach of 28 ft and loads of up to 10,000 lbs can be lifted as high as 17 ft. With four-wheel drive, high ground clearance and 173 hp, the ATLAS II is built to go through the most rugged terrain.