Size Matters
Picking the Ideal Service and Crane Truck for Your Compact Operations
By Jared Brox
When selecting a truck crane, the adage "you wouldn't use a shotgun to kill a fly" stands true. Owners and operators all too often forget to ask themselves two important questions when outfitting their vehicle: How much lift capacity do I really need from a crane and how often am I actually going to use it?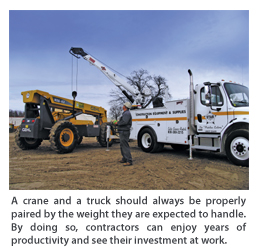 "When it comes time to select a crane model, a customer is better off to gauge what crane would most closely match the common need," says Tim Worman, product manager for commercial vehicles at Iowa Mold Tooling Co. Inc. (IMT). "Assessing your situation that way helps you avoid spending more than necessary on your truck crane. If you usually lift 4,000 lbs, but might lift 10,000 lbs two or three times per year, you probably don't need to buy a crane rated for 10,000 lbs. You would be better off buying the smaller crane and renting a larger-capacity unit for those rare occasions."
Mechanics servicing compact equipment rarely need to lift more than 4,000 to 6,000 lbs. It doesn't make sense to buy a crane rated for much more than that unless you service both compact and heavy equipment. An IMT 4004i telescopic crane, for example, would be ideal for compact equipment maintenance because of its 16,000 ft-lb torque rating and maximum lift of 4,000 lbs. For telescopic cranes, the load capacity is calculated based on how much they can lift with the boom extensions retracted and the lower boom raised to maximum elevation. The radius is then measured from the winch line to the center of rotation.
The other important consideration is how often you are using the crane. This information will help you decide between electric and hydraulic cranes. For a mechanic with minimal lifting needs, an electric crane may make more sense. Electric cranes are generally rated between 2,000 and 6,000 lbs and are ideal for occasional use.
"Customers who know that they only need to lift something once a week, or maybe a little more often, can save some money by selecting an electric crane," Worman says. "But if they come into the buying decision thinking they'll spend less buying an electric crane and then end up using it every day, they'll be worse off because the life cycle of the crane will be reduced. Those cranes are not meant to stand up to that kind of use."
For more regular use, a hydraulic crane is the best option, especially if your common lifting needs will exceed 6,000 lbs. Another consideration is what size mechanics truck the crane will go on.
"Class 4 and 5 chassis are generally best for customers who service compact equipment," Worman says. "Customers are always looking for better fuel efficiency. Smaller mechanics trucks offer better fuel economy than bigger versions, and they also fill the niche need for customers who don't require a full-sized mechanics truck."
With so many crane and truck options out there, it can be easy for a mechanic wanting to focus on servicing a particular category of machinery, like compact equipment, to make the wrong choice. Diligent research and understanding of truck crane capacities can go a long way toward finding the right equipment combination for the job.
Jared Brox is a technical writer for Two Rivers Marketing, based in Des Moines, Iowa.
Safety First
Protect Your Crew and Equipment with Proper Crane Operations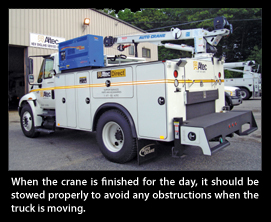 Safety before, during and after operating a crane is crucial. Prior to
using a crane, the operator should make sure there are no obstructions
around or above the jobsite — especially power lines or any high wires.
The outriggers on the unit should be deployed for proper stability and
the truck should be parked on a level, solid surface.
"Operators should just always be aware of those around them," explains
Tim Worman, product manager for commercial vehicles at Iowa Mold
Tooling Co. Inc. (IMT). "Never operate a load above someone's head. It
sounds like common sense, but it is often overlooked."
When the crane is finished for the day, the outriggers are to be
properly stowed and the PTO should be disengaged. The crane itself
should be stowed properly to avoid any obstructions when the truck is
moving.
To ensure greater safety when operating a crane, all units come
standard with an overload protection system that prevents the crane
from being overloaded. If the capacity is exceeded, potential damage to
the equipment could occur, as well as pose serious safety concerns for
the operator and surrounding crew members.