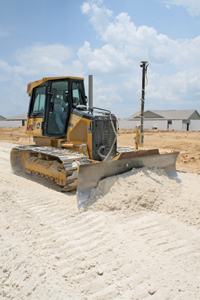 The next generation of construction contractors will need high-tech tools to meet the margins and precision of future jobs. So we were pleased to hear that Topcon Positioning Systems, the worldwide leading developer and manufacturer of precision positioning equipment, GPS systems, optical surveying, and (yes!) lasers, announced the formation of a new business unit created to focus exclusively on the construction market.
From open-field construction projects to isolated surveying sites and from rolling farmland to inner city utility projects, Topcon survey instruments are finding a variety of niche business units (especially with new subsidiary Sokkia)
"We are taking the two premier brands in the survey global marketplace — Topcon and Sokkia — and building an organization to maximize our opportunities in every segment of the survey business," said Ray O'Connor, executive officer of Topcon Corp. and president and CEO of Topcon Positioning Systems (TPS). "For construction, it is not so much a change in operation as it is a reinforcement of the importance of Topcon's construction industry business."
Jamie Williamson, senior vice president and general manager, will head up the TPS Construction Business Unit. Murray Lodge will continue as vice president of construction sales in the new business unit. Mark Contino has been named vice president of product marketing for construction and Topcon's other four business units.
TPS has an extensive construction dealer network in the United States, Canada and South America carrying the Topcon line of construction products including machine control systems, lasers and construction total stations, plus other products.