Portable power is best in a small footprint. When your business is a moving work station of tools, heating, lights, pumps and construction equipment, a mobile generator needs to have big power in a concise package to stay nimble on the jobsite. When it comes to sizing the right gen set for a specific project, companies like Atlas Copco, Doosan Infracore Portable Power and Terex suggest you start with their workforce in the field.
"We suggest seeking a dealer specializing in power generation," explains Todd Howe, product marketing manager for generators, Doosan Infracore Portable Power. "They are experts and will consult with you on your application needs and match the features on the gen set to what is needed for your application."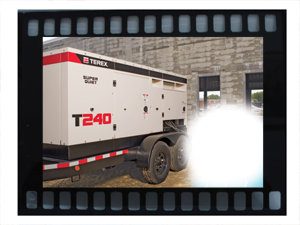 Approximately 70 to 80 percent of portable prime power generators are sold into the rental market, which means most users can experiment with the exact power range and features for their needs. A good rental lot dealer will explain that generators come in different types of categories, including: 1) standby, which would be used in a hospital or manufacturing situation when the electrical power goes down; 2) mobile, which rental companies purchase for their customers; 3) portable, which can be carried by one or two people and can be purchased at the local home improvement store; and 4) homeowner grade. Within each of these are subcategories, there are other options to consider such as fuel type (diesel, gasoline, propane and natural gas) and size (kW).
When considering power categories or size, here's a quick breakdown of the four main types of power. According to the companies we surveyed, 80 percent of commercial grade customers purchase 35- to 200-kW generators, but they are available up to 3,000 kW. Portable generators run 3 to 15 kW and usually use gasoline; though some are available in diesel on the higher end. The home standby, 7 to 25 kW, is usually run by natural gas or liquid propane. For mobile generators, there are three main sizes, but most sales fall in the 15- to 100-kW range and are almost always diesel.
"The simplest way to categorize mobile, towable generators is small, medium and large," explains Chuck Westhofen, product marketing manager for Atlas Copco Construction Equipment. "Small are 15 to 50 kW, medium are 51 to 150 kW and large is anything over 151 kW. Of course, customer built units can be engineered for specific opportunities."
When it comes to mobile power, the focus of this article, options are many, including power, features, brand and dealer. Selecting the right size generator for the right job doesn't take rocket science, but it does take a little planning.
"When purchasing a generator, choosing the correct size can be done easily if the required voltage, current or power required by the application are known," says David Spears, Terex AWP product manager of power products. "In addition, purchasers should take into account the highest peak or transient load the generator will need to manage. Be sure to consider the amount of power required to start the motor and other situations where in-rush currents inherent in an application may occur. Terex suggests customers choose a generator that allows for unexpected load fluctuations, current spikes and maybe above and beyond what is needed for their respective application."
The Proper Path to Power
Three factors play a part in sizing a generator for the job: 1) type of load; 2) total watts to be connected; and 3) power of the generator. The first factor to consider when sizing a generator is the type of load being connected. There are two types of electrical loads: resistance loads and induction loads. Electric lights and heating units are examples of resistance loads. Most construction equipment requiring generator power has induction loads (electric motors).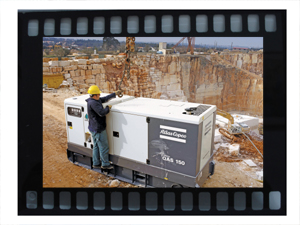 There are two types of induction load motors. Universal motors (which use brushes) power hand drills, saws and concrete flex shaft vibrator motors. Capacitor motors power pumps, air compressors and table saws. When sizing a generator to these motors, the main difference is that the capacitor motors need about 1/3 more starting current than universal motors. After determining the type of load, the next step is to find the total watts of the load to be connected.
"The sizing professional will need to know the voltage and amps of each component to be powered," explains Westhofen. "The more specific details, such as motor starting, NEMA codes [National Electrical Manufacturers Association] and starting sequencing that the sizing professional has access to, the more accurate the estimation will be. Unfortunately, there are no square footage guidelines. The industry does typically say that 2 kW per 1 hp is required for motor starting. Both Cummins and Cat provide free generator sizing software that are great tools."
The most accurate method to determine wattage is to check the nameplate on the machine. However, if this information is not available, wattage can be figured by amps x volts = watts. Load requirements to electric motors differ, but all motors require more power to start than run. Capacitor motors require up to six times more starting power for longer periods of time. Universal motors draw one and a half to two times the running current for shorter periods of time. Once you determine the wattage, you can choose your generator. The basic guide: If the generator has enough power to start up the load, it will have enough power to continually run it. Also, consider maximum power requirements as well.
"The most important factor for a user to consider is whether the generator needs to be sized to manage loads larger than the largest application need, otherwise called a peak load," explains Spears. "A common mistake is to size the generator for the average or continuous loads and neglect the spikes due to start-up, in-rush, motor starting or other transient loads. When in doubt, choosing a higher powered generator is always the safest way to go."
Example: A 2-in. submersible pump requires 771 running watts (6.7 amps x 115V). A 2-hp flex shaft vibrator runs on 2,000 watts. The pump and vibrator motor require a total of 2,771 running watts.
However, the pump has a capacitor motor and will require 2,313 watts for running, while the universal vibrator motor requires 2,600 watts.
You can size the generator to the largest starting and running load, which would be 4,313 watts (2,313 + 2,000). To run the pump and vibrator, a 5,600-watt generator will be needed. This will give you plenty of room should you add another tool such as a rotary hammer, which needs 1,100 watts to run and 1,600 watts to start. Extra power is always a nice luxury, as overpowering the gen set can lead to a halt in operations.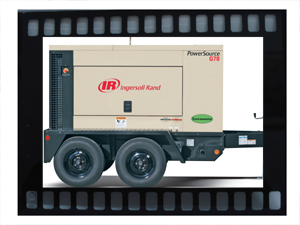 "When operating a generator, the key to preventing overload is to look and listen," says Howe. "Pay attention to the voltage and amperage gauges and ensure they are within the ratings of the unit. Listen to the engine. Generators normally run at a constant speed, so if the engine speed is changing or 'hunting' that may be a sign of overloading. As a general rule of thumb, we recommend applying generators at 70 to 90 percent of their rating. This allows the generator to operate efficiently while leaving some spare capacity in the event of variability or extra loads that weren't planned for during sizing."
The Current Market Flow
Pricing on a generator varies considerably depending upon the size of the generator and how it is featured. For example, a small, portable generator can cost as low as $1,500, whereas a larger, commercial unit may set you back $170,000. Generator prices are generally based on the power produced, with cost per kilowatt a common benchmark. A trailer will generally add 5 to 15 percent to the total cost depending on the size of the generator. Value-added options like Cam Lock connectors, block heaters and battery chargers can add an additional 1 to 5 percent to the total generator cost.
While the cost and sale of mobile power has been one of the more steady markets in the construction and landscape industry, the current economy has power makers experiencing a reduction in sales during 2009.
"The unprecedented current economic environment makes analyzing market trends challenging," says Spears. "We anticipate 2009 will most likely be a time where generator manufacturers consolidate and overall the industry will only experience incremental improvements. However, regardless of the economic situation, generators will continue to be used in place of traditional power during natural disasters."
Certain regional market segments will continue to be hot — disaster recovery operations being one of them. Rental companies can also take advantage of the increased use of machines for bridgework and roadwork being performed as stimulus funds are released. Westhofen advises contractors and rental companies not to be passive about the recipients of funds: "Go out and chase business. Have a fleet and be ready to go."
From a manufacturing standpoint, the EPA Tier requirements for engines are what are driving a lot of other trends. 2007 and 2008 both had significant changes for engine emissions going from Tier 2 to Tier 3, and then from Tier 3 to Interim Tier 4. The good news is that manufacturers get a three-year reprieve on any further emissions changes as the next tier change for any model is 2012, but that doesn't mean they've stopped innovating next-gen machines.
"Along with emission-led changes, Atlas Copco is focusing on customer-led changes to make our generators the best they can be," explains Westhofen. "Today's customers are asking for products that will save them money as well as help the environment stay healthy. Atlas Copco not only adds a green leaf 'because we care' logo to the equipment that meets its environmental standards to keep the earth healthy, it also helps save money. The machines are up to 10 percent more fuel efficient than comparable models, saving both natural resources and the owner's pocketbook."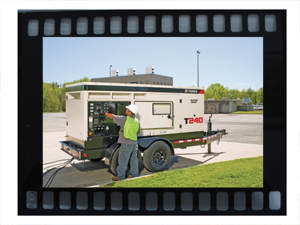 Along with fuel efficiency and engine emissions compliance, new features from manufacturers include larger doors and service plates, allowing for superior accessibility. Single-side servicing points mean less oil used and filters consumed because of the extended service intervals of 500 hours. On the business end, manuals are available online, eliminating the need for excessive paper usage. From a package perspective, engineers are always working to provide quieter noise levels while still meeting the product performance requirements. The best place to learn, evaluate, test, rent and purchase these latest models are at your local dealer lot.
"Again, we suggest seeking a dealer specializing in power generation," says Howe. "Our focus at Doosan Infracore Portable Power has been on servicing the rental and construction markets with our line of mobile generators ranging from 25 to 570 kVA. We've offered a full line of generators for 12 years and have been pleased with our market share. Although the current economic climate has had a negative effect on the generator market, over the long term generators are a healthy growing market and one of the more profitable rental assets for a rental company to invest in."
Keith Gribbins is managing editor of Compact Equipment, based in Peninsula, Ohio.
The Power of Two
Terex AWP Introduces New T240 and T180 Super Quiet Generators
Powering jobsites near you are the newest additions to the Terex line of generators, the all new Terex T240 and the design-enhanced T180. A Tier 3 compliant engine, permanent magnet generator (PMG), 110 percent environmental spill containment and a shared user interface with all of the Terex generators are standard on both the T240 and T180 models.
The new T240 satisfies a market need within the Terex generator product line providing users with an affordable generator option at 190 kW (237 kVA). The redesigned T180 features a new cabinet design with impressive additions such as the double-walled 110 percent spill containment feature ensuring all onboard fluids, including fuel, are containable in the event of a spill. In addition, the new overlapping sheet metal design of the cabinet, also on the T240, reduces noise and water ingress.
"The new T240 generator is not only capable of powering a tower crane, but highly competent for regular construction site projects," said David Spears, Terex AWP product manager of power products. "These model additions are part of our bigger movement to simplify Terex generators, allowing fleet owners to benefit from parts commonality, consistency in maintenance, cleaning and more."
With the T240 and T180, users are able to easily monitor all electrical loads and engine functions through an analog gauge package. The controller presents a simple user interface including manual and automatic settings. The powerful, dependable Tier 3 compliant Cummins engines are governed for frequency control of plus or minus 0.25 percent.
Tags:
Compressors