Pump applications can be far reaching … from the general construction dewatering job to flood control to unique applications in the fishing and recreational industry. These varying applications suggest that contractors and landscapers need to have basic pump knowledge regarding the type of pump needed for their particular job. With such a wide range for pumps available, selecting the correct pump for the application is important. The most common pumps available are trash, dewatering, diaphragm and submersible pumps. Each of these pump styles are designed for different applications. Centrifugal trash and dewatering pumps are very versatile and are among the simplest and most efficient.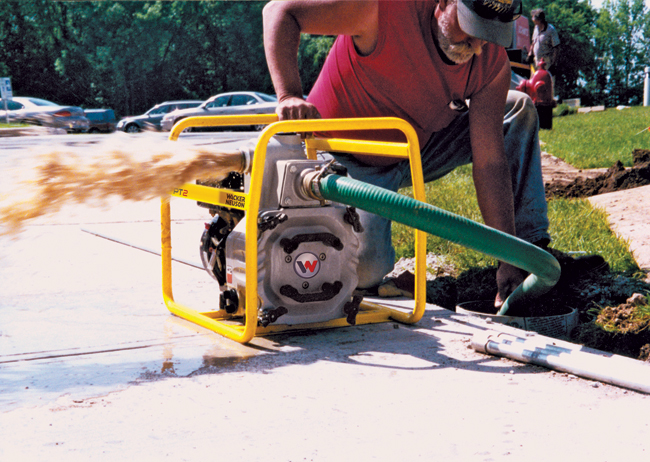 Dewatering pumps are relatively inexpensive, but do not always contain the high-quality components necessary for durability under general construction conditions. The water being pumped must be relatively clean, containing suspended solids up to 1/4 in. in diameter and less than 10 percent by weight. Benefits of dewatering pumps include high volume flow capabilities and a lightweight, compact design. These pumps are best suited to pump unwanted water from flooded basements, utility vaults, swimming pools, lakes and barge holds. Dewatering pumps are commonly used on water trucks or trailers for jobsite dust suppression and small irrigation projects.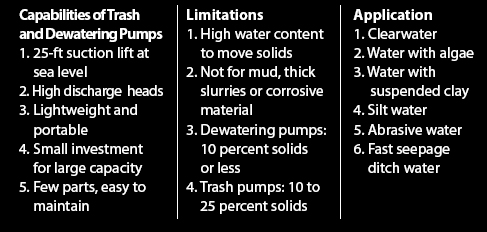 Trash pumps contain many high-quality components, but add additional cost compared to dewatering pumps. This type of pump is often a preferred choice in the construction industry. These pumps can handle clean, muddy, mucky or sandy water with solids up to 2 in. in diameter (depending on pump size) and between 10 to 25 percent by weight. Applications include pumping unwanted water from excavations, flooded basements, manholes, utility vaults, mining work, retention ponds, lakes and barge holds. Trash pumps are very popular in the construction industry because of their reliability, versatility and durability under a variety of site conditions.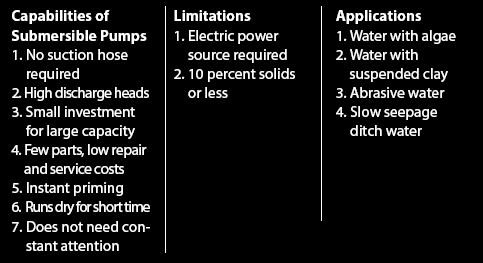 Submersible pumps offer contractors versatility on the jobsite. These pumps are primarily for water containing solids up to 1/4 in. in diameter and less that 10 percent by weight. They are relatively inexpensive, can run unattended and are ideal where quiet operation is mandatory. Pumping unwanted water from well casings, tunnels, shafts, flooded excavations, manholes and vaults are some applications appropriate for submersible pumps. Submersible pumps are powered by a variety of single- or three-phase electric motors, some equipped with automatic float options, and are lowered directly into the liquid to be pumped.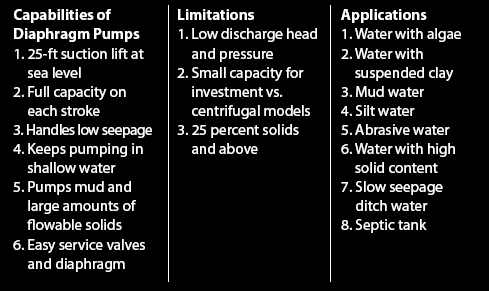 Diaphragm pumps are effective in muddy applications and are often used where the content of solids is high and/or a condition of seepage exists. Because of this muddy application, diaphragm pumps are commonly referred to as mud hogs, mud suckers or simply mud pumps. While diaphragm pumps do not pump high volumes or distances for their weight, they are very useful because of their versatility. Diaphragm pumps have the capability of pumping water with greater than 25 percents solids by weight. Diaphragm pumps do not require a steady flow of water and can handle large amounts of solids.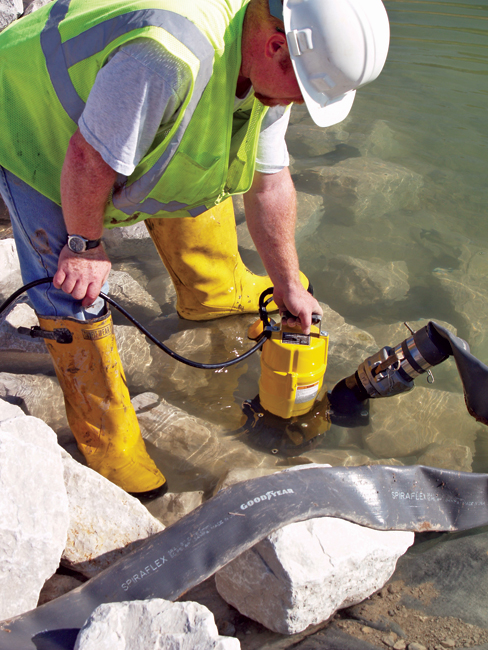 Fred Paul is a sales engineering manager with Wacker Neuson Corp., based in Menomonee Falls, Wis.
Water Pressure
By Pam Meyer
Moving water from one area to the next — yes, small pumps have a pretty standard job description. Whether it's a case of alleviating minor flooding or draining a water feature, you're probably pretty aware of the common uses of these types of pumps. But not so fast: A pump can be quite a versatile piece of equipment. One in particular that can be used for out-of-the-norm applications and provide additional help on various jobsites is a high-pressure pump.
High-pressure pumps are built a little bit differently than typical centrifugal pumps such as standard, semi-trash and trash models. Sure, they do operate in essentially the same way — the pump is equipped with an impeller, which generates centrifugal force to move water away from the center in a circular motion. With each rotation of the impeller, velocity is increased, causing liquid to move into the volute. Velocity is then reduced within the volute and its energy converted to pressure energy, allowing fluid to be quickly forced from the pump. There, now how's that for a nice lesson on centrifugal pump operation?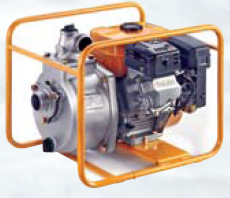 But what sets a high-pressure pump apart from the others in the centrifugal family is that it's built with a larger diameter impeller and shallower vanes, both of which allow it to attain a higher pressure and achieve greater discharge heights. So how can this unique pump find additional work on a jobsite? On a landscape project, a high-pressure pump can be a great sprinkler system. A golf course or sports field could use it as a means to irrigate the grounds. And any site could use a high-pressure pump to put out a small fire, or at least contain the situation until emergency crews arrive — especially during the dry, hot summer months.
Pam Meyer is equipment sales manager for Subaru Industrial Power Products, based in Lake Zurich, Ill.
Thompson Pump's 2011 Pumpology School
The master manufacturers at Thompson have been engineering pump solutions since 1970, reinventing product categories like trash, wellpoint, diaphragm, hydraulic submersible, high-pressure, bypass and pumps ever onward. Today the company is eager to share that knowledge, specifically at its 21st annual Pumpology School, held April 27-29 at its corporate facilities in Port Orange, Fla. Thompson Pump & Mfg. Co. hosted more than 45 attendees from 16 states and two foreign countries. The three-day workshop included training sessions for sales and service-oriented professionals on pumping fundamentals, dewatering and bypass applications, selecting the correct pumping equipment, designing, installing and maintaining pumping systems, troubleshooting, pump maintenance and more.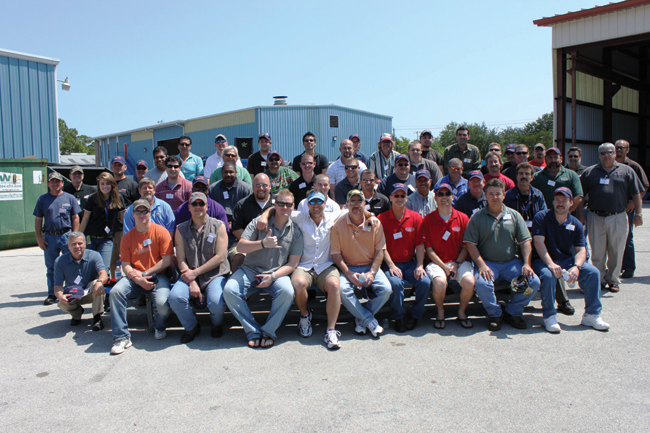 "Pumpology School serves as a launching pad to help us form and continually develop lasting relationships with individuals and companies involved in a common industry," said Bill Thompson, Thompson Pump president. "We enjoy bringing people together and furthering proactive education with the Thompson Pump team's combined knowledge and experience in pumping systems throughout multiple applications, markets and territories. Our education provides students the tools to synthesize concepts into everyday functionality, integrating pumping fundamentals as a guideline for further expansion and elaboration of not only themselves but their company."
Pumpology School offers hands-on demonstrations and classroom training from industry experts. Upon completion of training and successfully passing a comprehensive examination, attendees are recognized as certified Pumpologists at an awards ceremony.
Thompson Pump is respected worldwide for its sophisticated heavy-duty lines of high-quality portable pumps, ranging in size from 2 to 18 in. and with capacities up to 14,000 gpm. Thompson Pump sells and rents its entire line of pumps to the areas of public works, municipalities, construction, agriculture, dewatering, mining, sewer/lift stations and water/wastewater.
Gorman-Rupp Introduces Prime Aire Plus Line of Pumps
The new Gorman-Rupp line of Prime Aire Plus priming-assisted pumps are designed to provide you with the ultimate in pumping performance. This line is built to the same standards you've come to expect from Prime Aire pumps, but offers increased head and flow, with enhanced maintenance features and additional benefits.
The Prime Aire Plus line is available in up to 8-in. flanged discharge sizes and provides flows up to 4,950 gpm and heads to 475 ft. These pumps are suitable for both clear liquids and liquids containing large solids and have the ability to fit other pumping installations. All Prime Aire Plus pumps are available coupled to the latest EPA Tier compliant engines or premium efficiency electric motors.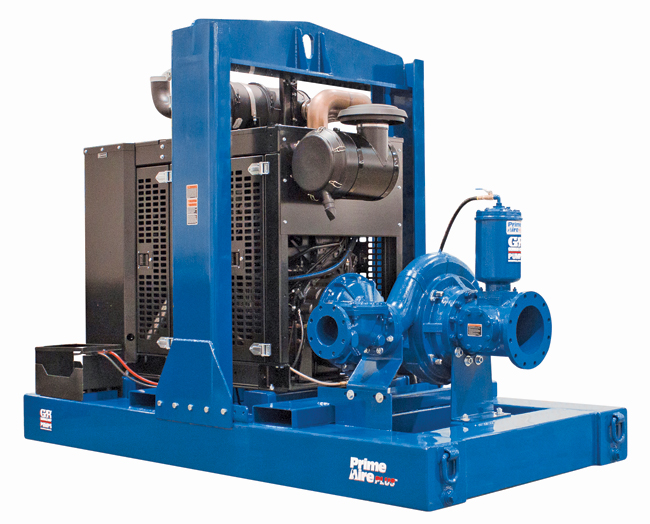 The Gorman-Rupp Co. is a leading manufacturer of pumps and pumping systems for the municipal, water, wastewater, sewage, industrial, construction and original equipment manufacturing markets. Established in 1933, Gorman-Rupp provides a quality, competitively priced product backed by superior customer service. The Gorman-Rupp Co. is a pioneer in its field, boasting a history of innovation, continuous improvement and excellence that sets the industry standard.  RS#50 For more information, go to www.ceunbound.com/info.