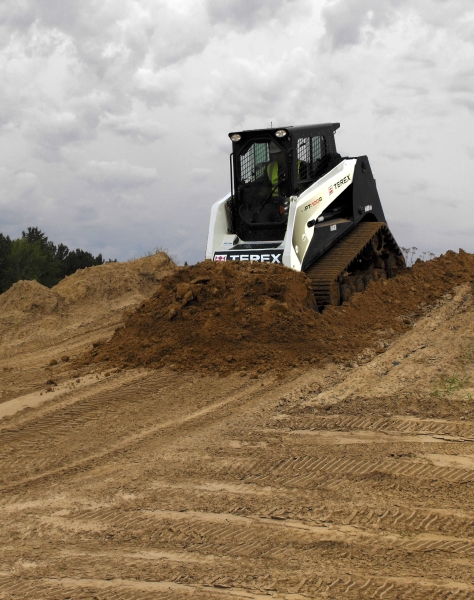 Friday, June 18, journalists got a personal tour of two new Terex compact track loaders (the PT-100G and the PT-100G Forestry) right from our office chairs. Terex hosted an online press event, showcasing the biggest growing line of tracked loaders on the market (a product purchased, reengineered and expanded with Terex DNA in 2008 and 2009).    
Online, product managers walked the press corps aournd the largest and newest compact track loaders in the Terex lineup. These new models offer operators a 14.6 percent increase in tractive effort in low gear for more pushing power, a 32 percent increase in horsepower to the attachment, a redesigned loader arm to achieve greater reach and 13 percent more bucket breakout force over their predecessors.
 
"We continue to enhance our compact track loader lineup based on feedback from our distributors and customers," said Del Carver, area director, North America Compact, Terex Construction. "The original PT-100 and PT-100 Forestry models are among our best-selling models for construction and utility contractors, landscapers, landowners and vegetation management specialists. Our goal with the new PT-100G models was to keep the attributes that have made the previous machines so popular with our customers, while enhancing features to exceed the market's expectations."
 
These models boast a class-leading 99.9-hp (75 kW) engine and 310 lb-ft (420 Nm) of torque, the most in the compact track loader (CTL) industry. Brand new to the PT-100G models, the cooling fan blades will automatically adjust to provide optimum airflow while minimizing engine hp consumption. These newest Terex loaders have an operating weight of 11,400 lbs (5,171 kg), a tipping load of 8,000 lbs (3,629 kg) — with a 4,000-lb (1,814 kg) operating capacity at 50 percent tipping load capacity — and a lift height of 125 in. (3,175 mm).
With a narrow 6-ft profile and a low 14 3/4-in. ground clearance, the new Terex PT-100G and PT-100G Forestry loaders are designed to maximize work in limited access areas. And with a low 4.0 psi ground pressure, these machines can easily work on soft or sensitive surfaces with minimal damage or impact. The new PT-100G models of course include the Terex patented Posi-TrackTM undercarriage technology and suspension for one of the smoothest rides in the industry. These loaders also set a new benchmark in the industry with a load-sensing, high-flow auxiliary hydraulic capability of 43 gpm (163 lpm) at 3,800 psi (26200 kPa) [incrementally adjustable in 1 gal (3.8 L) steps from 30-43 gal/min (114-163 lpm)]. On models equipped with heat or AC, a pressurized and sealed enclosed cab comes standard.
 
The Terex PT-100G Forestry compact track loader is a specialty unit, so it comes fully outfitted for demanding forestry applications. The auto-reversing fan on the PT-100G Forestry has been enhanced to allow the operator to trigger it at set intervals in five-minute increments to keep the machine's cooling system running at peak performance. This is the only compact track loader that meets British Columbia logging standards (BC Standard WCB 6G603MAR90 & ISO 8084, April 2008).
In addition to these industry-leading attributes, the rugged new PT-100G Forestry model offers a comprehensive set of integrated standard features, including a FOPS Level 2 cab and 20-in tracks, as well as a complete forestry guarding package that includes a heavy-duty polycarbonate door with a wiper, steel hood, rear brush guard and limb-risers. To read more about the unit, visit Terex's website.
 
"The new PT-100G and PT-100G Forestry machines set a new benchmark for productivity and performance in the large frame CTL class," said Carver. "These new loaders continue the Terex tradition of excellent performance and reliability derived from building dedicated CTLs from the ground up."