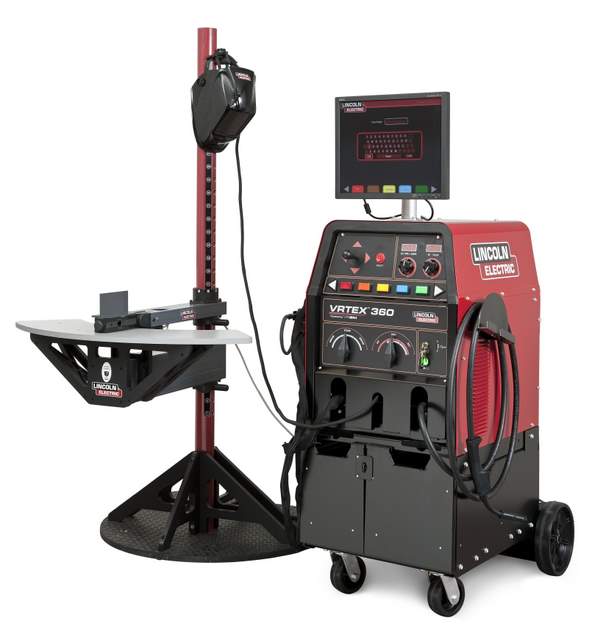 Superior Industries, a leading manufacturer of conveyor systems and components, added a new tool to their Welding Training Center this summer, a device the company hopes will further differentiate their welding program as one of the best in the country.
The VRTEX 360, a virtual reality arc welding training system from Lincoln Electric, allows Superior's welders to practice their techniques in a simulated environment. The goal is to promote the efficient transfer of welding skills to the booth, while reducing material waste associated with traditional training.
"While it doesn't replace our existing weld theory courses or time in the lab, it's another tool designed to develop and promote the welder's muscle memory," says Dave Dybdal, chief welding instructor at Superior's welding training center. The combination of a realistic welding puddle simulation and arc welding sounds tied to the welder's movement provides a realistic, hands-on training experience.
Scoring students on position, arc length, work angle, travel angle and travel speed, Superior will use the virtual welder as a tool to determine the initial skill level of its welders and how they improve during ongoing training.
"The scoring system used certainly puts our welders to the challenge," says Dybdal. "However, if you get good at this, you get good at the real thing."
In 2007, Superior established its own welding training center to coach current and new employees in the latest technologies. Its on-campus facility houses a classroom, library and lab with a focus on gas metal arc, gas tungsten arc, flux cored arc, shielded metal arc and shielded metal arc welding on pipe. Upon completion of the program, participants earn certifications from the American Society of Mechanical Engineering, the American Welding Society and the American Petroleum Institute.
Headquartered in Morris, Minnesota, Superior Industries designs and fabricates a full line of conveying equipment, telescoping conveyors, supply-erect systems, feed systems, conveyor idlers, pulleys, as well as other conveyor components. Besides Morris, the company operates from manufacturing facilities in Prescott Valley, Ariz., and Norcross, Ga.