Navistar's military wing has engineered an armory of military-grade transport vehicles for troops. Model units with code names like the Saratoga, MaxxPro and the 7000-MV are designed to transport personnel and supplies safely, protecting against unfriendly fire, IEDs and even nuclear or biological attacks. In May, Navistar Defense, along with partners Indigen Armor and SAIC, unveiled a new evolution in military pickup truck technology — a Special Operations Tactical Vehicle for the U.S. Special Operations Command (SOCOM) Ground Mobility Vehicle (GMV) 1.1 program.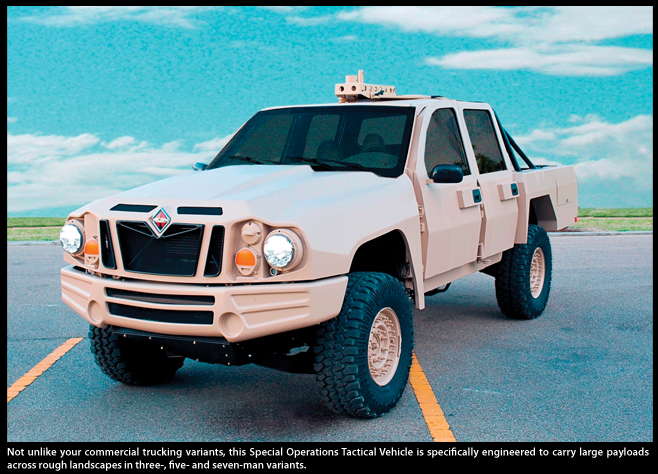 The vehicle is built on Indigen Armor's proven Non-Standard Tactical Truck (NSTT) platform and designed to be its modular and overt tactical equivalent. The team's Special Operations Tactical Vehicle is transportable in an armored and mission-ready state on a M/CH-47 helicopter. The vehicle is designed for maximum off-road speed and mobility for a variety of terrain found in desert, jungle, mountain and arctic environments and incorporates a full government furnished Command, Control, Communications, Computers, Intelligence, Surveillance and Reconnaissance (C4ISR) suite.
"Our GMV offering incorporates the expertise of three very strong companies," said Archie Massicotte, president of Navistar Defense. "Together, we have a sophisticated design ready now that meets transportability and mature platform requirements while providing unprecedented mobility."
The Special Operations Tactical Vehicle chassis, suspension, powertrain and armored occupant safety cell
were engineered specifically to carry large payloads across rough landscapes in three-, five- and seven-man variants. The scalable armor packages meet multiple threat levels and accommodate a variety of low-profile and overt tactical body styles, which allow the vehicle's profile to be changed at the crew level.
"As former special operators, we have first-hand knowledge of how critical vehicle mobility and transportability are to SOCOM missions," said John Choate, president of Indigen Armor and former Navy SEAL. "This knowledge helped us bring to the table a mature, purpose-built and tested tactical vehicle platform when developing our team's GMV 1.1 offering."