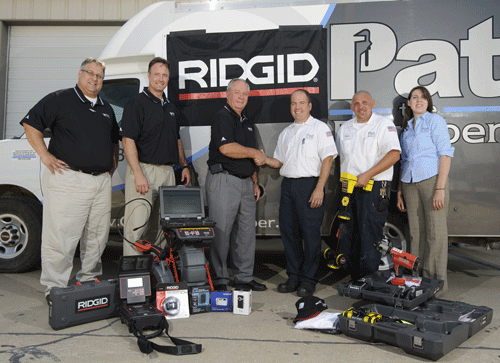 It truly was Christmas in July for one lucky business owner when RIDGID delivered a $25,000 prize package from its RIDGIDConnect Sweepstakes promotion. On July 29, Pat Grogan, owner of Pat the Plumber, based in Topeka, Kan., received the package full of great prizes ideal for helping him do business even better.
The prize package included:
• Subscription to RIDGIDConnect Online Business Tool for One Year
• RIDGID LT1000 Laptop Interface
• RIDGID Mini-SeeSnake Plus Inspection System
• Dell Ruggedized XFR Laptop Computer with RIDGID software
• SeekTech SR-20 Locator and ST-305 Transmitter
• microReel Pipe Inspection System
• microEXPLORER Inspection Camera
• DVDPak Monitor with OLED Display
• RIDGID RP-210 Press Tool with ProPress Jaws
• Olympus Stylus Tough Digital Camera
• Flip UltraHD Video Camera
• GlobalSat Bluetooth GPS Receiver
• SeeSnake Interconnect Cable
• Various Articles of RIDGID Gear
RIDGID representatives delivered the prize package to Grogan's plumbing services business on July 29.
"I stumbled across the contest when I was researching product information on the RIDGID website, and decided to enter on a whim," said Grogan. "I am incredibly thankful to RIDGID, and completely overwhelmed that I won. These RIDGID prizes couldn't have come at a better time!"
The contest, which ran from February 1 through June 30, 2010, was created to promote RIDGIDConnect, a subscription-based, online business tool designed for service professionals and contractors who create or use digital information. It was open to professional contractors throughout North America. Participants entered the contest online or via mail. Grogan was randomly chosen out of several thousand entries.
"This RIDGID prize package will change the way I do business," commented Grogan. The subscription to RIDGIDConnect, combined with all the digital equipment will allow me to be completely digital and exchange information easier and faster. I am particularly excited to use the laptop and the laptop interface combined with the inspection camera system.
"This RIDGID prize package is allowing me to jump right into the digital world — and it will create a lot of additional opportunities for my company!" added Grogan. "Instead of trying to keep track of DVDs, VHS tapes, digital pictures and videos about sewer inspections and commercial projects, being digital will allow us to get organized on RIDGIDConnect and put a portal on our website that our customers can access at any time."
Pat Grogan is the owner of Pat the Plumber, a plumbing and drain cleaning company that services the Topeka, Kan. area. Pat the Plumber provides same-day service and extended scheduling for customer convenience. Its plumbers are highly trained in the newest technologies from tankless water heaters to EasyWater water conditioning systems. The company has received an 'A' rating from the Better Business Bureau, and was voted "Best of Topeka Plumber." The company is a member of NexStar, an organization for better business practices.
For more information, visit www.callpattheplumber.com