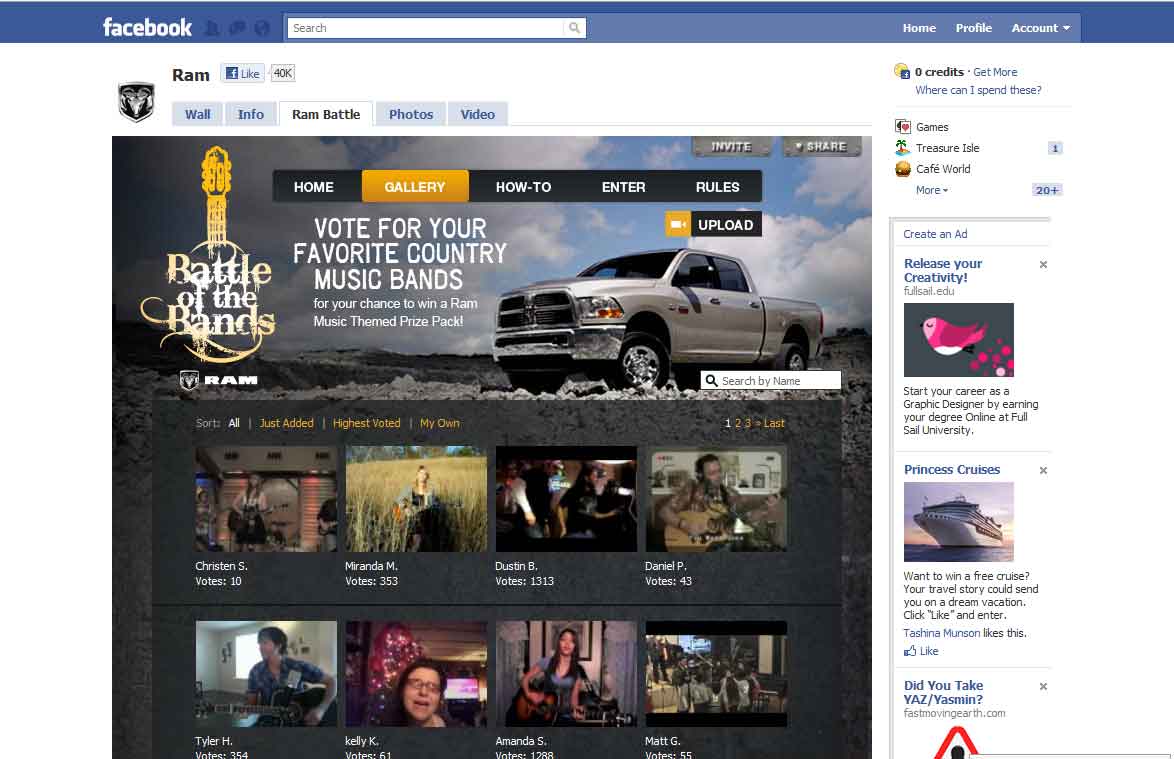 If you think you or your country band is destined for stardom and is looking for that lucky break, the Ram Truck brand wants to help make your dreams come true. The brand is hosting the "Ram Battle of the Bands" on its Facebook page and is looking for the next upcoming country band or individual performer to submit their video for a chance to perform live at the 2011 Rodeo Austin, March 11 to 26.
"The Ram Truck Brand supports country music and we admire the hard work and determination that these artists dedicate to their craft," said Fred Diaz, Ram Truck Brand president and CEO, Chrysler Group LLC. "The brand wants to help give these performers some recognition and possibly help boost their career on a local and national level."
Videos uploaded to the brand's Facebook page will be watched and voted on by country music fans across the country. The top 10 bands or individuals with the most votes will move on to the Ram Truck panel of judges who will select their favorite top two videos. The top two performers selected will play for more than 25,000 people at the 2011 Rodeo Austin and have a chance to win a cash prize. The first place winner will be awarded $5,000 and second place winners will go home with $2,500. Facebook voting ends Sunday, Feb. 13 and official rules can be found at here.
If you can't carry a tune, don't worry, you can vote for your favorite video and enter for a chance to win a country music prize pack, including an iPod and iTunes gift card and Ram Truck accessories.
Last year, Yahoo! and the Ram Truck brand launched Ram Country, the first dedicated country music site on Yahoo! Music, which serves as the ultimate online hub for country music and its biggest stars. Ram Country is designed to help Ram Truck reach country music fans online and marks the largest single online marketing initiative for the brand. The partnership allows the Ram Truck brand to connect with a country music fan base through an engaging mix of music, blogs, news coverage and original video programming produced by Yahoo! Ram Country lives on.