In trying times, it's important to stand out from the growing crowd of contractors vying for the same bid. While you may be prepared with the right equipment, know-how and experience, it's useless without a reliable ride to get you there. With a properly outfitted truck, a contractor can roll fearlessly into construction combat, conquer the competition and turn a good profit.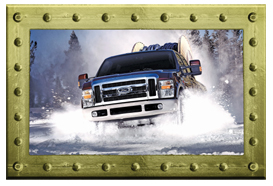 To equip yourself and your traveling work wagon for the battle, visit the Work Truck Show 2009 and the 45th annual National Truck Equipment Association (NTEA) Convention March 4-6, at the McCormick Place West Building in Chicago, with the Convention and educational sessions starting March 3.
The Work Truck Show, produced annually by NTEA, showcases more than 500,000 sq ft of Class 1 to 8 vocational trucks and equipment. The event draws thousands of work truck professionals, including fleet managers, equipment buyers, maintenance personnel, manufacturers, distributors and dealers. Thanks to a spacious exhibit hall, attendees can explore the latest full-size work trucks, equipment and products offered by 450 suppliers. Last year's show attracted more than 7,200 attendees and a record 538 exhibitors.
Aside from the exhibits, the Work Truck Show also offers attendees industry-specific technical training sessions. More than 40 educational programs are offered during the event on topics such as hybrid and alternative fuel technologies, specification writing, truck upfitting, fleet productivity and industry trends.
"The Work Truck Show Educational Content Committee and NTEA staff have spent the last year developing a full slate of educational sessions to educate and inspire our attendees," said Spencer Hinson, committee chairman and president of Lodi Equipment, based in West Sacramento, Calif. "We're confident that everyone who invests the time to attend even a portion of the educational conference will come away with new ideas they can put to work right away to improve their operations."
Going Green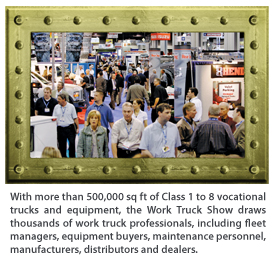 With hybrid and alternative fuels generating great interest in the industry, NTEA has increased its focus on utilizing these resources in vocational trucks and equipment during the Work Truck Show. By adding interactive events and educational programs to the venue, attendees can discover these technologies and how they would benefit by adding them to their own fleets.
"As North America's largest work truck event, the Work Truck Show is uniquely positioned to bring together new hybrid and alternative fuel work trucks while also providing in-depth education about the latest green technology and how it applies in the real world," said Hinson.
On March 3, the Green Truck Summit, sponsored by International Truck, is set to take place. This special event provides attendees with up-to-date information on hybrid and alternative fuel options for work trucks. It includes four general courses and 15 breakout sessions — many of which have been expanded to 45 minutes — led by top industry and academic experts, as well as fleet managers providing real-world experience.
Topics for the Summit include technology deployment, fuel utilization, fleet and vehicle integration and the cost justification of purchasing hybrids. These sessions are designed to help professionals understand how hybrid and alternative fuel vehicles can impact their businesses. This event is a special session of the Work Truck Show and requires a separate ticket to participate.
Three courses on hybrid and alternative fuel utilization have been added to the Convention educational program on March 4-5. These 75-minute sessions will cover various topics including implementing biodiesel programs, safely integrating truck-mounted equipment on a hybrid chassis and the economics of using hybrids in a truck fleet. Admission to these courses is included in the Complete Event Package and Conference and Trade Show Package registration.
The Green Truck Ride-and-Drive, scheduled March 4-5, allows attendees to test drive street-legal, hybrid and alternative fuel commercial vehicles on city streets. There are currently 12 vehicles scheduled for the Ride-and-Drive, including vehicles operating on compressed natural gas, plug-in hybrid electric, battery electric, hydraulic/diesel, propane, dual-mode electric and stored energy management systems. Participation in the Ride-and-Drive is free and sign up is available on-site at the show.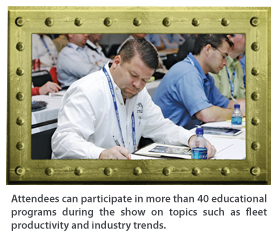 For even more environment-friendly products and equipment, the Green Truck Pavilion area of the show floor will offer additional commercially viable hybrid and alternative fuel trucks, components and equipment March 4-6. Exhibitors will include hybrid and alternative fuel truck manufacturers, component suppliers and system integrators.
A Truckload of Special Events
When attendees aren't busy with the exhibit hall and educational sessions, there are some unique events to take in as well. A special session on March 3, "Upfitting Equipment on 2010 Emission-Compliant Truck Chassis," will assemble experts from Daimler Trucks North America, Dodge, Ford Commercial Truck, General Motors Fleet and Commercial Operations, Hino Trucks and International Truck to review changes made to their chassis to meet 2010 emission requirements.
On Thursday, March 5, Mike Rowe, host and producer of the Discovery Channel's "Dirty Jobs" TV series, will give the keynote address at the President's Breakfast and NTEA annual meeting. Some other special events include the Truck Fleet Manager Training Session and Networking Luncheon, Fleet Management Symposium and a presentation by Stan Slap, president of the international consulting company Slap and keynote speaker at the 2008 show. Slap's program, "The Seven Deadly Sins of Strategic Implementation," will take place on March 6 and explain the seven ways strategies can become unsuccessful and how to overcome those traps.
With hundreds of exhibitors showcasing their latest trucks and equipment and a wide range of valuable educational sessions, the Work Truck Show 2009 is the perfect opportunity for anyone to discover new products, learn from industry experts and talk with manufacturers — all in one location.