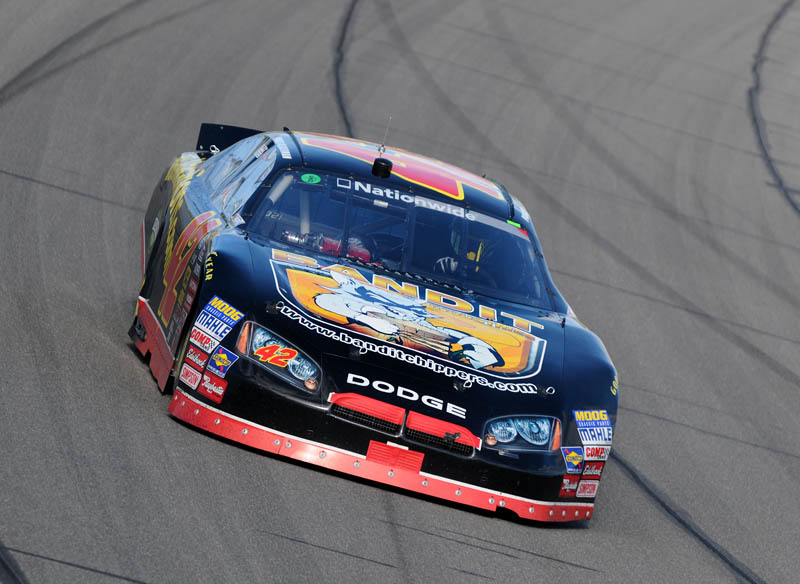 Despite a spinout on the final lap of the race, NASCAR Nationwide sensation Parker Kligerman finished 24th in the Kansas Lottery 300. Driving the Bandit Industries/GetMoreVacations.com Team 42 Dodge Charger, Kligerman made a strong finish at Saturday's race.
"We had new tires and were coming up through the pack on that last restart," said Kligerman. "Guys were giving us room, even with two laps to go, they were still giving us racing room. Then, somebody got into the back of us, I think the 66."
The number 66 car of Steve Wallace was the guilty party, tapping Kligerman on the final lap and sending him backward into the wall. He'd been running in 11th spot after fighting back from being a lap down. Kligerman qualified seventh but fell back early on.
"We struggled early, but nobody gave up," he said. "[Crew chief] Chris Carrier made great adjustments. The second to last run, we ran our fastest lap of the race."
Kligerman remained consistent through the run, holding near the end of the lead lap for most of the event. With the ongoing adjustments by the Team 42 crew, he was able to mount a strong comeback in the later laps, climbing as high as second before sliding just outside the top 10. Despite the crash, Kligerman was able to complete all 200 laps.
"We had a Dodge Charger that wasn't the best, but we fought all day and with the new tires, had a car that could easily have finished top 10, maybe top five," he said.
"We're very proud of Parker and the entire Team 42 crew," said Jason Morey, marketing manager for Bandit Industries. "They hung tough, they never gave up, and that kind of spirit is why we're so excited to support this team as the primary sponsor."