The EC35 compact excavator is one of Volvo's most popular rental products. Its slick zero tail swing design, great power-to-size ratio, easy transportability and commodious cab make it a favorite for today's rental-heavy construction contractor. But once a renter sees that same EC35 patriotically painted red, white and blue, there's a whole new level of attraction.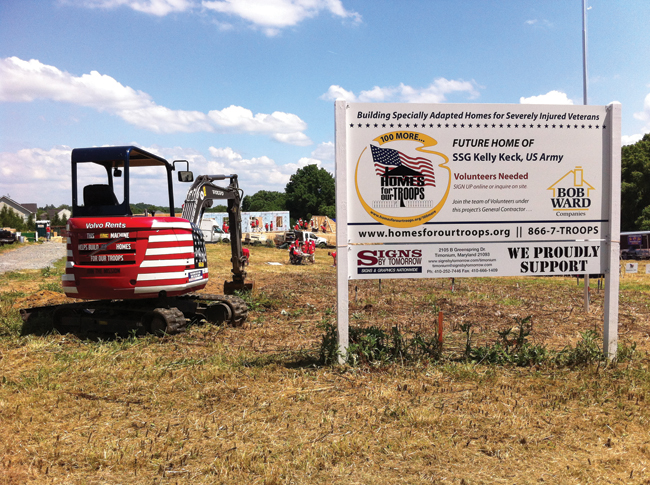 "We're in a pretty patriotic industry, so our customers immediately identify with our Color for a Cause rental equipment," says Matt Tavianini, vice president of sales and marketing for Volvo Rents.
For the last two years, Volvo Construction's rental network and its Color for a Cause program have been donating revenue from these awesomely decorated American-flag machines to non-profit veteran groups like the Folds of Honor Foundation and Homes for Our Troops. Not only that. Volvo Rents is donating manpower and actual equipment to help build new homes for disabled veterans that return home with new challenges.  
"There are a couple of different ways we get involved," says Tavianini, explaining the relationship with Homes for Our Troops (a program that builds specially adapted homes for injured service members). "We donate equipment to the site. If we're involved early enough in the process, we can get some customers involved in volunteering and supplying materials for the actual construction of homes. Also, in those locations where there are builds happening, we usually have a piece of painted equipment and part of that machine's revenue goes toward these programs. Our staff could even be out there cooking burgers for the crew."
Currently, Volvo Rents is scheduled to help with the build-out of at least 17 homes in 2012. During its partnership with Homes for Our Troops in 2011, Volvo Rents aided in creating more than a dozen homes for injured U.S. troops.
"We are grateful for the sponsors that have stepped up to support our mission, such as Volvo Rents, whose generosity has helped enable Homes for Our Troops to build homes for our most severely injured veterans," says Kenneth Preston, president for Homes for Our Troops. "Not only have the campaigns initiated by Volvo Rents aided our mission financially, it is clearly a sponsor that cares about what we are doing by providing us the tools necessary to accomplish our goal of restoring freedom and independence to our veterans and their families."
In addition to its partnership with Homes for Our Troops, Volvo Rents will also be donating proceeds to organizations like the Folds of Honor Foundation, which organizes scholarships for veteran families in need. On average, 20 percent of the revenue generated from a specially-painted Volvo Rents piece of equipment is donated, helping raise the necessary funds to provide post-secondary educational scholarships to the spouses and children of service members disabled or killed as a result of their military service.
For the last two years, Volvo Rents has been fostering a bigger patriotic image in the American rental industry.
It's Color for a Cause program is a hit, encouraging Volvo Rents locations across America to donate to soldiers in need. Those community outreach initiatives are being matched with a strategic corporate plan for aggressive growth in the United States. Since early 2011, Volvo Rents has set a course to transition its network of privately-owned franchised rental centers into a network of company-owned rental outlets.
Since implementing the strategy in 2011, Volvo Rents has acquired 21 construction equipment rental companies (13 in 2011 and eight since the beginning of this year), totaling 49 locations. Over the last two years, Volvo Rents has acquired construction equipment rental companies in 13 states: seven in California; three in New Mexico; three in Kansas; five in South Carolina; one in Florida; four in Oklahoma; three in Missouri; one in Illinois; three in Wyoming; one in Arizona; three in Utah; three in Louisiana; and one in Wisconsin. That doesn't even include acquisitions of former franchisees. Volvo Rents also acquired a six-location construction equipment rental company in Ontario, Canada, and has more acquisitions planned for this year.
"I think our strategy is based around where our current customers are taking us," says Tavianini. "We had a large amount of our customers in the recession period that expanded their footprint. Now we need to expand our footprint to cover those services as well. Obviously, anywhere where there are energy services involved is very intriguing at this point, but that doesn't mean that's all we're focusing on. We're letting our customers drive our expansion — that's our philosophy."
Today, Volvo Rents has 124 locations around America. It should be noted that Volvo Rents and the Volvo Construction Equipment (CE) dealership are two separate entities. Volvo Rents actually buys equipment direct from Volvo CE, along with buying and renting non-Volvo manufactured products like aerial lift machines, generators, material handlers, light towers and onward. Volvo Rents concentrates on the utility and earth moving markets, with a special focus on renting compact and light construction equipment.
In the last six months, that national rental chain has opened a total of 10 new rental centers throughout North America, including nine in the United States. The strategy makes perfect sense. The American construction industry is currently undergoing an unprecedented shift from buying equipment to renting. There's an uncertainty in the construction market because of the lack of long-term funding to local and national projects and an uneven backlog for upcoming jobs.
"There's still a lot of instability within the construction industry, and the rental industry can benefit a little from that instability," explains Tavianini. "I think the backlog of work isn't there like it was four years ago and that the rental industry tends to benefit from that. Every recession we go through, the rental industry is the first to come out."
This puts big rental chains like Volvo Rents in a favorable position for growth. Of course, such success should be shared — that seems to be the Volvo Rents philosophy. As a whole, the company is committed to continuing its mission to support the men and women who serve in America's armed forces overseas and the men and women who serve in our construction trades back here at home.
"We empower local people to make smart business decisions and to progress their business as they feel it needs to be progressed. I think that is the primary separation between us and most of the other national competitors," says Tavianini. "We've also been able to help a lot of military families out along the way, helping those organizations spread their word through our construction rental community. Growth is still a high priority. I think the integration of the acquisitions to the Volvo culture is very high on our list. And I know Homes for Our Troops wants to build 100 new homes. They built 100, and now they're ready for their next 100, and we want to be there to help with anything we can do to support that organization. Same thing goes for Folds of Honor."
Keith Gribbins is managing editor of Compact Equipment, based in Peninsula, Ohio.
Tags:
Volvo