Wacker Neuson has launched a new series of cut-off saws. The BTS 630 and BTS 635 models can be used for much longer periods of time compared to other models and require less maintenance thanks to their unique filter system, outstanding quality and extremely robust design. These features, combined with a high-torque engine, turn these saws into invaluable productivity-enabling tools for professional users.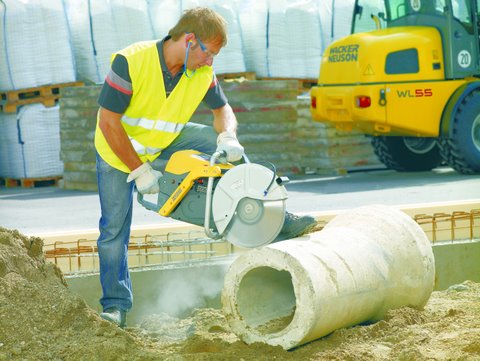 A unique air filter system at the heart of the new design guarantees extremely effective filter performance. The three-stage system comprises a cyclonic filter, a foam pre-filter and a paper filter.
"This three-stage concept ensures that our filter system lasts longer than any comparable filter on the market, resulting in minimum downtime, less frequent maintenance and significantly reduced lifecycle costs," explains Dennis Vietze, Product Manager for the demolition business field at Wacker Neuson.
In addition to the innovative filter, the durable and robust design also plays a key role in extending the service life and minimizing downtime. Highlights here include a special coating that protects pistons and cylinders from wear and tear. The pistons are also equipped with two piston rings. Other features designed to extend service life include a poly v-belt and enclosed starter rope housing. The powerful 4.3 kW engine delivers very high torque for particularly effective cutting results.
"Torque is the defining force when it comes to cutting performance," explains Vietze. "It is what makes the BTS 630 and the BTS 635 the most powerful cut-off saws in their class. And by combining this performance with a long service life, Wacker Neuson has created saws offering exceptional productivity gains."