You can do your best to think about puppies and rainbows, but you can't escape the stormy economic cloud raining volatile markets, project funding problems and lack of jobs. It's not the kind of weather that has you running to your dealer asking for the latest, tricked-out machines. Still, work takes equipment. If you can't afford to add that shiny new excavator to your fleet, buying pre-owned equipment is the way to go — especially now that manufacturers are starting to sell certified used machines.

"We are now seeing used equipment sales rival that of new," says Chad McClaskey, Marketing Communications Manager for Caterpillar. "It's a trend that has been developing since late third quarter of 2008. What's happening right now is that customers are needing to grow their fleets, but simply cannot afford the price of new equipment, yet need reliability."
Manufacturers are supporting this trend. Cat and John Deere have launched new certified used equipment that has full dealer support and a warranty to make sure that you're not getting a lemon. Of course you don't want to end up buying someone else's problem. So arm yourself with as much machine knowledge as you can before you head out to the dealer or auction houses.
Take a Closer Look
There's a gap in your fleet. You can feel it. Whether it's a loader, backhoe or loader backhoe, you know the machine you need and the one you can afford. So how do you find that on the used lot? The first place to start looking is your local dealer. As with most machine transactions, your dealer will be the rock that supports your purchase and the shoulder to cry on if you have any machine problems.
A dealer selling a used machine should also have a more detailed history of the equipment compared to other used machine outlets. They know their customers habits — both good and bad. Every time a machine is brought into the dealer for maintenance, it's documented. That helps to minimize your used-equipment purchase risk.
"Once you get a hold of your dealer, you want to go to the top of the list for the best value, and that's a certified pre-owned machine," says Ed Collins, Equipment Remarketing Services Manager for John Deere. "We want to define certified because now there's a lot of people out there talking about a 'certified' used product. Certified equipment is going to pass a rigid test of inspection and servicing. Certified also guarantees a dealer-inspected, dealer-serviced, factory-backed warranty. The warranty is typically a minimum of 90 days up to a year — depending on the age of the machine and the hours of the use. John Deere, for example, has lenient windows of eligibility — five years or younger, under 5,000 hours."
Certified used machines are typically trade-ins dealers receive from their customers. Warranties usually cover the machine's powertrian, which excludes things that are going to wear — buckets, blades, undercarriage, etc. Some manufacturers also offer a warranty on hydraulics and other components, again depending on the condition of the machine. Older machines — six-plus years old — tend to be sold "as-is."
So now you're on the lot with a trusted dealer at your side and it's time to check out the prospects. The first thing you want to do is take a walk around the piece of the equipment. You're trying to get a feel for the tractor — are there leaks (most you might not see until the machine is running)? How do the filters look? Is the oil dirty or murky? How do the repairs look? Was it a spot-weld, patch-up job or a quality weld?
"Don't walk around the same way every time," recommends Steve Sprague, Used Equipment Consultant for Caterpillar.
"If you walk around the same time, you're only getting three-fourths of that tractor. You want to walk around differently to get different lines of vision. Every machine has critical wear areas. You need to know these areas. For example, on a backhoe loader, the three areas are the transmission, the brakes and the hitch, because those are your dollar areas."
Don't get fooled by a new paint job. A trick of the used equipment trade is to put new shoes on the undercarriage, Sprague explains. The shoes are a pin-on item, whereas your rollers, idlers, pins and bushings are the components that cost you real money. And don't take the hour meter on face value.
Sometimes meters break. If you're walking around a machine, a motor grader for instance, and the hitch is in fair condition with only a couple thousand hours on it, the indicated hour may not be correct. Hours tend to dictate component wear. On newer machines — in the past 2 to 3 years — technicians can plug in to the equipment's monitoring system and tell exactly what are the machine hours, how much fuel is being consumed and how the machine is being used.
"When you're inspecting a piece of used equipment, you want to make sure that it starts and runs. When we say run, it means it picks itself up and moves forward, backward and side to side if it's supposed and does so without any chitter-chatter or leaks," says Collins.
Used Machinery Going Once…
The thrill of competition, the rush of winning and the disappointment of losing drives auctions. You're always on the lookout for a good deal and with new equipment prices, you've been looking at auctions. And so has everyone else. IronPlanet, an online, worldwide auctioneer of used equipment, reported record-breaking first-quarter performance with gross auction sales of $91.3 million — an increase of 26 percent over the first quarter of 2008. There's a lot of iron being moved in auctions and there has to be some solid machines.
Unlike dealer-supported purchases, auctions are buyer beware. You'll likely have a less detailed history and a day or two to inspect the equipment. When you head to the auction, bring along your best technician. Typically, auction houses will provide time before the auction for you to inspect the machine. This is when you'd do your walk-around and have your tech-man look at the nitty gritty details.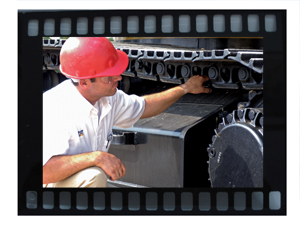 "The inspection should last between 1 to 2 hours," says Sprague. "If you can't do the inspection, I'd be very cautious of that purchase. The business of used equipment is very risky. Even if you do an excellent inspection on a machine and it runs great one day and the next day the pump can fail, it is used equipment. If you're going to invest your money you have to take the time for an inspection. At times dealers will use auctions. So if you see a dealer's sticker on that machine, why not call the dealer up and ask about the history?"
Though auction blind buys aren't recommended, there are plenty of quality machines up for auction. The difference between the auction and dealer is the leg work. You have to take the time to get to know the machine — inside and out.
The Price is Right
You've found your machine, but you're holding back your excitement. It's time to make a deal and you don't want your emotions to dictate your negotiations. You've heard the asking price and now its your turn. To find that magic number, McClaskey recommends looking at the condition of the machine, the hours and then the age. The condition gives you an indicator of how the machine was maintained. Then the hours dictate the component wear and life. The age gives you a place to start when trying to find out what you should spend.
"In the used world, people establish a perceived fair price based on public auction results," says Collins. "If a backhoe is selling for $25,000, I should be able to buy one for $25,000. With all the inherent risk that you buy at an auction, that's fairly valid. But you have to know what you're comparing to that auction machine.
"You have to do more than just auction prices. You have to look at the market price for both a used and new machine.
If a new backhoe is going to cost me $80,000, is a three-year old worth $40,000? Or should I try to buy it for $25,000? Based on the information that's publicly available, there's such an out of balance price comparison with the novice buyer."
With certified pre-owned equipment, you're not only paying for the machine, but the dealer support and warranty. And you have to decide how much that is worth to you.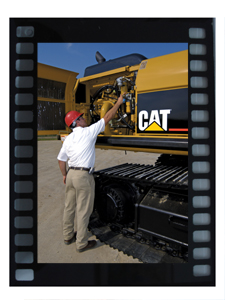 If you're standing on a dealer lot, then those things are obviously worth something. It comes down to total ownership cost.
If you spend X to buy it, what's the probability of spending Y to keep it running, and then what's the probability of getting Z out of it when you liquidate it. Answer those questions as accurately as possible, and if you can reduce X or Y while maximizing Z, you come out ahead.
Trade-ins are another price factor, but there are expectations on both sides. To a certain degree, customers expect a dealer to take their used equipment off their hands. If the dealer is expected to take the old machine, then he or she expects the customer to buy a new one. You have to be mindful of the unspoken rules of the relationship and not low ball the price too much. Remember that if you're having a difficult year, so is your dealer. Buying a new-to-you piece of equipment is win/win for both sides; the dealer gets some business and you get a machine to put to work.
Once you have come to an agreement and are handed the keys, you'll want to do some simple maintenance on the new machine. It's a good idea to change all of the fluids and filters before putting it to work. It's also important to check its maintenance schedule and do the next scheduled maintenance. When you roll onto the jobsite, you'll want to keep an eye on operations. Indications of overheating or other major
problems would likely show up within the first weeks or month of operation. It's good to be cautious with used equipment, but what's important is that the gap in your fleet is filled and you're back on your wheels or tracks getting work done.
Jason Morgan is Associate Editor of Utility Contractor.
Try Before You Buy
The Benefits of Rent to Own
Used equipment is risky business. You can't be certain that the machine you're buying doesn't have some hidden problem lurking in a piston chamber or pump. If you're apprehensive about buying a machine, why not rent to own? That way you immediately fill your need and have the chance to test out the machine before you buy it.
"Rent to own is the best option because you can try before you buy," says Ed Collins, Equipment Remarketing Services Manager for John Deere. "Many renters, such as John Deere, allow you to rent the machine with a rent-to-own purchase without starting the warranty. You can rent for three months and get to know the machine before you buy and start the warranty."
If you're renting-to-own for eight months and a pump goes out during the fourth month, that machine is usually still under warranty. So the dealer will fix the problem and the additional expenses of machine downtime may be negotiated with the renter, depending on the hours and age of the equipment and duration of the rental cycle.
"The rent-to-own process is typically that 80 percent of rental payment goes to the cost and the other 20 percent goes to operating costs," says Steve Sprague, Used Equipment Consultant for Caterpillar. "Some dealers have a customer support system. So every 250 hours, the contractor calls the dealership and they would come out to service the equipment. Some dealerships say if you're going to rent it for a 12-month cycle, then you're responsible for upkeep. They might send someone out to check up on the machine to make sure that maintenance is happening."
You'll want to be sure to thoroughly discuss the terms of the rent-to-own contract with your renter. Typically, rental stores, like the Cat rental store for example, have the average age of their fleet and that's the age that's covered under warranty.
Tags:
backhoes
,
Caterpillar