A high-tech crew relies on clever labor-saving devices. These tools and technologies not only perform and produce more than extra boots on the ground, but they also do a more precise and polished job. A machine like a compact utility loader for instance can construct as much as a small crew of landscapers on a project site, with more accurate execution, while giving the impression of a professional and progressive company. It also saves the contractor money — though some landscapers will argue the fact of cheap labor — companies like Toro are in the business of forward-thinking mechanical solutions.
"The average cost of a compact utility loader with a four-piece attachment package and a trailer is less than $30,000," muses Greg Lawrence, marketing product manager of Dingo Products at The Toro Co (a market leader since 1997). "Add that to approximately $1,500 yearly for maintenance and fuel — not to mention depreciation — and it's almost as if you are paying the salary of a full-time employee. How is that a justifiable investment when most landscape contractors can hire employees that will perform manual labor for only $9 per hour?"
Well, in reality, "inexpensive" labor is costing employers more than they realize. Lawrence notes the following calculation demonstrates that a single laborer working for $9 per hour will cost nearly $20,000 a year. At this rate, with a five-person crew, the expenses add up quickly.
By replacing expensive hand labor, maximizing manpower and eliminating the cost of repairing turf damage caused by larger equipment, landscape contractors can quickly bolster profits using these lightweight, compact machines. They easily maneuver through standard gates and doorframes, travel and operate in areas where only hand labor could otherwise work, move across sensitive turf with minimal ground and site disturbance and can be transported on a single-axle trailer.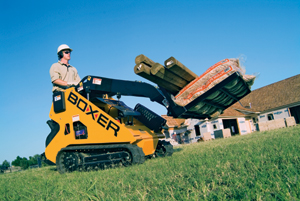 Compact utility loaders (also called mini track loaders, compact skid steers or compact tool carriers depending on the brand) are designed to strong arm jobs in small, inconspicuous residential and construction worksites. They auger for fencing, carry buckets of mulch, trench for drainage, haul pallets of brick and cut down on extra hand labor. While wild red Dingos and white-iron Ramrods were the first families of machines in North America, new options are expanding in the construction, landscape and rental markets. Compact utility loaders with brand names like Bobcat, Ditch Witch, Vermeer and BOXER have all carved out their territories in the small tool carrier market in the last 10 years. Fast forward to today and the compact utility loader industry is facing a new set of problems. A volatile housing market has manufacturers and buyers laying low, but these machines are still growing in popularity in the green industries.
"The compact utility loader appeals to a wide range on landscape contractors. That's the beauty of these machines," explains Mark Myrick, international sales manager at BOXER Equipment (a brand from Compact Power Inc., a manufacturer of compact utility loaders since 2000). "It is whatever machine that you need it to be just by changing the attachment. We see many irrigation and lighting companies that run one- or two-man crews with the BOXER and seem to do very well. Tree installers like the ability of the machine to negotiate tight spaces where bigger machines just can't fit. Many first time users are surprised at how much a compact utility loader can actually lift and how big of an auger it can rip into hard ground. We have seen a surge in hardscape contractors investing in the BOXER for site prep, materials moving, compaction and cleanup work."
The Scope of the Loader Landscape
Projects big and small often require versatile solutions. Perhaps you need to build a pond, construct an urban garden, or plant a forest of ornamental trees — a compact utility loader can spearhead the variety of taskwork involved in a day of landscape operations. Since landscaping requires the use of many specialty tools at any given time — and the tools can vary from job to job and season to season — the landscape contractor's fleet is an ideal home for a versatile machine that can serve as an auger, trencher, vibratory plow, hydraulic breaker, backhoe, leveler, tiller, cultivator, hydraulic blade, power box rake and more.
With the simple addition of rotary brooms, hydraulic blades or snow throwers, the compact utility loader enables even small businesses to easily expand their service offerings beyond seasonal to year-around. Compact utility loaders also are popular in the rental industry. Professional landscapers can supplement their fleets with a rental unit to try things out or expand their prowess for a project.
"The rental industry has adopted the compact utility loader to serve as another tool in their arsenal as contractors and homeowners have seen the utility and productivity of these machines," says Jon Kuyer, compact segment manager with Vermeer. "The increased utilization of these units work well for the rental yards since they can be rented to work in many different types of applications instead of a single purpose unit."
Additionally, adding a compact utility loader to a landscape contractor's fleet will provide a significant amount of equipment savings, eliminating the need for various dedicated specialty tools from trenchers and post-hole augers to stump grinders and snow throwers. Combined with the potential labor savings, lower equipment costs create value to anyone looking to own a compact utility loader.
Each company has engineered its own set of unique models and inventive technologies: ride-on, stand-on and foldable stand-on platforms; hydraulic flow ratings from 6 to 22 gpm; gas and diesel engines; retractable undercarriages; enhanced operator control patterns; choices in tracks or wheels; and more attachments than you can shake a stick at (stick shaking being the preferred measurement of choice at Compact Equipment).
"While we do offer a single unit with wheels [the BOXER 427W], most of our landscaper customers prefer the tracked units," says Myrick. "The wheeled unit is slightly faster [4.5 mph vs 3.5 mph] than the tracked units. Wheeled units do not perform well in muddy conditions and tend to cause ruts or get stuck. Wheeled units have a hard time crossing trench lines for irrigation where tracked units do not. Tires can go flat where tracks do not. For these reasons, the tracked units are much more popular than the wheeled units with the landscape contractor. We offer one turf friendly track version too. The BOXER tracked units only create between 2.9 to 3.7 psi of ground pressure depending on the unit."
Compact utility loaders are often categorized by operating capacity (between 200 to 1,200 lbs); they can also be classified by what a contractor is looking for in a unit. The most obvious classifications include walk-behind and stand-on, horsepower and type of engine (gas vs. diesel) and wheels vs. tracks (mentioned above). Understanding your jobsite requirements will help determine your perfect piece of iron.
When it comes to the power plant, 25-hp engines are the most common; diesel is popular among construction and some landscape contractors (who want a long lasting engine with good fuel mileage) while gas is popular with the rental yards and landscape operations who use other gas equipment (and who are more comfortable with gas engine technology). Kohler, Kubota, Kawasaki, Honda and Perkins are popular engine OEMs in the compact utility market.
Boxer and Vermeer offer stand-on compact utility loaders, but only stand-on units. They say the industry is turning toward stand-on platforms. The platform makes it easier on the operator by not having to walk through mud or jobsite debris. It will also allow them to be more productive, since they will not be walking all day long to and from the work area. Toro, Bobcat, Ramrod and Ditch Witch offer both walk-behind and stand-on alternatives. Walk-behinds are often great units when it comes to rental (where safety is a major concern) and for contractors who like the option of planting their feet firmly on the ground.
Bobcat and Toro also offer unique, switcheroo compact utility loaders; Toro's TX platform has the ability to self store against the machine, allowing an operator to walk behind the machine or ride, and Bobcat offers its optional stand-on platform available for both the MT52 and MT55 mini track loaders. Compact Power also offers a unit from the old CSF MultiOne brand now in its model family — the BOXER 726DT. This is a popular European-style design, offering a seat, articulating body, big lift heights, ROPS and a distinctive approach to the market. Measuring only 39 in. wide, the 726DT moves effortlessly through gates, doors and other tight spaces while offering a telescopic boom that extends the machine's hinge pin height to over 8 ft.
The Many Sides of the Machine Market
Because of the versatility of the compact loader, there really isn't one particular type of landscape contractor that invests in a compact loader, says Lawrence. When it comes to purchasing these labor-saving machines, the decision process is based on the manpower and economics of running a business. With the right compact utility loader, contractors can perform a wide range of jobs faster with fewer employees.
"Landscape contractors are suffering from the same business challenges that everyone else is during this recession," explains Lawrence. "Since many landscaping jobs come from new housing developments, the landscaping industry has suffered due to the decline in housing construction. Also, many of their customers have less disposable income and are choosing not to do major landscaping projects right now. In turn, the recession is causing many landscapers to hold off on new equipment purchases, which is affecting the overall volume of compact utility loader sales."
But after the economic situation turns around, most industry experts see the possibility of expansion. Trends indicate that markets including infrastructure, utilities and rental can be hotspots for these units. New rental markets, like Home Depot Tool Rental Centers, are also embracing these miniature tool carriers for DIY customers, as well as their contractor base. More and more individuals are learning about the machines and seeing how they can help their businesses make more money.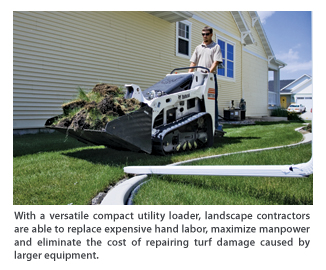 Compact utility loader operators are active participants in the jobsite and do not need a laborer to assist them around the project like a skid steer or compact track loader operation. Also, the compact utility loader was designed with versatility and visibility in mind. The ability to change and adapt is a compact utility loader's greatest strength. Off the front of each unit, a universal attachment plate (fitted with hydraulic hoses) can run any number of attachments — breakers, trenchers, tree spades, backhoes, brooms, graders, ground conditioners, augers, stump cutters, grapples and ever onward. Most manufacturers offer 50 or 70 different models of attachments (most are hydraulic implements, but some are not — like buckets and pallet forks).
Besides the manufacturers that design and sell the unit, many third-party manufacturers also make compact utility loader implements, including National Attachments (www.nationalattachments.com), Danuser (www.danuser.com), McLaughlin (www.mightymole.com) and the Paladin brands of attachments, which includes Bradco, McMillen, The Major and Sweepster/FFC (www.paladinbrands.com).
Pick the right attachment, choose the right engine, determine wheels or tracks and decide on the right size model for your compact utility loader. But before you choose, take the time to run the unit through its paces, understanding its operating platform. Add all of those options to the cost (an entry level unit is around $12,000 going as high as $22,000, depending on options) and you can find the ideal iron for your operations.
In this uncertain economy, it pays to find the right tools that can increase your staying power. Compact utility loaders offer that type of versatility and clout for most landscape operations. With the right weapons in their arsenal, your crews will be respected out in the field, and when the market turns around you can take even more business from the competition.
"A contractor needs to examine what types of tasks he or she is doing on a regular basis that a compact utility loader could be doing," says Greg Rostberg, marketing manager with Bobcat. "In many cases, the compact utility loader can replace or speed up applications where hand labor is traditionally used. With the aid of a compact utility loader, a contractor can complete jobs in a timely manner, thus putting his crews to work on new jobs and adding to his bottom line."
Keith Gribbins

is managing editor of Compact Equipment, based in Peninsula, Ohio.
Getting Attached
Greg Lawrence, Marketing Product Manager at The Toro Co.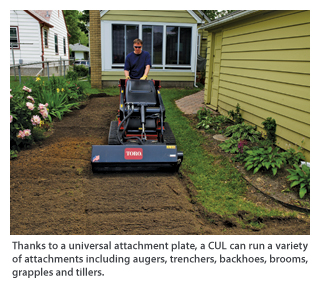 Other than the bucket, the most popular landscape attachments include augers, trenchers, adjustable forks, box rakes and soil cultivators. The power box rake is growing in popularity as well, used as a grader on some soil applications. It also has the ability to windrow rocks, either pushing them off to the side of a path or moving them to the end of a raked row for pick up later. This accessory is often used to clean up new construction sites by removing debris and prepping soil for landscaping. The attachment can act like a land plane, cutting high spots and filling low spots, or it can be used to pulverize and fluff soil for seed and sod bed preparation.
Contractors also like the soil cultivator because it can do three jobs at once. It breaks up hard soil, buries rocks, clods, grass and other debris beneath the soil and creates a fine, fluffy soil bed that's 5.5 in. deep — perfect for seeding, sodding or flower planting. By burying debris, this attachment eliminates the time and effort needed to remove these materials later on. In comparison, the box rake and tiller attachments would force stones and other debris to the surface for future collection and disposal.
BOXER Calculator
On average, a BOXER system can do the work of two to four workers in a single day. Check out www.boxermeansbusiness.com and you will find the company's machine vs. labor calculator, which allows you to see the savings estimate on your individual circumstances and labor rates. For example, if two workers are replaced with the BOXER 320, the contractor will save $56,113 in the first year of ownership. This calculator allows the contractor to quickly see the value of owning a BOXER and to see how it will allow him or her to earn more money by making this investment in the business.