Chinese equipment manufacturers are making their presence and products known in the American marketplace. The big dog — LiuGong Construction Machinery — just recently held its 2012 dealer meeting in Houston. This year's meeting was extremely well attended, says the company, with record breaking attendance due to the growing number of North American dealers representing the LiuGong product line.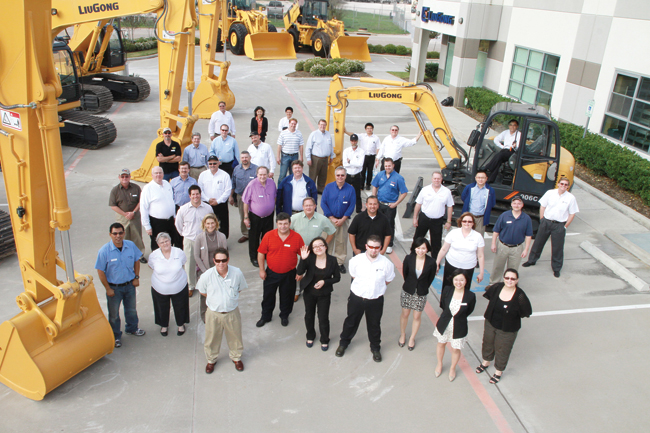 "We are remarkably pleased by the participation in this year's dealer meeting," stated Fred Ridenour, general manager of business operations for LiuGong North America. "Given the fact that the spring selling season is upon us and that contractors are buying and renting equipment a bit earlier than normal due to the warmer than average weather, we'd say the attendance was phenomenal. The loyalty and ambition of our dealer network, as we work to build our brand in North America, is quite amazing."
Following an opening night networking and dinner reception, dealers attended a near full day session of product and educational seminars which included an overview of LiuGong's global vision by Jordan Huang, the president's assistant of overseas business for LiuGong Machinery Co. Ltd. Huang stressed the importance of the company's success in North America; it was crucial to achieve LiuGong's overall corporate goal of being among the top 10 equipment manufacturers in the world by 2015. In addition to the corporate review, LiuGong's U.S. management team updated dealers on product enhancements, finance programs, its joint venture with Cummins, service training opportunities and marketing programs for the 2012 calendar year.
After wrapping up the day session, dealers took a trip to LiuGong's North American headquarters in nearby Katy, Texas, where they were able to take a tour of the facility, as well as get into the operator's seat of a number of LiuGong products. For many, this presented their first opportunity to see LiuGong's facilities first hand. For a few, this was the most recent of several trips.
"We were very impressed with everything we saw from how their parts and service departments and capabilities have grown, to the professionalism and commitment of each and every LiuGong employee," stated Gilda Albanese of Equipment East in Dracut, Mass. "We are confident that LiuGong will grow quickly as the construction equipment market continues to rebound."