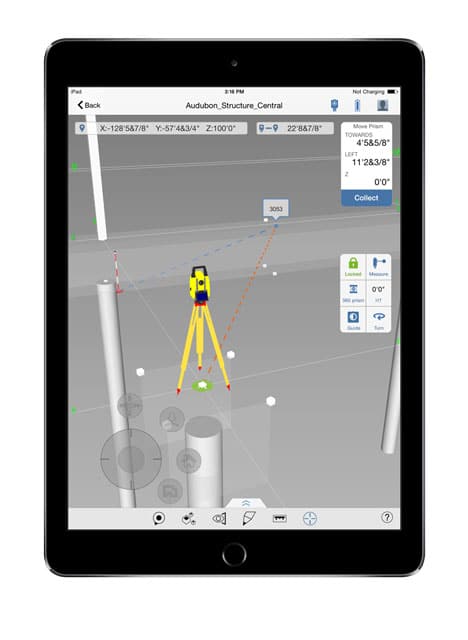 Leica Geosystems announced the latest development in the ongoing collaboration with Autodesk. As a result of a new firmware breakthrough, the Autodesk BIM 360 Layout iPad app will soon communicate directly with the Leica iCON robot 60, the newest and highest performance robotic total station in the Leica iCON series. The development gives building information modeling (BIM) and virtual design and construction (VDC) professionals a new option to complete quality assurance as-builting in the field faster and more efficiently by leveraging the powerful capabilities of the Leica iCON full-featured robotic total stations.
The Leica iCON robot 60 has a 1000-meter range for red laser (reflectorless) measurements, which enables more points to be laid out and checked with fewer setups for a substantial increase in productivity. Additionally, a new touch-screen color display lets users complete initial setup and leveling steps directly on the instrument for a faster and more convenient approach.
The Autodesk BIM 360 Layout iPad app uses points created in Autodesk Point Layout pushed to the Autodesk BIM 360 Glue cloud service to provide general contractors and mechanical, electrical and plumbing (MEP) contractors the ability to connect BIM to the construction layout process. The app connects design intent from a digital model with the physical world by controlling the Leica iCON robots. The field user is guided to physical locations on the jobsite based on points created in the 3D model that are represented in the app.
Production layout professionals who need the functionality to create or manipulate points and points lists in the field still have the option of using iCON Build and MicroSurvey Layout software with 2D or 3D models. In these applications, the Leica iCON 60 robot perfects one-person layout and provides high performance tracking, innovative lock and find mechanisms, and software that is tailored to each work step. By using the fully automated "Setup Pilot" feature, users can simplify and accelerate setup and leveling of the robotic total station. Using "Cube Search" along with the "Target Snap" function ensures the correct prism is tracked with minimal search time.
The ability to use the Autodesk BIM 360 Layout iPad app with the iCON robot 60 will provide a new level of flexibility for construction teams.
"The fast setup and long-range capabilities of the Leica iCON robot 60 substantially improve efficiency and productivity at every level of BIM-to-field adoption," said Cathi Hayes, BIM strategy and business development director for Leica Geosystems NAFTA. "The integration of the Leica iCON robots with Autodesk BIM 360 Layout makes it even easier for BIM departments in particular to use more accurate model data directly in the field to help keep projects on schedule and on budget."
To see workflow demos, visit Leica Geosystems at Booth 1311 at Autodesk University, December 1-3 in Las Vegas, or visit www.constructrealityxyz.com and request a personal demo. Tags: Autodesk, Leica Geosystems, Leica iCON robot 60