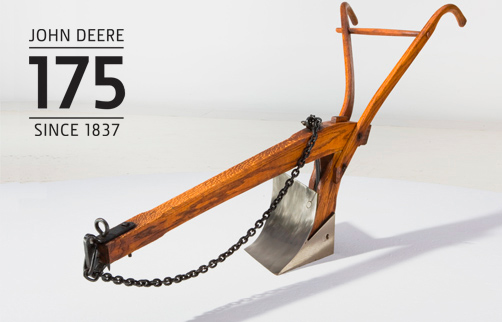 In 2012, Deere & Co. marks the 175th anniversary of its existence, which began when company founder John Deere successfully manufactured and marketed the self-scouring plow in 1837.
 
"John Deere revolutionized agriculture and he made farming in the tough soil of the U.S. Midwest a productive and profitable venture," said Samuel R. Allen, chairman and chief executive officer of Deere & Co. "Our recognition of this special anniversary reminds us of the many thousands of John Deere employees who came before us to make this company a world leader."
 
Deere had moved from his home in Vermont to start a small blacksmith shop in Grand Detour, Illinois. He later moved the business to Moline, Illinois, where the world headquarters is still located. The company was incorporated as Deere & Co. in 1868. From the one-man shop at its inception, Deere currently has more than 60,000 employees worldwide.
 
John Deere is the world's leading manufacturer of agricultural and forestry equipment as well as a leader in construction and turf care equipment. Additionally, Deere manufactures engines and powertrains for its own equipment and that of other OEMs, provides credit and other financial services to those who purchase equipment, and is a world leader in precision irrigation.
 
"John Deere instilled four core values in his company," Allen said. "Today John Deere employees still deliver on the important values of integrity, quality, commitment and innovation and we believe these values have been the key to the longevity of our enterprise."
 
Recognition of the 175th anniversary began recently when the John Deere Foundation made a $175,000 grant to help fund Feeding America's BackPack Program that provides children nutritious and easy-to-prepare food they need over the course of a weekend. Since 2007, the John Deere Foundation has been an active supporter of BackPack programs in several communities where Deere has facilities.
 
That grant is one of many ways Deere's 175th anniversary will be recognized as the year progresses. Deere & Co.'s recently issued annual report announces the milestone with the number "175" printed in large type on a simple silver cover. The publication reports the story of Deere's record-setting business performance for 2011 on the company's website at www.JohnDeere.com.
To get an idea of the impact John Deere has had on generations of farmers and contractors, watch this video below.