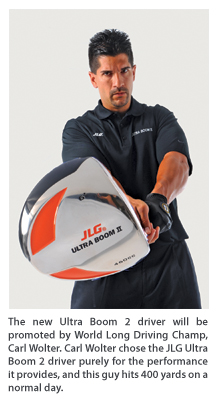 Woods and irons — JLG Industries and its long lineage of aerial work machines are usually associated with the latter. But with the recent signing of a new licensing agreement with Stone America Licensing, JLG is expanding into golf merchandising along with its iron equipment operations, beginning with the launch of the JLG Ultra Boom 2 driver.  
Designed by a golf professional, specifically for JLG (an Oshkosh Corp. company), the new Ultra Boom driver is engineered to provide the performance, power and strength associated with JLG Ultra series boom lifts. The new club, dressed in JLG orange, will be available in a variety of shaft and degree types to meet the needs of pros and amateurs alike. JLG has been a leader in the promotion of Golf Long Drive Championships and a winner in tournaments broadcast on national golf and sports networks. The first generation Ultra Boom driver shaft won the Re/Max World Long Drive championship in 2005.
Designed for peak performance, the Ultra Boom 2 driver is not just for Long Drive professionals. By using data from thousands of golf swings from a variety of non-professional golfers, the development team was able to design a club with characteristics that maximize its effectiveness for all levels of play. The new club will be available for sale later this summer at a variety of online and retail locations.  
For more information please visit www.JLG.com.