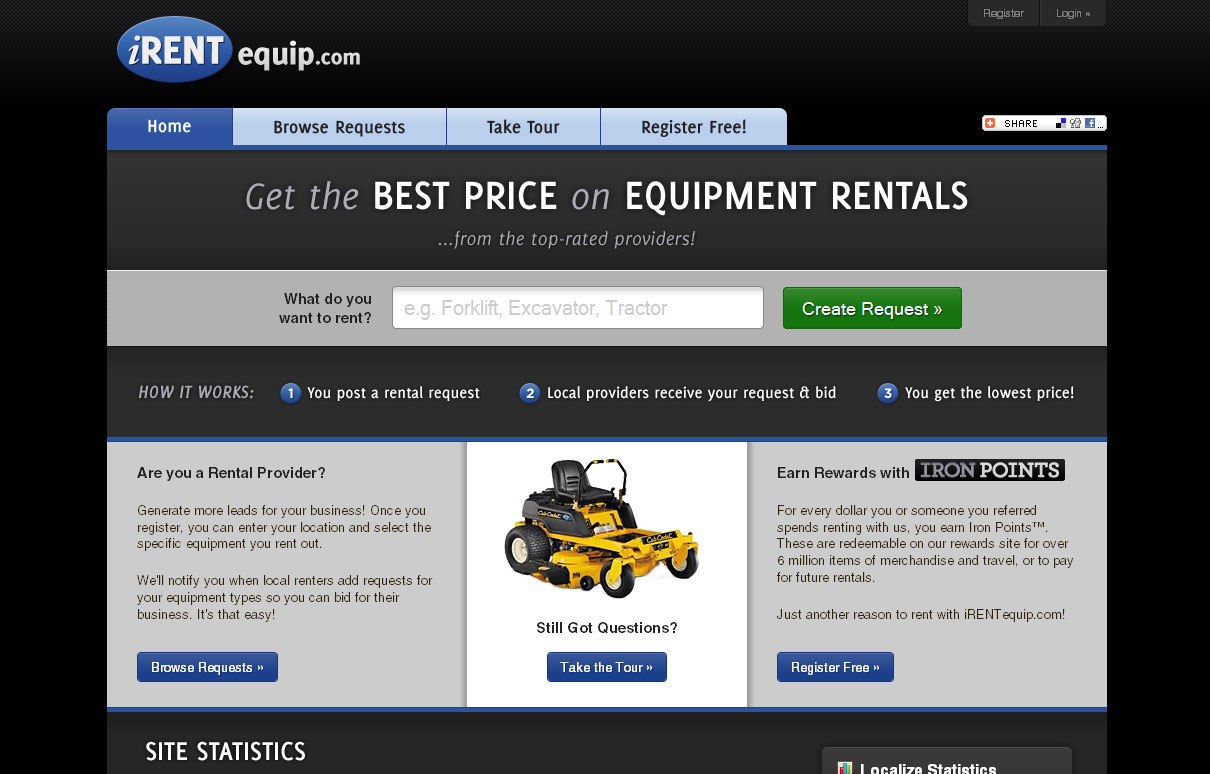 Searching for the right piece of rental equipment has become a lot more convenient, thanks to the first online equipment rental marketplace at www.iRENTequip.com. Through the Web site, equipment renters and rental providers in the United States and Canada will be able to connect and do business. The marketplace serves the rental industry for construction, landscape, agriculture, industrial fork lift and trucking equipment. Annual rental transactions across these segments are estimated at $30 billion. Included are all of the related tools and attachments rented in these segments.
"The iRENTequip marketplace allows anyone to request a rental with literally every rental provider in their local market simultaneously, and then receive bids for their business, all for free," said Beau Frank, CEO of iRENTequip. "It's revolutionary for the rental industry."
The world's first online equipment rental marketplace, iRENTequip brings the power of an online bidding tool like eBAY to the equipment rental process, with more than 15,000 rental providers. Like eBay, it is simple to use, fast and totally online. There is no calling each store for quotes and availability, no sales calls and no face-to-face negotiating.
"Renters are looking for a fair rental rate from a proven provider. Typically, they would call two or three rental outlets or dealers to get rates, check availability, negotiate and then make a decision," Frank said. "With iRENTequip, they no longer have to make those calls. They can reach out to five times as many providers instantly, receive multiple bids for their rental online and via cell phone, negotiate online and see how other renters have rated all the rental providers that are bidding."
The iRENTequip marketplace is simple to use and free for renters. It takes less than a minute for renters to request an item they need.  Then every rental company and dealer in their local market is notified. Rental providers receive these requests and easily bid on them online within minutes.
With full visibility to all bids, equipment specs, travel distance and ratings of the providers at their fingertips, renters make an informed choice of the best provider for their needs and accept a single bid. Once a bid is accepted, the renter and provider are connected to complete the transaction.
It's free for rental providers to receive and bid on rental requests. Once a bid is accepted, renters pay a small deposit via credit card to hold the rental with the balance due payable to the rental provider based on the terms of the bid. Rental providers get access to new customers daily at no cost. Providers use the simple online tools to manage fleet inventory and bid prices, including costs that are typically quoted in equipment rentals, such as shipping, rental protection, environmental fees and sales tax. During the bidding process, all bids and user ratings are visible to all users, creating a truly open process. Rental providers may also use the marketplace to find equipment to re-rent to their customers from other providers.
"iRENTequip is a revolutionary tool —  it provides clarity in the marketplace, in both rental rates and the quality of service provided, for everyone in the transaction, and no one pays anything until a rental transaction has been agreed to," Frank said.  "The lowest rates actually rarely win the rental. Well-rated providers that charge fair rates win the business most often. Renters pay for proven service at good rates, and that is exactly what they can see in the bidding process.  iRENTequip was built by renters and providers to offer value on both sides of the transaction."
In addition to the equipment rental marketplace, users also asked for a marketplace to ship equipment, both as part of the rental process, and to handle general equipment movement. In response, we launched www.iSHIPequip.com, an online equipment shipping marketplace. 
Renters, rental companies, dealers, contractors, landscapers, farmers, warehouses — any equipment owner — can utilize the iSHIPequip marketplace to generate competitive bids to move their equipment from over 130,000 rated providers, both local and long haul. Every dollar spent at iSHIPequip also earns Iron Points.
To pull it all together, users asked for a rewards program. The company has created the industry's largest rewards program, called Iron Points, with more than 6 million rewards to choose from. Renters and shippers earn Iron Points for every dollar spent on accepted bids. Iron Points can be redeemed online at www.ironpoints.com, or used to pay for future rentals.
"We operate our company as a partnership with our users to create successful online marketplaces," Frank said.  "We want construction, landscape, agriculture, industrial forklift and trucking equipment to be better utilized so that our users can make more money. End of story.  When our users suggest a better way to do that, we make it happen."