While most of the pipeline headlines focus on the catastrophic BP oil spill, pipeline dangers still loom. The explosion of a natural gas pipeline last month in Cleburn, Texas, that killed one man and injured eight others is a painful reminder of what happens when regulations aren't followed. According to the Dallas Morning News report, the explosion was caused from an unmarked pipeline.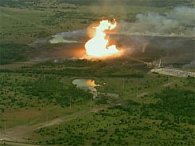 That incident, along with the BP event, called for a hearing of the House Subcommitte on Railroads, Pipelines and hazardous Materials regarding the safety of hazardous liquid pipelines. Of course, the conversation quickly turned to the issue of underground damage prevention. National Utility Contractor Association (NUCA) chairman of the board, Dan East, of Reynolds Inc. made the message of contractors clear, stating that "damage prevention is a two-way street — the responsibilities of those locating and marking underground facilities are equally important as those performing excavation activities."
For more info on the NUCA follow up with Congress, federal agencies and within the Common Ground Alliance (CGA), head over to the NUCA Web site.