Ruby is the traditional gift for a 40th anniversary, but for portal pump pioneer Thompson, the precious "milestone" of four decades of great pump products is probably the gem of choice.
"I am proud to celebrate this landmark achievement as it is a record of accomplishment that represents our resilience in an ever-changing industry," said Bill Thompson, Thompson Pump president. "I credit this milestone to our unique ability to provide a higher-quality pump with skilled personnel to support the product."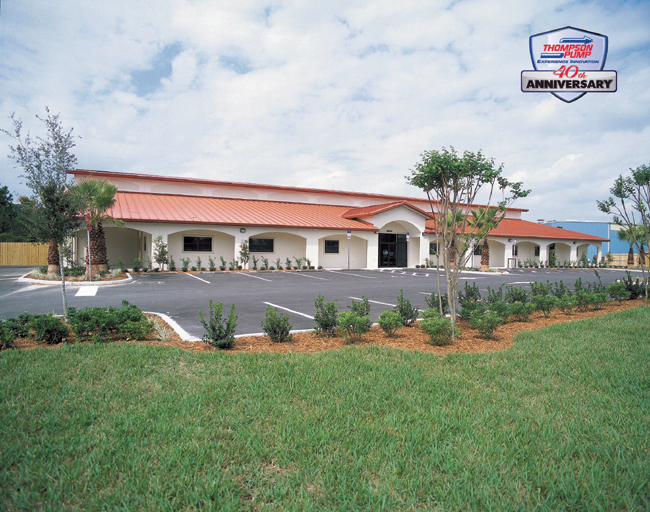 Whether the job requires cleaning up an oil spill in Alaska, raising a submarine in the Atlantic, moving an East Coast lighthouse, fighting western fires, controlling floods across the United States or dealing
with a tragic disaster in New York, Thompson Pump is there.
Thompson Pump & Mfg. Co. Inc. is a full-service manufacturer and provider of pumps, pumping equipment and engineering expertise, celebrating its 40th year providing innovative pumps and pumping solutions. Over the last decades, Thompson Pump has grown to be a global leader in the portable pump industry and is responsible for pioneering pumps and dewatering methods that have permanently changed the dewatering and bypass pumping landscape. Thompson Pump is poised for another 40 years of innovation, delivering new pump-related solutions to give customers a competitive edge.
George A. Thompson founded Thompson Wellpoint & Rubber Co. in 1970 with three employees, including himself, and his sons, Bill and George Jr. George Sr. began inventing, patenting and building pump products that earned him a reputation for innovation including vacuum-assisted wellpoint pumps, high-pressure jet pumps and diaphragm pumps to service customers throughout the Central Florida area. In 1973, George Sr., an industry pioneer, introduced the first self-priming, positive displacement, rotary lobe pump to the construction industry for pumping ground water through wellpoint systems. Thompson quickly became the market leader as the rotary pump proved to be very efficient at wellpoint dewatering.
Today, Thompson Pump serves the pumping, dewatering and bypass needs of more than 3,000 national and international customers, including underground utilities, road building, heavy construction and remediation, as well as mining, industrial and agricultural operations, municipalities, the military and other government agencies. A full-service manufacturer and provider of high-quality pumps, ranging in size from 2 to 18 in., Thompson Pump provides pump rental, sale, design, installation and operation. Its entire line of pumps includes wet and dry-prime trash pumps, utility trash pumps, sound attenuated models, diaphragm pumps, hydraulic submersible pumps, high-pressure pumps and wellpoint pumps, as well as bypass systems, wellpoint systems and a complete line of accessories.