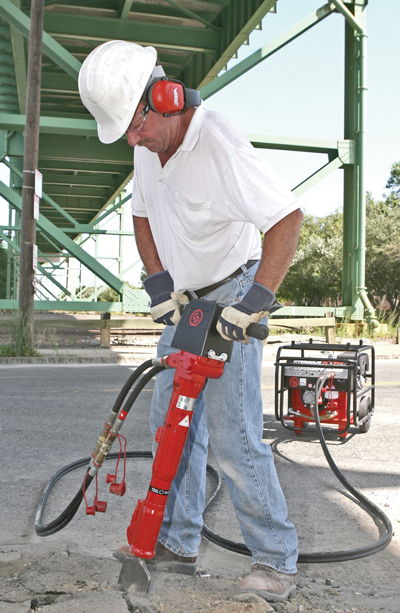 A lot of questions race through a contractor's mind when he arrives at the point in time when he needs to make some crucial purchasing decisions. When it comes to handheld construction equipment, finding the sweet spot for choosing the correct tool comes down to a single question: What is the application?
Whether it is a rivet buster, breaker, drill or saw, it is important to first understand the application before selecting the right equipment.
Benefits of Handheld Hydraulic Tools
There are a multitude of benefits that a contractor can appreciate by purchasing hydraulic equipment. One advantage that probably stands out the most for company owners and decision-makers is the relatively low upfront cost. For example, an entire setup of a hydraulic power pack, the tool and all the accompanying hoses and accessories can often times run roughly about half the cost of the portable air compressor that is required to run pneumatic tools. Granted, there are benefits to both hydraulic and pneumatic equipment, which we will address later on, however, this can be a big factor right off the bat for many contractors.
Another important point in favor of hydraulic tools is that the equipment is compact. Granted, the specific tool will be of similar size regardless of whether it is hydraulic or pneumatic, but the size of the tool's energy source also comes into play when faced with a difficult decision. Power packs can easily be loaded into the back of a pickup and can be toted around a jobsite with ease. Most power packs can be transported into tight spaces that may require the use of handheld equipment. This makes the hydraulic option a great choice for backyard or indoor applications.
In addition to being compact and versatile, many contractors can also appreciate the value of lower emissions of handheld hydraulic equipment versus their pneumatic counterparts. Although power packs still produce carbon emissions, they can be easily transported and placed virtually anywhere in a well-ventilated area nearby the work area. The hydraulic tool itself is self-contained, allowing construction crews to operate inside buildings or other poorly-ventilated areas without worrying about the negative effects of carbon monoxide emissions.
Fuel consumption is also an important issue when weighing the benefits of each system. In this category, hydraulic power packs are the clear winner when compared with air compressors. Depending on the equipment and application, fuel costs for air compressors can be up to five times higher than fuel costs for power packs. This statistic alone gives contractors a lot to think about when it comes to improving their bottom line.
Business-savvy contractors can also appreciate that the maintenance costs are lower with hydraulic tools. Hydraulic handheld tools are self-contained, which in turn minimizes the likelihood of dirt and debris entering the unit. With proper care and routine maintenance, handheld hydraulic tools can last more than 15 years without any major issues. This, of course equates to more money in contractors' pockets.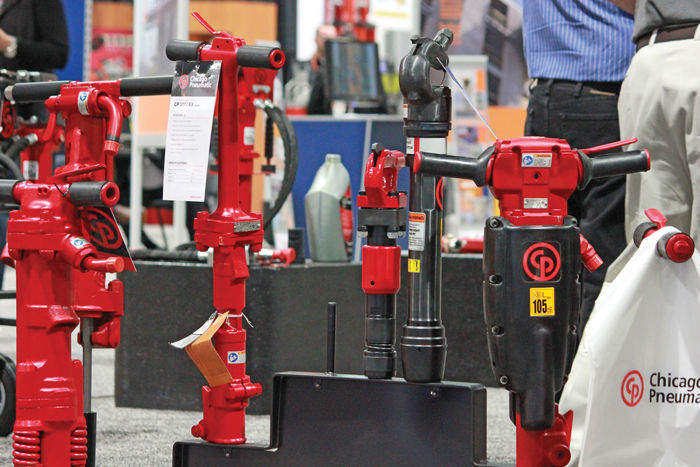 Benefits of Handheld Pneumatic Tools
When discussing pneumatic tools, it is important to start with the power source — the almighty air compressor. Air compressors offer a lot of benefits for contractors on the go. Many companies, including Chicago Pneumatic, offer a full line of powerful and portable compressors, making them ideal for contractors who have to travel from jobsite to jobsite — simply hook the compressor up to a pickup and contractors can take advantage of portable pneumatic power wherever they go.
Versatility is another major reason why a large-scale contractor may choose to stock his arsenal with pneumatic tools as opposed to hydraulic ones. On larger air compressors there are valves to run multiple tools. A good example of when this would come in handy is when utility contractors are working on installing the street sensors leading up to a stoplight. A typical application calls for a pneumatic saw to be used to cut the concrete, and a blowgun would follow behind to blow out the debris from the freshly cut concrete. Both of these tools could easily be run off of the same compressor, making it a convenient solution for the contractor.
Many contractors who have spent a lot of time in this industry stand by their pneumatic equipment and appreciate the simplicity of their tool. Safety also comes in to play when making a decision. Although handheld hydraulic equipment is completely safe to operate, there are some contractors who see compressed air as a much safer option than hydraulic oil due to the increased flammability of the latter.
The Best Equipment for the Job
Small-scale contractors who work inside of buildings, in tight spaces or even residential backyards have typically embraced hydraulic systems thanks to their low emissions, lower upfront cost and lower maintenance costs. Thanks to the compact and maneuverable power source of hydraulic units — the power pack — it can be hauled and moved to different areas on one jobsite.
When it comes time to place an order, some contractors will worry about the performance of handheld hydraulic tools compared to their pneumatic counterparts, but technology in hydraulics today provides equal performance for smaller applications.
The caveat to that statement is that if an application requires more than 375 cubic ft per minute (cfm), choices are very limited in terms of hydraulics, because a power pack typically cannot reach that level of power. In this case, a pneumatic system must be utilized.
In addition to power, if a portable air compressor will be present on the jobsite anyways, many contractors make the choice to go with pneumatic tools to forgo the added cost of power packs.
Other Factors to Consider
The closed-circuit hydraulic system is an important factor to consider when a contractor makes a decision between hydraulic and pneumatic tools. Generating little to no exhaust on a jobsite greatly benefits workers from a safety and ergonomic standpoint and also decreases maintenance costs of the tool itself.
Hydraulic tools also allow the crew to position the power source closer to where the work is being done. This is in contrast to pneumatic tools where generally speaking, a portable air compressor is too heavy and bulky to maneuver into tight areas. If, for instance, a contractor is working in a residential backyard, an air compressor may have to be positioned on the street, where a power pack can be wheeled easily into the work area. This may not seem like a problem initially; however, if you have to run a substantial amount of hose from the compressor to the tool, you will see a decrease in performance. Generally speaking, the longer the hose, the less pressure the tool is receiving once the hose length gets to be above approximately 100 ft.
There are also potential risks to running pneumatic tools in cold-weather conditions. As the heat drops, condensation develops in the tool, and occasionally, the equipment freezes up. This risk is eliminated with hydraulic equipment, since the fluid is all oil-based.
Chicago Pneumatic and some other hydraulic tool manufacturers also offer another option to run hydraulic equipment without a power pack. With the incorporation of an oil flow divider, a contractor can draw power from their carrier with a quick connection and enjoy reliable power all day without investing in extra equipment.
Derek B. Miller is a regional sales manager for Chicago Pneumatic Construction Equipment.
Tags:
Compressors