A good roster of equipment is the backbone of a successful contracting firm. With a variety of hard-working machines and a knowledgeable crew running them, a company can accomplish a wide range of tasks for a broad client base. And for Shrader Excavation — a home site and underground excavation contractor located in Modesto, Calif. — adding a strong mix of compact equipment has increased the amount of work the company can take on and the clients it can serve.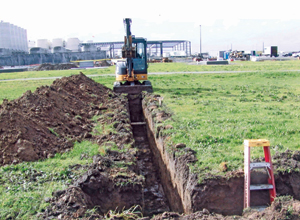 "Our business more than doubled when we added compact equipment," says Dick Shrader, general engineering contractor and owner of Shrader Excavation. "Clients began asking for the smaller equipment when they saw how efficiently the machines worked in congested areas."
Established in 1989, Shrader Excavation provides trenching, backfill and compaction services for public works and commercial projects, as well as underground plumbing, electrical excavation, light finish grading and site-work cleanup. Projects include work for schools, city water systems and commercial and military construction in areas such as northern California, the San Francisco Bay area and Sacramento.
Originally an enthusiast of larger machines, Shrader Excavation first saw the need for compact equipment when it became involved in commercial and public works projects in 2003. From there, Shrader purchased his first compact excavator — a new John Deere 35D — to excavate for all the footings on a new Sports Park for the City of Manteca, Calif. The next purchase was a Cat 257B compact track loader to remove trenching spoils from commercial building pads on crowded work sites. The company also plans on adding a mid-size excavator to its fleet later this year.
"The compact equipment combination, together with a new Peterbilt bobtail dump truck, works perfectly for the underground plumbing, electrical and foundation work," says Shrader. "In fact, we have sold our larger equipment and now only perform work that requires compact equipment."
Aside from being able to perform a wider variety of tasks, switching to the smaller equipment has saved the company a significant amount of money. Shrader says that although his company opted to use compact equipment to meet a growing demand from customers, these machines have also allowed him to spend less, given their lower operating costs.
"Now, we only burn 10 gallons of fuel per day for each compact machine instead of 55 plus gallons for the larger machines we used," explains Shrader. "We still get the same rate that we did for the bigger equipment, but we can now service the homeowner for smaller landscape excavation. In addition, we can transport two machines and all their accessories to a jobsite in one trip."
Diversifying the equipment through attachments is also important. Purchasing a variety of attachments for the equipment has proven to be a wise investment for the company. Thanks to the versatility the implements offer, Shrader notes that the services his company provides has expanded and allows his crews to perform numerous tasks with one machine. The company has packed its equipment lineup with concrete breakers, augers, grading machines and multi-purpose buckets.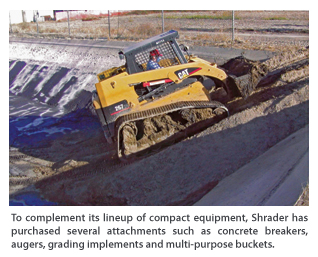 "With extra attachments, your company can offer a wide service range with much less cost than purchasing many larger machines," comments Shrader. "Of course it depends on the markets your company is serving, but for our company, we are extremely pleased with our niche. There are more than 100 attachments for these machines and more are being developed each year."
For example, to complement its compact track loader, Shrader Excavation recently purchased an attachment called "the Roadrunner" — a grading attachment with road-grader capability for maintaining country roads and grading for building pads.
"We're amazed at how smooth and fast this attachment works with our track loader," says Shrader. "We recently graded base rock for a 70,000-sq ft trucking terminal in one day. We will periodically maintain this truck yard in the future and enjoy increased business."
Maintaining Good Business Practices
Although dependable equipment is a necessary part of its operation, Shrader Excavation also relies on a strong workforce and good business ethic. Despite the rumblings of a down economy, Shrader notes that his business is staying strong and busy. With a number of projects in the works, the company plans on adding about three new employees in 2009 to help with the underground work for a new shopping center, as well as for a San Francisco water project. The California Labor Exchange also provides grade checkers and laborers to work with the company as needed.
"Our main business is in the public works sector, and we see increased projects for cities and schools," explains Shrader. "We are looking forward to working on a new athletic field for a community college and will exclusively use our compact equipment for this project."
Family is another common factor in the workforce. Aside from Shrader's wife Barbara, who works as the company's office administrator, his grandson Larkin works in the business during the summer. And contracting runs in the family as one of the Shrader sons is also a licensed contractor and the two are considering some joint venture projects.
"The business has shown mostly steady growth since going full-time, and even with a down economy, the future looks exceptionally bright for this kind of excavation service," says Shrader. "As the company continues to grow, we certainly have a pool of future excavation personnel within the family."

To enhance its diverse and skilled crew, Shrader Excavation focuses on good communication among the company and its dealers and clients. With an abundance of competitors in the market, Shrader explains that it's vital to capitalize on customers by providing thorough service and excellent follow-through. Maintaining strong relationships with equipment dealers is also a key factor in being ready to tackle a job. With the assistance of its dealers, the company is able to keep its fleet of hard-working equipment maintained, reliable and ready to work.
Shrader Excavation also finds advertising a particularly useful tool in attracting new clients and keeping relationships with existing ones. To keep its name out in the public, the company relies on outlets such as The Blue Book of Construction, the Yellow Pages, small business directories and customer referrals. Even sending a "thank you" card after a job is finished adds to the company's reputation and continued business. "We always try to do a little extra," says Shrader. "We have found that we're always rewarded in the long run."
And when the company tries to snag a new job, Shrader points out that it's important to work through the logistics of the bid and financials to support the work. He adds that submitting a detailed bid is the first step in a successful project. Being thorough up front can ultimately benefit the contractor down the road.
"Be complete and include plenty of information in your proposal so it's clear," says Shrader. "Let your experience work for you and save you money in the long run."
Getting financials in order is another crucial step. Shrader mentions that since collections and progress payments can be a challenge, contractors should know their lien rights and examine written contracts before signing. Having an attorney review a contract before signing is an extra precaution worth taking.
"Build your line of credit and cash position," says Shrader. "For example, public works and commercial work payments in California can be slow, and there are times when you need a good friend at your bank to carry you until a progress payment is made."
Hard-working machines, a reliable crew and a solid knowledge of the industry are key components of a successful company. By redefining its equipment fleet and making good business decisions, Shrader Excavation has been able to broaden its client base and increase its workload — even in tough economic times. Through keeping its machines and attachments regularly maintained, the company can continue to service its customers and complete projects in a timely and efficient manner.
Pam Stask is assistant editor of Compact Equipment, located in Peninsula, Ohio.
AGC Analysis Shows Glimmer of Hope
Amid Grim Employment News
The good, the bad and the ugly continues for the construction market. The good news: The construction employment picture brightened slightly with 18 states adding construction jobs from April to May, according to a new analysis of data recently released by the Bureau of Labor Statistics (BLS). The bad news: Construction employment overall continued to decline, noted Ken Simonson, the chief economist for the Associated General Contractors of America. The ugly?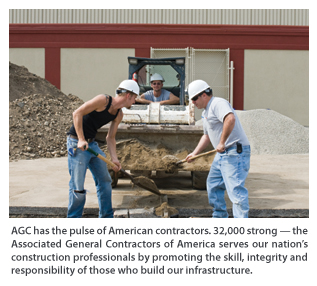 "Today's job figures highlight the devastating impact current economic conditions are having on the construction industry," said Simonson. "In June alone, construction employment declined by 79,000 jobs, seasonally adjusted, while over the past 12 months 992,000 construction workers have lost their jobs. Indeed, while overall unemployment is 9.7 percent [9.5 percent, seasonally adjusted], over 17.4 percent of construction workers are now unemployed.
"While there is little doubt that the stimulus has helped slow the decline, the fact remains the construction industry has many long, slow and difficult months ahead as the $1 trillion construction market continues to suffer from declining state and local revenue, little demand for commercial or retail facilities and shrinking orders for new factories and facilities."
Simonson noted that North Dakota saw the biggest increase in construction employment from April to May, with a 9 percent rise, seasonally adjusted, followed by Mississippi, 4 percent; South Dakota and Indiana, 3 percent each; and West Virginia, Vermont, Wisconsin and Nebraska, 2 percent each. To prevent disclosure of data for industries with small employment totals, BLS presents construction combined with mining and logging in South Dakota, Nebraska, the District of Columbia and four other states.
Despite these localized construction gains, national construction employment still dropped. Compared to construction employment this time last year, the current jobs picture is bleaker, Simonson said. For example, Arizona, shed 28 percent of its payroll jobs in construction over the past 12 months; Kentucky and Connecticut 21 percent each, and Nevada and Tennessee (combined data), 20 percent each. Meanwhile, only North Dakota (4 percent) and South Dakota (3 percent) added construction jobs since last May.
Metro-area data also provided a grim picture over the past 12 months; metro figures are not seasonally adjusted and thus are suitable for comparing only to same month in prior years. Only nine out of 311 metro areas for which data is available had year-over-year employment gains in construction (or combined sectors), led by Baton Rouge, 7 percent; Grand Junction, Colo. (combined data), 5 percent; Odessa, Texas, and Bismarck, N.D. ( both with combined data), 4 percent; and Decatur, Ill. (combined data), 3 percent. Two metros had no change in construction (combined data) employment, while 300 had losses. The steepest losses over the past 12 months were in Pascagoula, Miss. (combined data), -40 percent; Redding, Calif. (combined data), -37 percent; Reno-Sparks, Nev., -31 percent; Tucson and Phoenix-Mesa, Scottsdale, both -29 percent.
"Whether more states and metros join the win column in adding construction jobs depends largely on how quickly all levels of government turn stimulus money into contracts," Simonson said. "Local governments must avoid imposing their own 'Buy American' standards. States must work promptly to hold bid lettings and federal agencies need to clarify reporting requirements and rules."
Simonson noted that getting more stimulus money flowing will help companies like San Angelo, Texas-based Reece Albert Inc., which has been able to save 20 jobs to date because of stimulus funded highway work. Given the likelihood of continued declines in privately-funded construction, getting stimulus funds flowing for non-transportation projects will help companies like Gorham, Maine-based R.J. Grondin & Sons pick up more water main and other construction work.
"The Administration and Congress must see today's figures as a reminder to stimulate new commercial lending and hasten non-transportation stimulus construction projects that have by and large yet to begin," Simonson said. "And they must not delay action on a host of other infrastructure work, including the surface transportation, aviation and water infrastructure legislation. If the stimulus is followed with inaction and political gridlock, many thousands more construction workers will soon be out of work," said Stephen Sandherr, CEO of the Associated General Contractors of America.