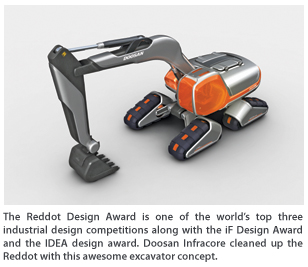 We assume Doosan Infracore has just returned from the future, where they've found and brought back this sleek new equipment concept vehicle — the CX excavator. The big minds at the Reddot Design Award Show agreed — this big digger is most likely the future of excavator technology, awarding it the Best of the Best Award at the 2009 showcase.
More than 2,733 designs were entered, from 61 countries, and 206 were honored at the Reddot Design Award Show, which awards products that are creative, innovative and superior in quality. Out of these awarded designs, only 15, including Doosan Infracore's futuristic concept excavator, were presented with the Best of the Best Award. Out of those 15 Best of the Best Awarded designs, only one will be presented with the honorary Luminary Award on Nov. 24, in Singapore.
Doosan Infracore's futuristic concept excavator was well received by the judges for its Eco-Transformer concept, which reflects four core benefits — ecology, safety, usability and efficiency. The excavator is designed to function at the highest level at various working sites, be environmentally friendly with energy-efficiency and exhibit high performance even in severe conditions. Development of this futuristic excavator is targeted to finish by 2018.
The Reddot Design Award was first started in 1955 and is managed by Design Zentrum Nordheim Westfalen in Germany. This award is given after the world's biggest design competition and is one of the world's top three industrial design competitions along with the iF Design Award and the IDEA Design Award.
Doosan Infracore America services a large network of Doosan dealers in North America from its headquarters in Suwanee, Ga. Doosan Infracore America is responsible for all North American sales, service and technical support for Doosan heavy construction equipment, compact equipment and articulated dump trucks through Doosan Moxy. The Suwanee facility features a state-of-the-art service, sales and parts training center, as well as a parts distribution center that services all of the United States and Canada. Today, Doosan manufactures six unique excavators for the North American market — the DX35Z, DX55, DX27Z, DX30Z and the DX60R and DX80R.